Interloop Pakistan Job Management Trainee Officers Program 2018 Form is now available for young graduates who are looking for challenging career with a reputed organization. If you are interested to be a part of this named organization you are on the accurate web page as this page is providing you all information about applying in Interloop according to the administration of this Loop, So to get Admission you have to complete the admission process before the last date i.e. 10th July, 2018 of submission of application forms. Only those members can get admission that lies in the eligible criteria specified by the admin so they only can hire only those who actually have the ability to hold the challenging tasks for the company according to by keep in front the customer's needs in instruct the company designers to design and produce such products acceptable by the market. For this purpose the interloop make a program of management trainee program under which they give the training new employees according to their company rules. To be familiar by the Interloop lets have a look down about Interloop.
Interloop Pakistan Job Management Trainee Officers Program 2018 Form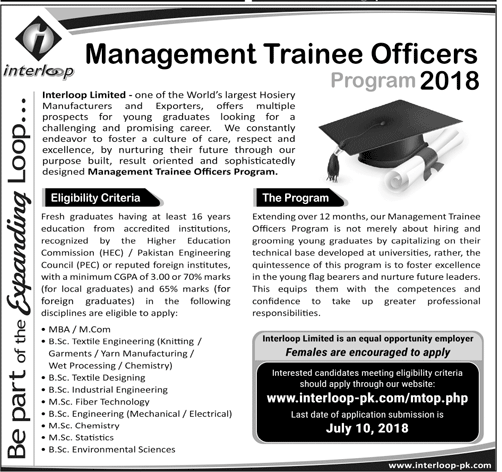 Interloop Pakistan Job Management Trainee Officers Program 2018 Form providing for those who have the ability of self creation. The interloop is one of largest hosiery manufacturers of the world. It deals in all the products especially the interloop manufacture best quality yarn. The socks prepare by this yarn are the very best quality socks in the world. interloop make its main office in Faisalabad and start functioning on a very large scale consisting on complete variety in house spinning, yarn dyeing, knitting and finishing facilities. It houses over 3500o knitting machines including ring spinning, knitting machines, the current number of employees working in the chain of interloop are approximately more than 13000. The company provides a wide range of socks having various quality and prices for all type of customers. In Pakistan its Branches exists in Lahore and Faisalabad and on unit of this company is functioning in Bangladesh that is why the company is making its rank as a multinational company. So every year when jobs for management trainee programs a number of fresh graduate relating to different fields submit their forms for taking admission, well if you are also wants to be a part of this organization you have to complete the admission process according to the following criteria.
Interloop Pakistan Job Management Trainee Officers Program 2018 Eligibility
The company prefers those Candidates who passed their last qualification from any HEC recognized organization (HEC), Pakistan Engineering Council (PEC) as well also lies the following points as.
Candidate securing 3.00 CGPA from HEC or PEC recognized institute.
Having the degree of Textile, Industrial, Mechanical or Electrical Engineering.
Chemical Engineering / M. Sc and B. Sc chemistry ( HONS)
MCS / BCS
MBA / MPA / BS (HONS) or equivalent.