Allied Bank is offering Allied Bank Management Trainee Officer MTO Jobs 2022 Apply Online to the postgraduate students so Apply and get the complete procedure of the application from this page right now you are on the fastest growing educational website in Pakistan so that is why it is our prime responsibility to provide you the accurate and officials updates which may be useful for you in any sense. well we must say that this is the best career opportunity for all those candidates who laid down on the eligibility criteria of the Allied Bank Karachi Management Trainee Officer as the opportunistic like this never comes into life again and again so if you are interested then do submit your application form or apply online before February 2022 as this is the last date to apply and after that date, all the forms that will be received to the officials will not be entertained in any case so candidates do remember these sates if you really want to be a part of the Allied Bank.
Allied Bank Management Trainee Officer Jobs 2022 Apply Online
Allied Bank is providing its services for more than 70 years and at the same time, it has built a strong foundation on equity, Assets, and Deposit base which is why now it offers universal banking services to each of its customers. Allied Bank now has 954 branches all over Pakistan and more than 728 ATMs. This is all because of providing the value-added services to the customers and now Allied Bank offers Management Trainee Officers MTO to the branches of Karachi so the complete eligibility Criteria, Application procedure, Allied Bank MTO Jobs 2022 the last date to apply and apply online information is available to this page have a look down.
Eligibility Criteria:
All those candidates who have done an MBA, M.Com, Masters in Banking & Finance, Masters in Banking, or Masters in Finance are eligible but the institutions from where the candidates completed their degree must be affiliated with the Higher Education Commission HEC.
All the candidates who have got 3.0 CGPA in the above all courses are eligible
The age of the candidates applying for Allied Bank Management Trainee Officer Jobs 2022 will not be more than 27 years old on 31st March 2022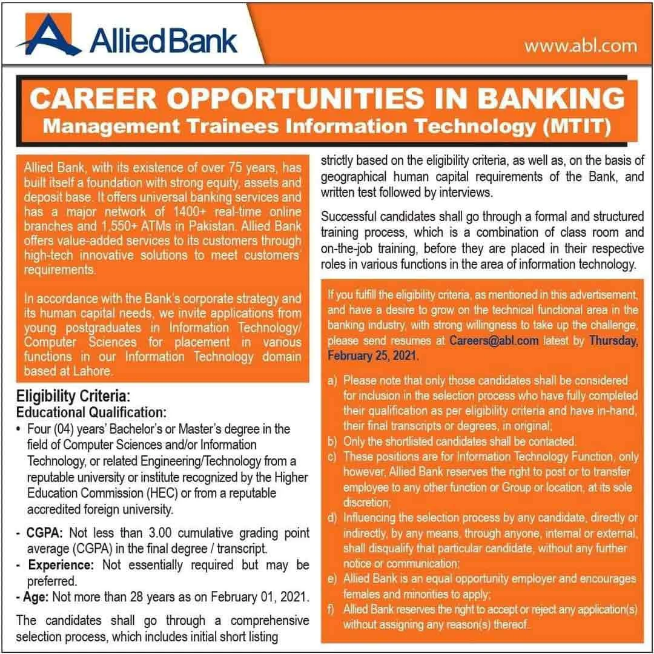 Allied Bank Jobs 2022 Apply Online
Allied bank trainee jobs have been announced for the post of MTO and people who are interested now can apply online because the link has already been mentioned and people apply. Further eligibility criteria have been mentioned in above the content and just you will read and if you meet then click on apply online.
Only those candidates who have done postgraduate are eligible to apply for the Allied Bank Management Trainee Officer MTO Jobs 2022 this postgraduate program must be completed and candidates have their transcript in their hands. All the candidates shall go through a comprehensive selection process which includes initial shortlisting strictly based on the eligibility criteria, Written-test, and an interview session.