Note: Meezan Bank Internship Program 2023 announced as well the last date for application submission is 28 May 2023. After this date, no application will be processed by the administration.
All eligible graduates who want to pursue their careers in the banking field must join Meezan Bank Internship Program 2023. Here on this page, you will get the Eligibility Criteria, the Last Date to apply, and all terms and conditions for this program. Meezan Bank is inviting application forms for eight to twelve weeks duration internships to all students who are currently graduated or have masters from any HEC-recognized university. This short-term internship will make available a real imminent into what it's actually like working in a meticulous job or career field.  This internship is totally free of cost and students will receive nothing during the internship but just experience for practical in a particular field. After completing this internship session applicants will have a lot of options for jobs and Meezan Bank will approach those candidates who perform well during an internship.
Meezan Bank Internship Program 2023
Meezan Banking is one of the best banking that is working on a broad level and according to the latest ranking of the banks, Meezan is now on the top list. So those who want to do the internship as an experience now can apply to Meeza Bank. Further eligibility criteria for the internship and application online link have been mentioned on this page.
Vocants:
Relationship Manager – Meezan Payroll Partner
Assistant Relationship Manager – Meezan Payroll Partner
Assistant Product Manager – Digital Banking
Service Quality Consultant
Relationship Manager – Commercial & SME
Remittance Officer – CRD-Inward/Outward Remittance
Junior Electrical Engineer / Electrical Draftsman
Eligibility Criteria
Candidates having degrees recognized by Higher Education Commission HEC.
Students completed six semesters of bachelor's or two semesters of Masters's.
Those who apply before the last date to apply: 28 May 2023.
Note: Any Meezan Bank Internship 2022 Application Form submitted after passing the last date will not be accepted in any case.
Application Form
Now, interested applicants can apply online because they have introduced the Apply Online method.
Just open the official webpage of Meezan.
Fill out the online application form.
Upload complete documents like a CV.
Give other details regarding personal and academic.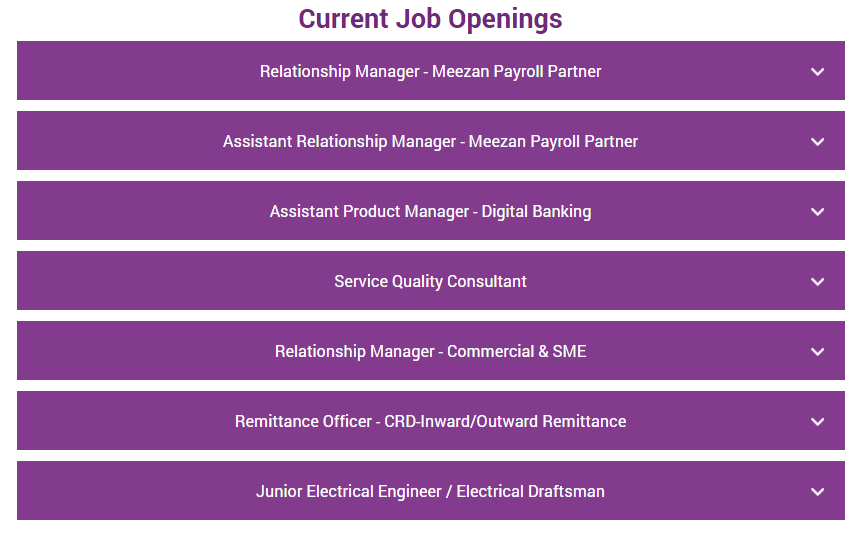 Meezan Bank Summer Internship Advertisement
Meezan Bank was established in 1997 as the premier Islamic commercial Bank of Pakistan. Its headquarters are located at Meezan House, Karachi, Pakistan. Since the time of its establishment Meezan Bank in performed all its tasks under Islamic rules and restrictions and has spread a network of 430 branches in more than a hundred cities in Pakistan. Meezan Bank is the first bank to which the State Bank of Pakistan issued the first-ever license for Islamic commercial banking. Hence this Bank is Pakistan's leading Islamic Bank which is providing its duties to make the banking system of Pakistan according to the Islamic point of view.
These days this bank is providing Meezan Bank Internship Program 2023 for all new and fresh graduates. If you have read this entire post and are eligible for this program then must submit your form before the last date to apply.