NTS Young Parliamentary Associates (YPA) Programme Jobs 2015-2016 is announced so the application Form and the last Date to submit the application form including Test Date and Test Result hence every single information which you may want to know before applying is available to this page so candidates before applying for this jobs must read this page. First of let me explain that what is the Young Parliamentary Associates Programme is as this is an IP3 which is Improving Parliamentary performance in Pakistan initiative. Under this program candidates are recruit then trained and then deploy in Pakistan Parliament. So in this way these young graduate got a chance to work directly with the Parliamentarians and the Bureaucrats that are in the parliament.
The first Batch of the YPAs Program is recruited in year 2015 as the first of all candidates appear in the written test and after that interview is also taken from the candidates to select the best graduates among all. Last year in 2013 an approximate 3000 candidates applied for this YPA programme and in such a huge number of candidates only 33 candidates will be able to reach to the final selection stage. All those candidates who will be selected for this program could able to get Rs. 40,000/- per month as a salary Package and candidates have to submit the application admission form before the due date as mentioned by the officials in the advertisement below so the candidates who submit their application form after the last date would not be entertained.
NTS Young Parliamentary Associates (YPA) Programme Jobs 2015-2016
Eligibility Criteria:
Only those candidates who have laid down on the eligibility Criteria of the Young parliamentary Associates programme will be able to apply and it is as mentioned
All those candidates who have completed thier Master degree program or 16 years of education from any higher Education Commission HEC Recognized institute and able to get a minimum 3 out of 4 GPA
The candidates must have complete their degree in the Law, Information Technology, Mass Communication, Human Resource Management, Social Sciences, Humanities and Management Sciences.
All the candidates must have excellent oral and written communication skills in English as well as Urdu
All the candidates must be able to demonstrate excellent research skills
Candidates must have computer education.
Application Form:
All those candidates who wants to be a part of this NTS Young Parliamentary Associates (YPA) Programme Jobs 2015-2016 could easily download the online application form from this page as you just have to click on the link below
CLICK HERE TO GET APPLICATION FORM
The last date to submit the application form is 22nd December, 2014 as all those forms that will received after this date would not be entertain in any case.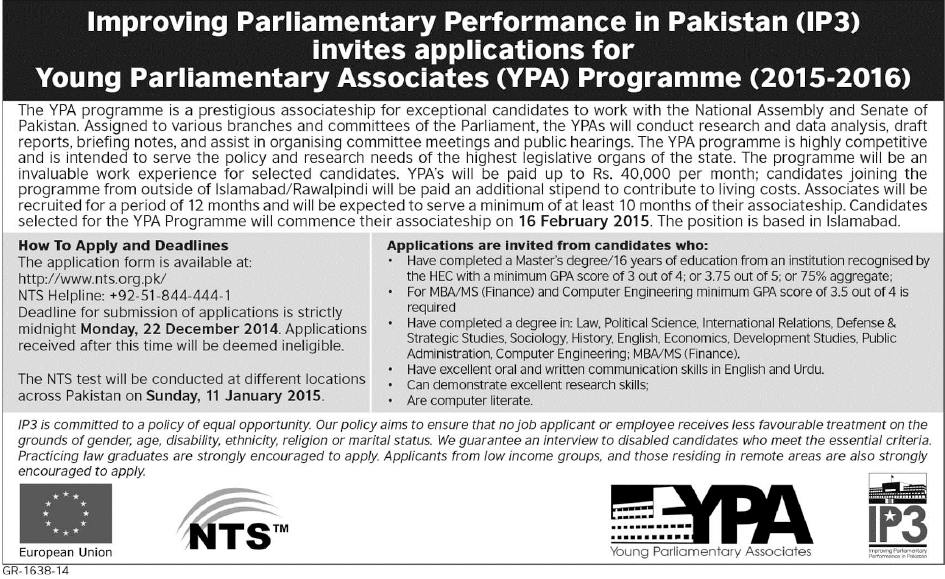 NTS Test For YPA 2015-2016:
All those candidates who would apply for the YPA programme must have to appear in the Test that is taken by the National Testing Service NTS. NTS will be the official authority that will organize the test all over the Pakistan so no matter from where you belong in Pakistan you can apply and if you clear your Test then then you will be called for further interview. on the day of the Test the YPA Test Answer keys will be uploaded to this page and then as soon as the NTS official will declare the YPA Test result you will be able to get it from this page easily.