Are you searching for a job? If yes then the Sindh Revenue Board SRB is now offering jobs 2014 for Training Coordinator and Training Consultant. You are on the right page to secure your future by getting a reasonable job in the Sindh Government Department "Sindh Revenue Board", You are advised to read this entire page and to download the application form from here. So if you want to get this job then there is a complete authentic procedure for apply here in this department which is described down this page. The Government of Sindh arranges a different department Sindh Revenue Board SRB under the Act No. Xl of 2010. The SRB is responsible for the management of Tex system through application of modern techniques of information and developing automated system for administration, imposition, management levy and collection of taxes. Well jobs are now open in this well arranged department for all those nationals who are eligible according to the following criteria given in this page. Scroll down this page to determine yourself that either you are eligible for this job or not.
Sindh Revenue Board Training Coordinator, Consultant Jobs 2014 Form Download
SRB Jobs 2014 Posts
Sindh Revenue Board SRB is offering jobs for the following jobs posts.
Training Coordinator
Training Consultant
SRB Jobs 2014 Eligibility Criteria
Only the following candidates are eligible who have the following eligibility points.
Candidates who have qualified the bachelor degree in Business Administration, Humanities or Human Resources.
Applicant must have the certificate of Micro Soft Office MS Office.
Age Eligibility is till 45 years
Strong Communication and Presentation Skills with the ability to tackle the multiple assessments.
Candidates who have the 10 years working experience of Teaching and Training in any Educational institute along with the H.R and interviewing.
 Click to get More bout Eligibility 
How to Apply for SRB Job 2014
Willing applicants have to download the application orm from the down given link and fill in dully and attach all the required document s and fill in dully and resubmit it via online application system before the Lat Date 30th October, 2014.
Click here to download Form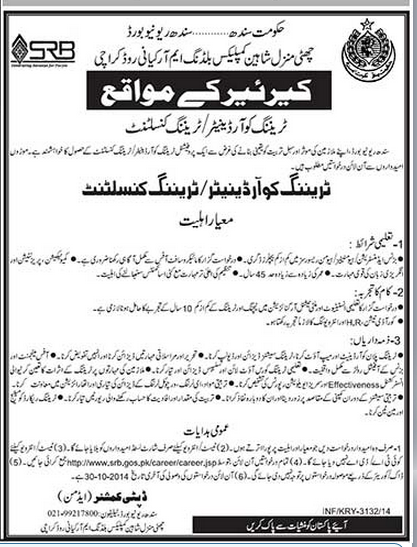 SRB Jobs 2014 Responsibilities
Coordinates and Map out training planes, design and development session
Design and prepare the educational Syllabus and course outlines.
Generate reports to track training metrics and effectiveness.
Maintain and manage the records.