Defence Day is celebrated in Pakistan as a national day every year on 6th Sep in memory of those who martyred in the Indo-Pakistani War of 1965 and the successful defense of Lahore, Sialkot and other significant areas of the country. it is going to share about the Essay On 6th September Defence Day Of Pakistan. There is no doubt that it is the day celebrated as memory of martyred people. Those are special people with extra ordinary traits to sacrifice their lives for Pakistan. It originated as defence day of country during Pakistan- India War II that was fought in 1965. 6th September was the day when both stopped their order for the weapons. It is known as defence day of pakistan. The quest for get highest position in the region has no future and both countries makes a ceasefire on this day.
The main reason to celebrate this day is to tell others of Pakistani citizens how brave Pakistani soldiers were. This day is celebrated with full of sorrow for all of these people and the soldiers who martyred in the war while defending Pakistan.
Let us pay honor to our brave soldiers who martyred for their country and give a lesson to the enemy that they will never ever forget. Today we need that eagerness, the unity of faith and restraint in our country, to get it back on track. I hope that this day be a candle of hope for our coming generations…….
Essay On 6th September Defence Day Of Pakistan
Summary of messages of the President, Prime Minister, Federal Minister for Defence and Chiefs services will be aired.
Courage and bravery demonstrated Pakistan's military to defend the country from enemy aggression, and the sacrifices they rendered during the war in 1965 will be allocated to these programs.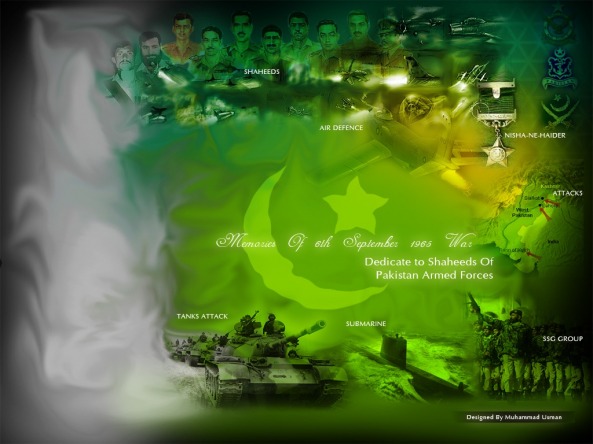 Special slogans, Day Defense songs, Army, Navy and Air Force will also be aired.
He said that on this day in 1965, people from all over the Pakistan representing all shades of opinion holding hands, standing behind the brave armed forces in countering aggression.
"Celebrating September 6 revived our spirits and strengthens our resolve to defend the country against all types of threats, and always be prepared for any sacrifice for its integrity and honor."
The president also paid tribute to the great sons and daughters who gave their lives in defense of Pakistan.
Prime Minister Raja Pervez Ashraf in his separate statement said that September 6 is the day, which is the continued commitment of the nation to unite in the face of challenges.
He also said "I fully believe in the people of Pakistan and our armed forces. If we keep unity in our ranks and remain resolute in the face of odds, there is no reason why we cannot win nefarious designs of our enemies and overcome the challenges that we are facing today."
He said: "Let us renew our commitment to defend our independence and integrity. Let's focus our efforts for the welfare and progress of our people." It is nice and justified to share quotes for Essay On 6th September Defence Day Of Pakistan
If we wanna then there is enough for us to remain united, follow the path of Allah revealed to us and do not forget that Pakistan is an ideological state. Not just looking at these so called politicians as leaders. Rather, starting with ourselves to make a positive contribution to the building of our nation and to the development and progress of our country. No matter where we are and how small our contribution is. Trust in Allah with practicing Islam in its true spirit, also believe in yourself and believe fellow Pakistanis will allow us to move forward in the right direction. So keep visiting ilm.com.pk to get more….Hope you will get many chunks of information at website as you find Essay On 6th September Defence Day Of Pakistan