Respectable Teachers, Staff, and All my friends! Assalam-o-Alaikum.
Today the topic on which I'm going to talk about is Kashmir day
Kashmir is a place that is not less than heaven. The land is surrounded by beautiful mountains with beautiful lakes and gardens of Fruits.
As we all know that, what is the biggest intention is going in Asia is? It was fixed before the Partition that, all the Muslim majority areas will be given to Pakistan and similarly the remaining Hindu majority areas will be given to India. But India doesn't want to give a beautiful area of Kashmir to Pakistan. So, they sent their forces to Kashmir and occupied this Muslim majority Area. The whole world was seeing what's going on here. But the whole world steals their eyes from this issue then and now they have regret about it. Every night, the Kashmiri close their eyes with a dream that is not going to true from 1947.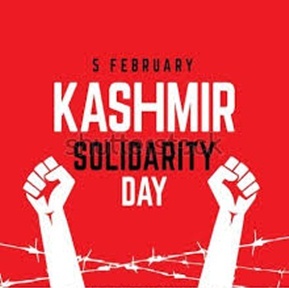 Suna he Boht Sasta he Khoon Wahan Ka
Aik Basti he jise Log Kashmir Kehte Hen
Just after the partition, when Pakistan acknowledged the thinking of India about Kashmir, they appeal to the United Nation about it. There are a number of Resolutions that were done by the UN on Kashmir Issue but all are in vain. As we read the books of big politicians of the world, they all have clearly written as India doesn't have to think that Kashmir is their property. As all of the Kashmiris from children to young and from young to old, they just have a single slogan on their lips:
Kashmir Bane Ga Pakistan
With the partition, the Indian Government sent the army to occupy Kashmir and kill everyone who wants freedom. There are thousands of Kashmiris who have lost their lives from the partition of the Sub-continent. In 2014, when the government of BJP came into existence, the cruelty in Kashmir increased with a great number. The world just sees what has done with non-Muslims of the world, but they can't see what is happening with the Muslims of the World.
Yaran-e-Jahan Kehte hen Kashmir he Jannat
Kashmir Kisi Kafir Ko mili he Na Mile Gi
It is true that Kasmir is one of the most beautiful places in the world and from then, the people have faced so much but Peace be upon their strengths and patience, that they never felt disappointed and they have never felt it is the property of India. Every Kashmiri wakes up with the prayer that this day will not be his last day in the world. It is true that they all are doing Jihad from the day they came into this world. But what can we say about it? Pakistan has always raised voice upon this issue and always called the world to stand up with Kashmir. 5th February Kashmir solidarity day is a national holiday.
Pakistan's Prime Minister himself went to the UN and there, he made a historic speech that directly referred to as the voice of Kashmiris. The world is standing like they are on the other planet and can't see Kashmir. Kashmiris are on the faith that:
It's better to die Fighting for Freedom, then to live Life in Slave
From this, it is clear that India is asserting their right on the property, that was never a part of India. So, in the end, I would like to say:
Kashmir was not the part of India and it will never. Inshallah!