Board of Intermediate and Secondary Education Lahore Board 10th Class Past Papers Urdu, English Medium for all the subjects of Arts, Science are available to this page so that is why students if you are looking for the officials' Past papers of last year then you could easily download it from this page. Well, these months are really hard for all those who have registered for the 10th class and are going to appear in the Annual Examination of the Lahore Board this year. The hard time is because students have started preparation for the examination from now as every student wants to get good marks in the annual examination because if they are able to get good marks only then their dream of taking Admission in the best colleges will come true so if you are wishing also the same then here on this page these Lahore Board Matric Past Papers will really help you in achieving what you desire.
Lahore Board 10th Class Past Papers Urdu, English Medium
Lahore Board has announced the Lahore Board 10th Class Past Papers for English Medium and Urdu Medium students. All students who want to download the past papers can simply click on any of the below links for any subject including, Maths, Biology, Physics, Chemistry, Computer Science, or any other book, in order to download past papers of 2017.
Past paper of 10th class Lahore board 2022 for all subjects English, Urdu, Math, Chemistry, Biology, Physics, Computer Science, Pak studies, and Islamiyat. People can take and start the preparation of the Matric Part 2 exam because they will start in the month of May. Well, these past Paper are the officials so that is why you can rely on these papers the rest of the information and the past papers are available down on this page so do have a look down here.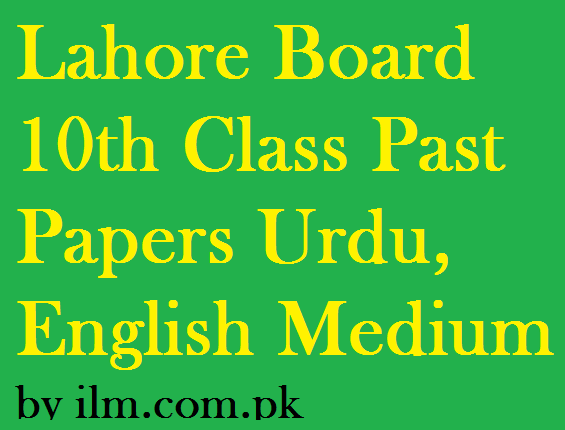 What you need to do to download the Lahore Board Matric Past Papers Urdu, English Medium just click on the subjects list mentioned above, and then you will be directed to another page where you can get the past papers of the last year. The benefits of Past papers are too many because the important questions remain the same so that is why you would come to know what are the important chapters or the topics other than that benefits another is that if you think you are fully prepared for the annual examination then simply open the past paper and then solve it by yourself after completing check it by yourself and mark it. In that way, you will come to know that either you are ready to sit in the examination hall or not. If you have any questions in your mind about the Lahore Board Matric Past Papers then you can freely ask us by commenting down on this page.