The page Pakistan Baitulmal Scholarship 2020 is open for disabled and patients. All those candidates who are eligible and want to apply for this scholarship can apply for Pakistan Baitulmal Scholarship 2020 Form Application Free Download from this page. Pakistan Bait-ul-mal PBM is an autonomous government body that was established under the 1991 Act to provide financial assistance to the widow, orphan, infirm, poor, and needy. It helps through different sources and programs including the Pakistan Baitulmal Scholarship program. Through this scholarship, Students get financial help, free education assistance, etc.
Pakistan Baitulmal Scholarship 2020
Those students who apply for this scholarship program also getting the scholarship if they fail in any single subject will not able to get a scholarship in the future. Everyone who is according to the Pakistan Baitulmal criteria is allowed to apply for this scholarship. In this article, you will learn about Pakistan Baitulmal Scholarship 2020.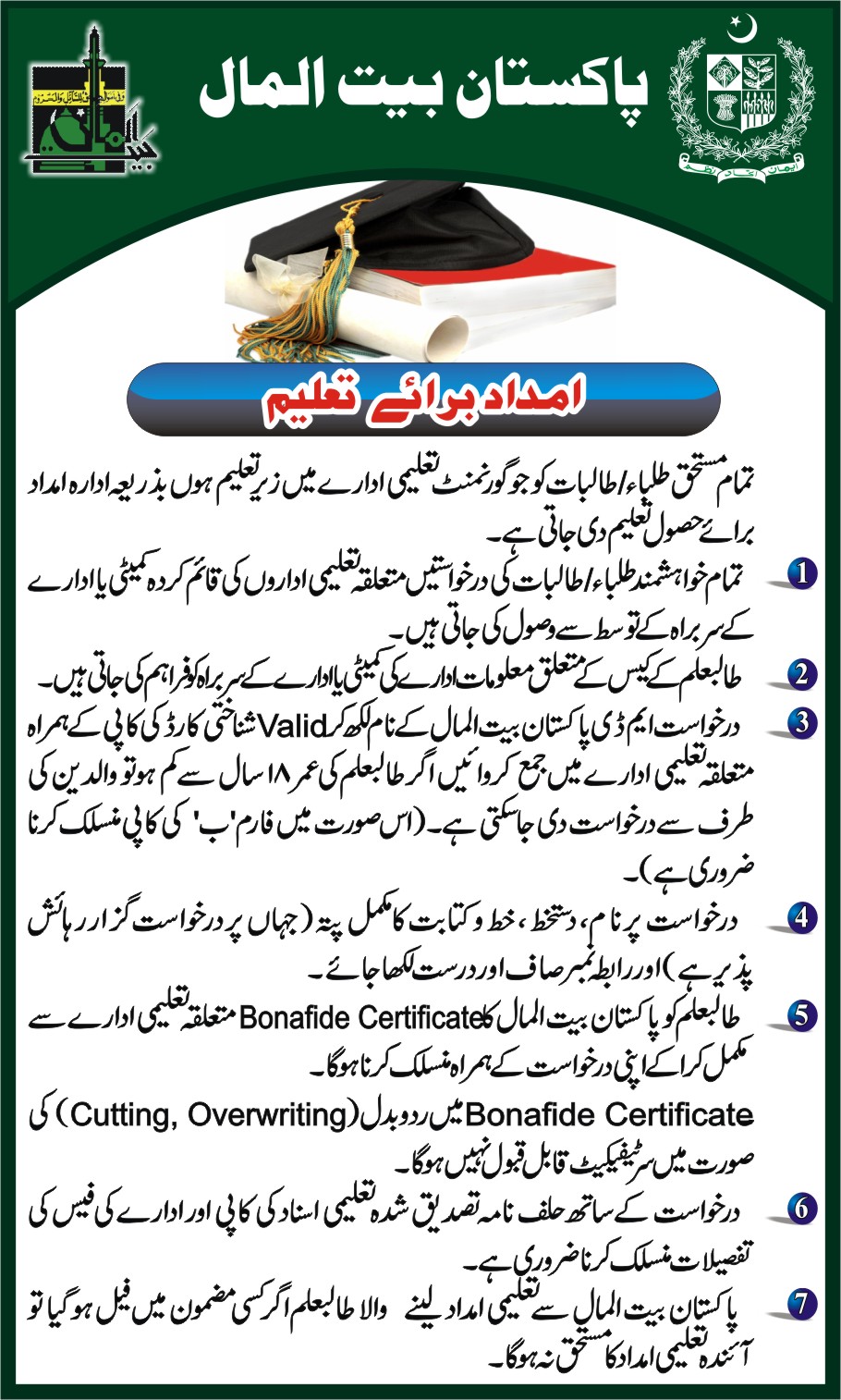 Pakistan Bait ul Mal Scholarship 2020 Last Date
Pakistan Bait ul Mal Scholarship 2020 Last Date is 9 October 2020 while after this date no application will proceed by the management. So interested candidates can apply before the last date.
Pakistan Baitulmal Scholarship 2020 Criteria:
Only deserving people who are getting an education in government institute now they can apply.
All applications will send on the behalf of the chairman of the institute where students are getting the education.
Candidates should write the scholarship application in the name of the managing director of Bait ul Mal.
18 years below students will provide the B.Form while above 18-year students will provide the CNIC Copy.
If a student is below than 18 years, in that case, he should submit the Form-B or CNIC of the parent
A bonafide Certificate is necessary who release the institute where he getting an education.
Students must send a bonafide letter along with an application form.
Students cannot overwrite on bonafide letter and application.
Pakistan Baitulmal Scholarship 2020 Application Form:
Click Here to Download
All deserving students can apply for the Pakistan Bait ul mal Scholarship 2020. The application form can be downloaded from www.pbm.gov.pk without any charges. After downloading the free application form, fill the application form, and do verify from the educational instate. After that, you also have to get a bonafide certificate which you have to fill through your concern educational institute. In case if you will not submit any document, like CNIC, educational certificate, or any other, in that case, your application will not entertain.