Looking for NFC University Multan Admission 2015 and Admission Forms with Entry Test Result Date then you are at the right place. AS NFC Institute of Engineering and technology, Multan has opened its Engineering and Non Engineering Program Admission for Undergraduate courses of classes of 2015. NFC Institute of Engineering is the fine institute to produce the well educated professionals to the nation. From the first day of its inception the University try to facilitate the students more than the expectation and the motive to the University is to provide the quality education to the students of the Pakistan. Every year there are number of students who got their engineering degrees from the institute and enter to their professional life.
NFC University Multan Admission 2015 Forms Entry Test Result Date
NFC Admission 2015 in Undergraduate programs are open in
Engineering Programs:
Chemical Engineering
Electrical Engineering
Mechanical Engineering
Civil Engineering
Non Engineering Programs:
BS Computer science
BS Environmental Science
Bachelor in Architecture
BBA
Admission schedule:
| | |
| --- | --- |
| Last date for the receipt of Entry Test | 31st July, 201 |
| Entry Test Date | 16th August, 2015 |
| Display of Entry Test Results | 23rd August, 2015 |
| Last date for the receipt of application forms with dues | 24th September, 2015 |
| Display of Merit List | 06th October, 2015 |
| Commencement of Classes | 12 October, 2015 |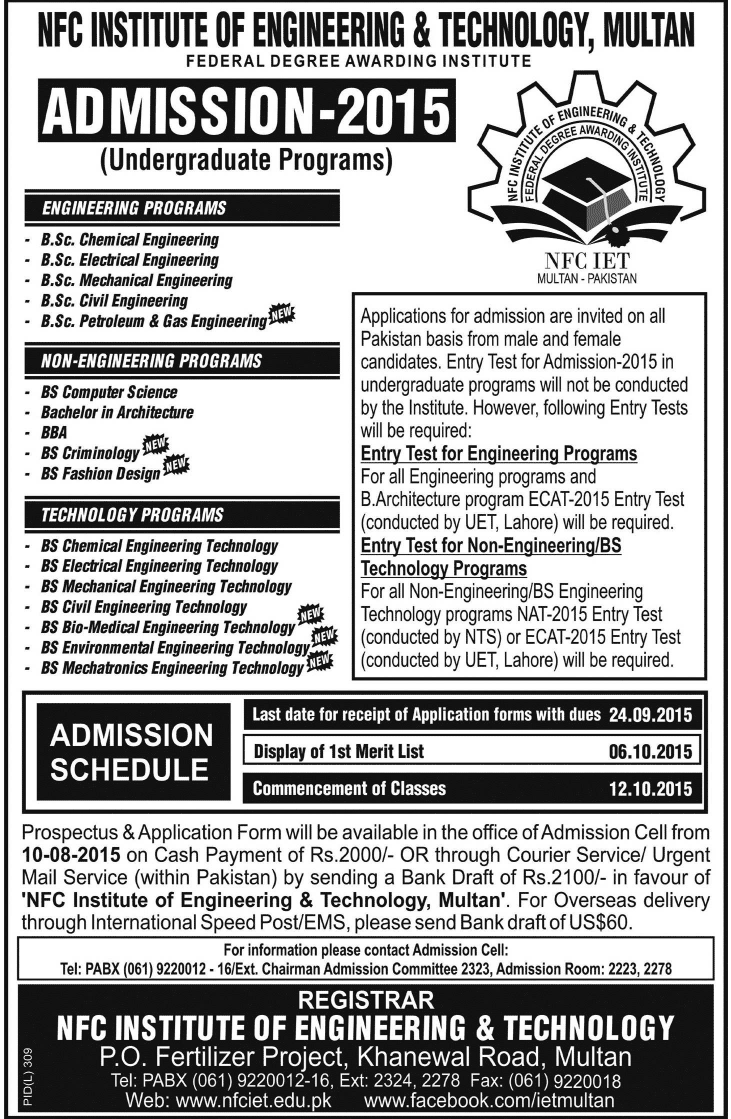 Eligibility Criteria:
For Engineering Programs:
Minimum 60% aggregate marks in F.Sc (Pre-Eng)/DAE/ICS/equivalent exams & 100 marks in entry Test
For Non-Engineering programs:
Minimum 45% aggregate marks in F.Sc (Pre-Eng/Medical)/DAE/F.A/D.Com/I.Com/equivalent exams
Application Form:
prospectus and Application form can be obtained from the office of the institute on cash payment of Rs. 1000/- or through courier service/ urgent mail service (Within Pakistan) by sending a bank draft of Rs. 1100/- in favor of FC Institute of Engineering & Technology, Multan. For Overseas delivery though International Speed Post/EMS, Please send Bank Draft of US $35.
Entry Test Date and Result:
Last date to apply for the entry test is 31st July, 2015 and the Entry test result will be available on this page on 23rd August, 2015 so stay in touch with this page.
 For More Information Contact:
NFC Institute of Engineering & Technology
P.O.Fertilizer Project, khanewal Road, Multan
Tel: 061-9220012-16, Ext: Chairman 2322, Admission Room: 2324, 2278