University Of Karachi UOK Evening Program Admission 2013
By Moin akhtar on December 16, 2012 5:38 pm in Universities / 2 comments
University Of Karachi UOK Evening Program Admission 2013 is now starts for those who are serious want to be a part of UOK. University of Karachi is one of the leading institutions imparting higher education in Pakistan. The University comprises of 52 departments along with 19 research institutions and centers having highly qualified faculty. It caters the needs of more than 25000 students.
keeping in view a very high number of applicants, the University of Karachi has started evening classes in several departments at the B.S>/Hons. and Masters levels. The directorate of Evening Programs was established in 1995 to execute evening programs which runs from 3:30 pm to 08:30 pm. Although evening programs is on Self-Finance basis yet the fee structure is very affordable and highly subsidized.
University Of Karachi UOK Evening Program Admission 2013
Applications are invited for admission in M-Pharm, MBA, MCS, BBA, BPA and Certificate Programs

Masters Programs

B.S / Hons. Programs

Actuarial Science & Risk Management
Environmental Studies
MBA ( 3 years)
Agriculture & Agribusiness Management
Food Science & technology
MBA
Applied Chemistry
International Relations
MCS
Applied Physics
Mass Communication
M-Pharm
Audiology
Mathematics

Certificate Programs

Biochemistry
Physics
Arabic
Biotechnology
Physiology
Child Psychology
Botany
psychology
Human Behavior
Business Administration
Public Administration
Mathematics
Commerce
Sociology
Mass Communication
Computer Science
Special Education
Persian Language
Chemistry
Statistics
Petroleum technology
Economics
Urdu
Urdu
Education
Women's Studies
Deficiency Course for Pharm-D
English
Zoology
Eligibility Criteria:
At least 45% marks in Prerequisite Examination. Grace or Condonation marks will not be considered. Detail of Eligibility, Number of seats for different programs and Schedule can be seen in the Admission Prospectus from the official website or here
To Download the Admission Prospectus CLICK HERE
Note: For admission in BBA /MBA minimum 50% marks and For BSSE / BSCS minimum 55% marks are required in the Pre-Requisite Examinations.
Applicants seeking admission in the basis of certificate/Degree other than those awarded by public sector boards or Universities of Pakistan should submit an Equivalent certificates of the University of Karachi vefore 31st December 2012.
Admission Form:
Application Form Date Extended
Form Submission date for getting scholarship is extended till 15th January
Form Submission date for MA Private and Double MA is extended till 28th January.
Form submission date for BS/ Hons /MBA/ MCS/ BLIS and Pharm-D is extended from 7th January to 11th January 2013.
Admission Form with the booklet can be obtained on payment of Rs 1000/- from the Silver Jubilee Gate Booth of UBL, University Branch (09:30 am to 05:00 pm) and from UBL University Campus Branch (05:00pm to 07:00 pm) during 17th December to 26th December 2012.
Duly filled in form along with the required certificates can be submitted to the same branches by 26th December 2012.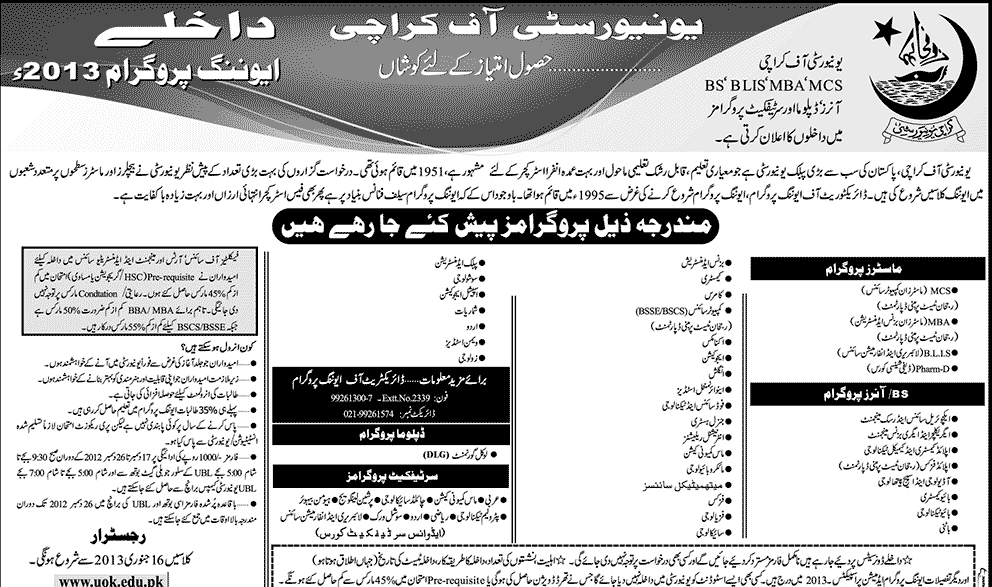 For More Information:
Director of evening programs, University of Karachi
Tel: 021-9926-1300-07
Ext 2339, Direct: 021-9926-1574
University Of Karachi UOK Evening Program Admission 2013

,

8.8

out of

10

based on

6

ratings
Share
Tweet
About the author
I am Professional Writer on the Career Consultancy and trying to facilitate the students for delivering the educational services along with the fastest growing educational website of the Pakistan Moin Akhtar
Related Posts