All Public Medical College and Universities announces Merit List 2015 for the MBBS and BDS. University Of Health Sciences (UHS) displayed Merit List and announced Merit List for getting MBBS Admission in 20 Public Medical Universities of Punjab Pakistan. These Merit List is the open Merit List only and you can also get here Lahore Medial and Dental Colleges Merit List. so students keep in touch with this page so that as soon as the University official declares the merit list 2015 you can easily see from this page. University of Health Science UHS conduct the MCAT entry test and in this about more than 35000s students appear against the total number of seats 6000 as these are for both programs that is MBBS and BDS
Medical Colleges Admission Merit List 2015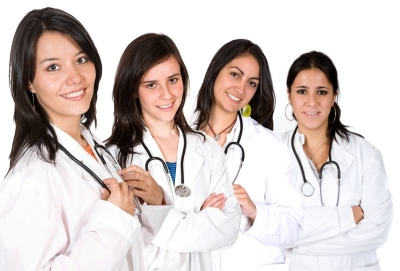 Below given Candidates details who applying for MBBS Admission are given below:
6,717 applications were received
2,842 open merit
61 under-developed districts
20 disabled candidates' seats
Preparation Of Medical Colleges Merit List 2015
The merit list was prepared giving a weightage of
10 per cent to matriculation
 40 per cent to intermediate
50 per cent to entrance test marks.
The King Edward Medical University (KEMU) Lahore remained the top choice of the candidates with merit for the college closing at 88.2372 per cent.Allama Iqbal Medical College (AIMC) Lahore remained at the second position with last merit of 86.4009 per cent.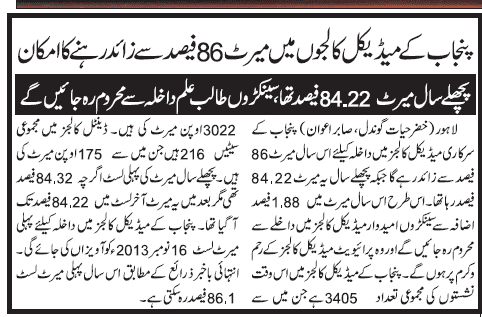 IMPORTANT NOTE
The Selection List of Gujranwala Medical College Gujranwala, Khawaja Mohammad Safdar Medical College Sialkot, Sahiwal Medical College Sahiwal and D.G. Khan Medical College D.G. Khan will be displayed after few days.
Selected candidates will be issued call letters by concerned colleges for interview
All admissions are provisional. Admission of selected candidate will be cancelled :

If any document / information provided by the candidate is found false / fake or fabricated at any stage
If it is found at any stage that the candidate was not entitled for admission according to the Admission Policy of the Government of the Punjab
If the candidate fails to report for admission and deposit fee on due date.
If the candidate is found medically unfit.

The candidates admitted against both open merit as well as reserved seats can only avail one seat by their own choice. They will have to surrender the other seat, by submitting an affidavit on Rs.20/- stamp paper, within 07 days of the display of Selection List. In case, the candidate fails to give his/her choice within given time limit, the Admission Board reserves the right to finalize his/her admission according to his/her merit and preference given in his/her Admission Form. No application against the decision of the Admission Board shall be entertained afterwards
Complaint, if any, against the Selection List may be lodged within 15 days of the notification. No complaint will be entertained thereafter
The Chairman Admission Board shall be competent to rectify any error or omission found in the Selection List.
Admission Schedule:
i)
Availability of Entrance Test Kits
4th to 9th August, 2015
from 09:00 A.M to 02:00 P.M.
(ii)
Submission of Entrance Test Application Forms
4th to 9th August, 2015
from 09:00 A.M to 02:00 P.M.
(iii)
Issuance of Admittance Cards
11th to 16th August, 2015, (excluding 14th August)
from 09:00 A.M. to 02:00 P.M.
(iv)
Entrance Test
Sunday, 31st August, 2015
(v)
Registration for Hifiz-e-Quran Test
11th, 12th and 13th September, 2015
(vi)
Hifiz-e-Quran Test
15th to 20th September, 2015
(vii)
Availability of Prospectus and Admission Form
23rd September to 2nd October, 2015 (Excluding Sunday),
09:00 A.M. to 02:00 P.M.
(viii)
Submission of Admission Forms (Open Merit, under-developed, Disabled, Cholistan)
23rd September to 2nd October, 2015 (Excluding Sunday),
09:00 A.M. to 02:00 P.M.
(ix)
Medical Board of Disabled Candidate
13th October to 16th October, 2015
(x)
First Selection List (MBBS)
Thursday, 30th October, 2015
(xi)
Commencement of classes in medical colleges
Monday, 17th November, 2015
(xii)
First Selection List (BDS)
Wednesday, 10th December, 2015
(xiii)
Commencement of BDS classes
Monday 22nd December, 2015
Keep in touch with this page to get Medical Colleges Admission Merit List 2015 as this page will be updated as soon as the University official will declare it.