How to Get Student China Study Visa Requirements, Fee, Process, Application Form for Pakistan Complete Instructions are available on this page. Because every year many of the students from Pakistan move to China for study purpose specially in the MBBS and Management Programs. China always welcome the Students from the other countries and that is main attraction of students to move to china for getting education. Well China is the county which has really good relationship with the Pakistan and another attraction towards the China for study is that is study expenses are very low as compared  to the other countries. There are many Universities that allow the International students admissions and encourage them for getting better education. Below details further guide you about the China Study Visa Requirements For Pakistan.
There is a rule in whole china that every single one have to get at least 9 years of education and by which every one pass the Primary, Junior and Middle level of education. If you also one of those who wanted to get education from any of the China University then the process is very simple but you need to go with the proper procedure and then you China Study Visa will be approved.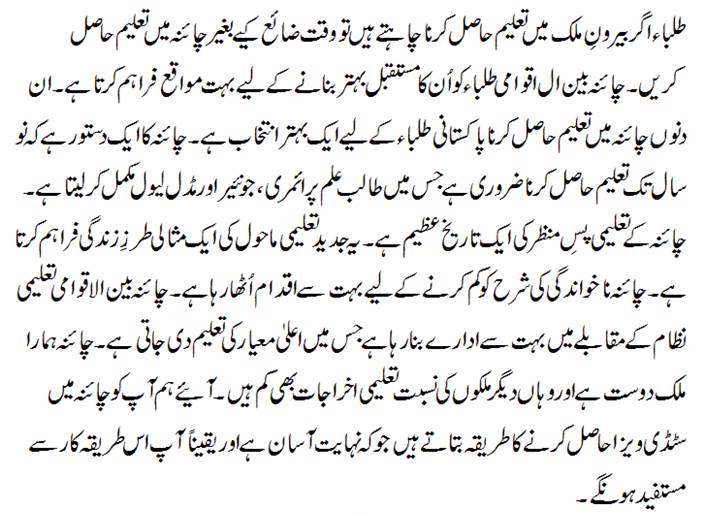 China Study Visa Requirements For Pakistan:
Real Visa notice sheet (JW 101, JW 102 Form) from registered Chinese Organization
Admission Letter issued from the educational Institute
All of your educational Certificates which is attested from the Higher Education Commission as well as the Foreign office of Pakistan
Medical Report that is attested from the Foreign Office of Pakistan
Father or Guardian Signature that they could bear all the educational expenses
Bank Statement
Real Passport whole validity is more than the 6 month atleast
Copy of first two pages of passport and if there is any Visa approved before than its photocopy too
One Visa form which is filled in the English or Chinese Language with recent taken photo.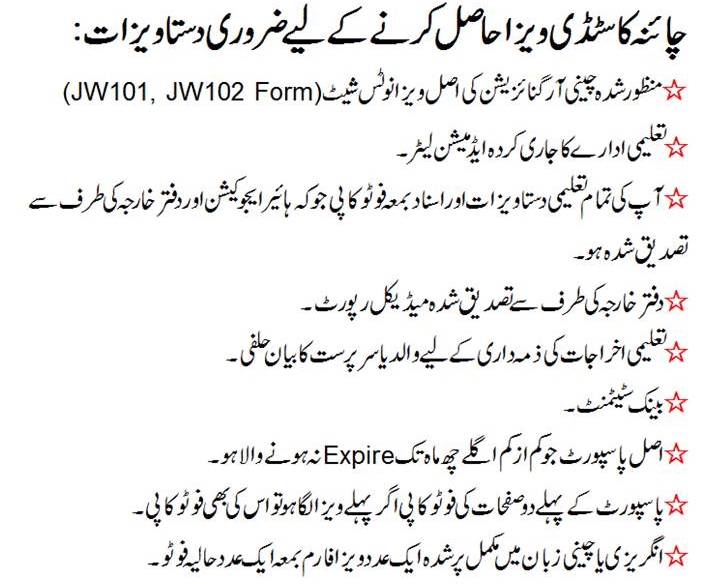 China Study Visa Process For Pakistan:
First of all you have to decide that for which course you wanted to study in China and once you decided the course you need to find the educational institute that offer this programs. Now apply for the admission in that institute and once your admission is approved ask your admin officer to send you the original admission letter. Make sure one thing before taking admission to any of the University or college that this institute is eligible to allow admission to the International students or not. Take your original admission letter with you to the Chinese Embassy and then apply for your Visa. One can assume now that you are familiar with China Study Visa Process For Pakistan.
Now bring your Application along with all the required documents as mentioned above along with you in the Chinese Embassy. You can also submit your application for approval via email.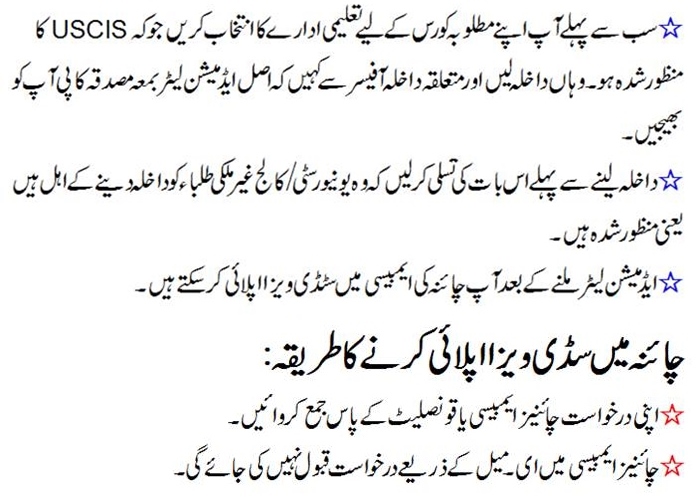 China Study Visa Fee For Pakistan:
For all the candidates the fee of X Visa remains the same. If you are applying from the America then the fee will be 140 Dollars and for other all candidates the fee will be just 30 Dollars.It is the basic China Study Visa Requirements For Pakistan

China Study Visa Application Form For Pakistan:

The above given information is all about the China Study Visa Application Form For Pakistan. If you are applying for the China Study visa then you could be able to get your Visa in just 4 days of processing. If you wanted to get Visa fast then there are two options for all of you and that are Express Service and Rush Service. In the Express Service you could be able to get China Study Cisa in just 2 to three days but you have to pay 20 Dollars extra for this service. In Rush Service you can get your Visa in just one day and for this service you have to pay 30 Dollars extra for the processing. it is all about the China Study Visa Fee For Pakistan