If you want to take admission in the session of 2017 at KIPS College Lahore in FSC, ICOM, ICOM then the admission is open for all wishing students. KIPS College is the growing College having many branches in Lahore, Pakistan invited the Admission Application 2017. Lahore city is consider to be a city of Colleges and in this kind of city to make a name in the educational world is a big achievement which is got by the KIPS College and the reason behind this is not that one could not understand as the reason is just to provide affordable and accessible education to all of the students and in this thing the socio or economic background does not matters. KIPS started its educational services as a Academy and then in a few years it achieve the height of the top edges in the educational institutes of Lahore so now KIPS has many projects including
KIPS Pre School
KIPS School
KIPS College
KIPS Entry Test Preparation
KIPS Foreign Test preparation
KIPS Competitve Exams Preparation
KIPS Academy
KIPS Publications
KIPS College Lahore Admission 2017 FSC, ICOM, ICOM
Admission Form:
CLICK Here to Download
KIPS Pre 1st Year Admissions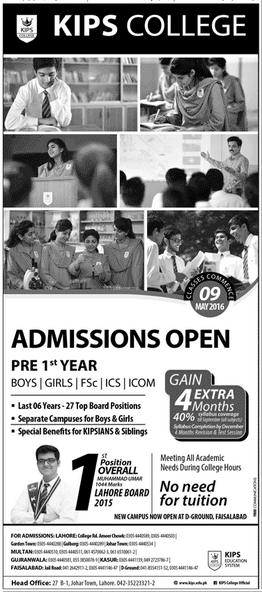 KIPS is the fastest growing network of educational institutions and the most reliable name in providing quality education at affordable cost. It has been enjoying the heights of success for the last 10 years, for a simple reason that it has made education affordable and accessible to all the students. KIPS believe that education is not merely learning but it is also the excelling of personality perfectly by ensuring the intellectual, mental, moral and physical development of the students.
Distinguishing Features at KPS College:
Up to 100% scholarship for high achievers
Conceptual & Analytical education for entry test preparation within FSc
Eliminating the need of evening coaching
High Appreciation for Toppers (Car, Motorcycle and laptop)
Periodic result shairng with parents
exclusive evaluation, Practice & Preparation
Personality grooming & holistic development
Orientation on various career options like Medical, Engineering, I.T & commerce