If you want to take Admission in the session of 2023 at KIPS College Lahore in FSC, ICOM, then admission is open for all wishing students. KIPS College is a growing College having many branches in Lahore, Pakistan invited the Admission Application 2023. KIPS College Lahore Admission 2023 FSC, ICOM, is now open. Lahore city is considered to be a city of Colleges and this kind of city makes a name in the educational world. This is a big achievement which is got by the KIPS College and the reason behind this is not that one could not understand as the reason is just to provide affordable and accessible education to all of the students in this thing. The socio or economic background does not matter. KIPS started its educational services as an Academy and then in a few years, it achieves the height of the top edges in the educational institutes of Lahore. So, now KIPS has many projects including.
KIPS Pre School
The KIPS School
KIPS College
KIPS Entry Test Preparation
The KIPS Foreign Test Preparation
KIPS Competitive Exams Preparation
KIPS Academy
The KIPS Publications
KIPS College Lahore Admission 2023 FSC, ICOM
Kip's College Lahore admission has announced 2023 and people can apply to different programs like FSC, ICOM, and some other courses. So time is too short and after a few days, they will close the admission.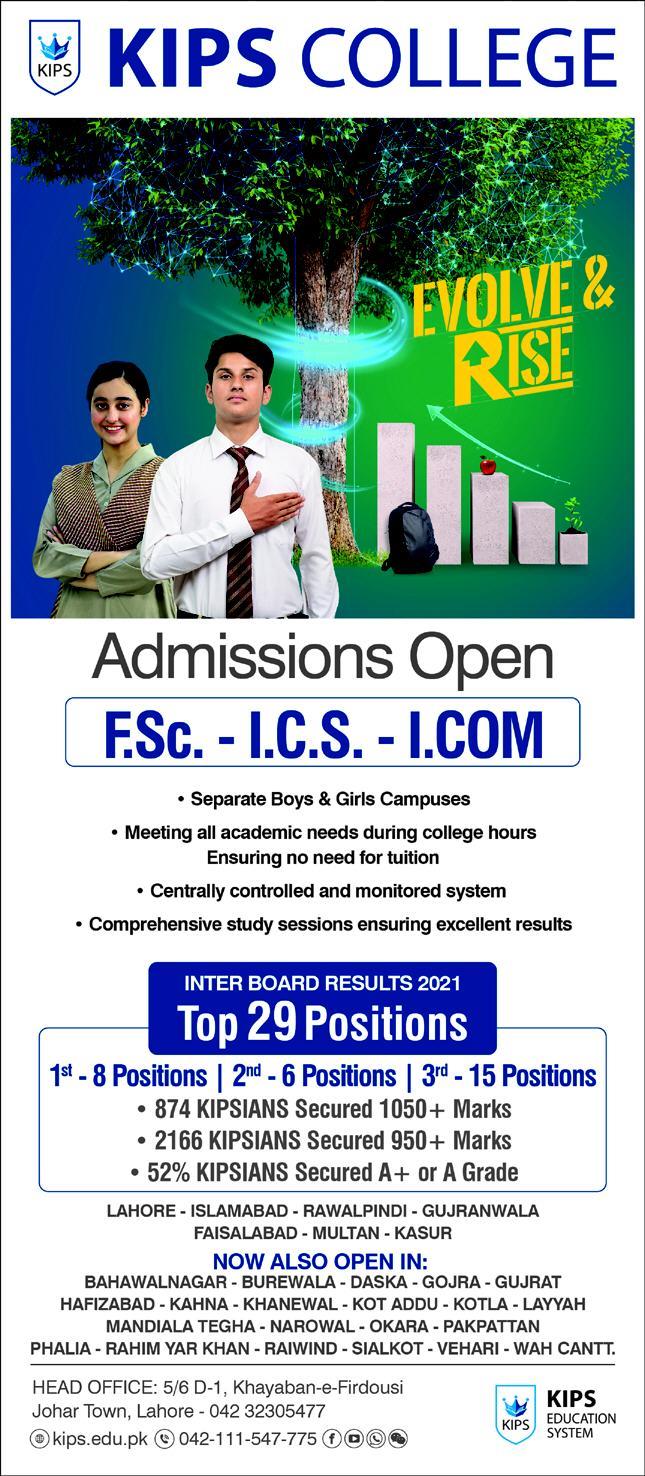 KIPS is the fastest-growing network of educational institutions and the most reliable name in providing quality education at an affordable cost. It has been enjoying the heights of success for the last 10 years, for the simple reason that it has made education affordable and accessible to all students. KIPS believes that education is not merely learning but is also the excelling of personality perfectly by ensuring the intellectual, mental, moral, and physical development of the students.
Kips College Lahore Admission Criteria:
For admission in FSC pre-medical and pre-engineering, 65% marks are compulsory to have in Matriculation.
For ICS and ICOM admissions, the candidate must have at least 60% marks to take admission on merit.
Students who have done O level and want to take admission can take admission after submission of the equivalence certificate.
Distinguishing Features at KPS College:
Up to 100% scholarship for high achievers
Conceptual & Analytical education for entry test preparation within FSc
Eliminating the need for evening coaching
High Appreciation for Toppers (Car, Motorcycle, and laptop)
Periodic result sharing with parents
exclusive evaluation, Practice & Preparation
Personality grooming & holistic development
Orientation on various career options like Medical, Engineering, I.T & commerce
All students who want to take Admission to Kips must have to purchase a prospectus from any KIPS college branch. After purchasing the prospectus, fill out the application form and attach all necessary documents like the Matric certificate, Father's payslip, and others. All candidates will select on a merit base.