Cadet College Hasan Abdal admission 2017 is now open for 8th class, 1st year and you can download form along with prospectus. If you have clear your 7th class from Cadet College or any other school then you have a chance to be a part of Cadet College Hassan Abdal. Well beside this there are some eligibilities and an entry test which is also mandatory for each candidate to qualify in order to lie on requirements of Cadet College for admission 2017. So interested candidates have to obtain college prospectus and admission form by paying its fee and after filling it and attaching all required documents which it resubmit it to the admission office before the last date. So in this post you will get all procedure for taking admission in Cadet College 2017, Eligibility, Last Date for Submission of application form, entry test date and admission procedure fee structure. So read this post with full attention along with the advertisement of Cadet College Hasan Abdal Admission 2017 and perform all the admission procedure before till the last date mentioned below. Have a look down this post and read the details.
Cadet College Hasan Abdal Admission 2017-2018 8th Class, 1st Year Form Download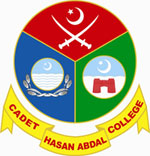 Cadet College Admission 2017 Eligibility
Age: between 12 and 14 years on 1st April, 2017 (No relaxation will be given in lower and upper age limit)
It is necessary for each student to pass in class 7th till April, 2017
Selection of Subjects
Physics
Chemistry
Biology
Mathematics
English
Urdu
Islamiat
Pakistan Studies
Cadet College Written Test Subjects
Math and Intelligence Questions
English and general knowledge Questions
Urdu and Islamiat Questions
Note: Math and Intelligence test will be taken in English
Written Test Centers
Cadet College Peshawar
Cadet College Rawalpindi
Cadet College Islamabad
Cadet College Lahore
Cadet College Faisalabad
Cadet College Multan
Cadet College Karachi
Cadet College Quetta
Cadet College Sharja (UAE)
Cadet College Riyaz (Saudi Arabia)
Interview and Medical
Those students who pass in written test will be call for an interview and a medical checkup. Date of interview and medical checkup will be intimated to each student
Cadet College Admission Procedure
For taking admission in Cadet College Hasan Abdal you can obtain prospectus from college by hand in Rs. 800/-
You also can obtain prospectus via post in Rs. 1085/-.
Challan form for prospectus can be download form this page also from official web site of Cadet College Hassan Abdal (CCH). Fill this form with complete information including name and complete address and submit it to the HBL Bank. After this Cadet College will send you prospectus at the address you have mention in HBL challan form. In this prospectus you there is a registration form which you have to be submit with registration fee Rs. 1558/-.
Admission form along with chalan form can also be downloaded from here. Pakistani Students have to pay Rs. 2558/- while foreign students have to pay Rs. 3000/-PKR (prospectus and registration fee is combined in this fee).
Last Date For Submission of Admission Form: 13th October, 2017
CCH Written Test Date: Sunday 12th November, 2017

CCH Bank Challan Slip For Prospectus
CCH Admission Form For Class 08/ O Level
CCH Admission Form For 1st Year/ A Level
Cadet College Hasan Abdal Admission 2017 Advertisement
You can also click on advertisement to view it in zoom
So this is all about "Cadet College Hasan Abdal Admission 2017-2018 8th Class, 1st Year Form Download". Hopefully you are all now fully familiar with the CCH admission 2017-2018 for class 8 or "O" Level and 1st year or "A" Level. Despite you have any confusion about this admission you can question us via our comment box below. We will reply you on 1st priority as soon as possible.