It is the page for Cadet College Okara Admission 2019 for 8th class is opened now and here you will get 8th class Entry Test Result too as Okara Cadet college is one of the best cadet college in Pakistan so there is a number of students who wish to get admission in this college. Every year around April cadet colleges in Pakistan take their entry test to select candidates the one who clear the written test than go through a interview and after that the final selection is made. This year in 2019 cadet College Okara announce the entry test date that is 9 Dec 2018 so all those students who want to appear in this exams must submit their applications with complete form before date. Cadet College Okara is in the list of best cadet colleges of Pakistan so that is the reason that there are a number of students who wants to take admission but college did not in a condition to provide admission to all of the students who submit the admission form that is why there is an entry test taken by the college that will decide that whether the candidates are eligible enough to get admission in the college or not. The admission now open for the 2019 are for the class of 8th so all those students who have completed their 7th class this year are able to submit their admission form today. All the other details regarding eligibility Criteria, Entry Test schedule, admission Schedule and entry test result is given below at this page. Also check Cadet colleges Admissions 2019.
Cadet College Okara Admissions Page
Eligibility:
Student age on 1st April must not be less than 12 year old and not greater than 14 years. For Hafiz E Quran there is a relaxation in the age limit of about 6 months other than that there is no relaxation in any case.
On 1st April Candidate must have passed 7th class or equivalent class.
Entry Test for Cadet College Okara Admission 2019
Entry Test is of  Mathematics, English, Urdu and islamiyat
Entry Test Will be on Sunday 04th March, 2019 at Okara
Those students who clear his entry test will call for an Interviews and Medical Check up
College prospectus:
College prospectus with application form Rs. 1000, For foreign candidates Rs. 2000 during bank hours from the bank of the Punjab M.A Jinnah Road Branch Okara can be collected. Other than that if you want to receive the college prospectus at your home via post than a draft of Rs. 1300 on the name of Principal Cadet College Okara send using T.C.S. Prospectus will issue on the name of Candidate only.
Last date of receiving application form is 1st december 2018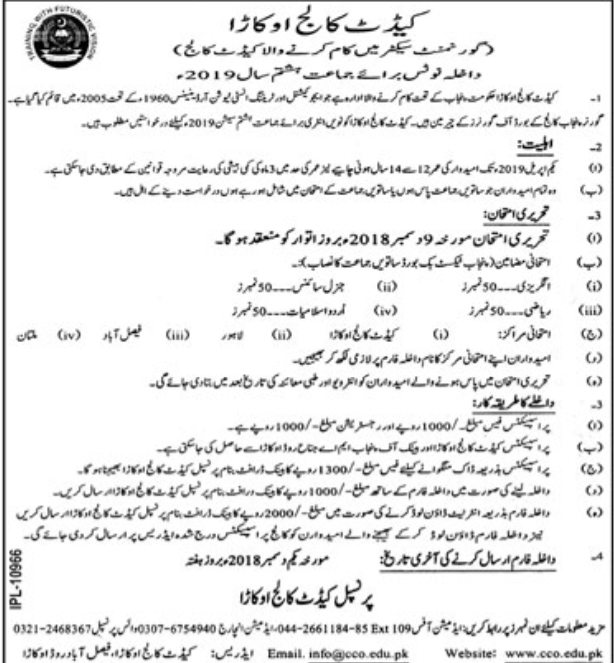 Cadet College Okara Entry Test Result :
Cadet College Okara entry test will be held on 10 dec 2018 so all the candidates who have submitted their admission form will be there in the entry test which is going to he held in the Okara campus so after this entry test result 2019 will be announced by the officials of the cadet college and then all those students who will clear their entry test result will be called for further interview session in the month of December and then the shortlisted candidates in the interview session will submit their fee and classes will be started for the session 2019. So it is all about the Cadet College Okara Admission 2019.