Every year bundle of students miss admission to MBBS because they cannot know the date so now Federal Medical & Dental College (FM&DC) Islamabad Admissions 2022 has been announced. While some criteria for admission have been specified by the organization so just only those candidates will eligible for admission meet the criteria. Before applying kindly read all the instructions. The FM & DC is in the public sector of Islamabad and entrusted to the Cabinet Division and the establishment of its operationalization. On 28 March 2011, it was inspected by Pakistan Medical and Dental Council and has been recognized for its MBBS. This institute is affiliated with Quaid-e-Azam University Islamabad, which is ranked as the number one university according to Pakistan HEC. Now Federal Medical & Dental College (FM&DC) Islamabad offers admission, and all the information, admission criteria, faculties, and others are given. National Testing Service (NTS) will be responsible for the entire admission process, ensuring full transparency and merit in line with the quota. Application forms and online deposit slips are available. The candidate will be able to check FMDC Merit List 2022 after the Entry test. Candidates should send their applications on the prescribed form along with the application online deposit slip (in original) to the Islamabad headquarters of the NTS. Now the enrollment availability of Federal Medical & Dental College (FM&DC) Islamabad Admissions 2022 exists and people can apply online.
ADMISSION SCHEDULE
Online Application (Start Date)
3rd December 2022 (Saturday)
Online Application (Closing Date)
12th December 2022 (Monday)
Hifz-e-Quran Test
10th – 13th December 2022 (at UHS Lahore)
Medical Board for Students with Disabilities
10th – 13th December 2022 (at UHS Lahore)
Provisional Merit List of candidates
15th December 2022 (Thursday)
Final Merit List of candidates
17th December 2022 (Saturday)
Selection List
MBBS
BDS
First College-wise Selection List
19th December 2022
16th January 2023
Last date of submission of College Fee at BOP
22nd December 2022
19th January 2023
Second Selection/Up-gradation List
24th December 2022
21st January 2023
Third Selection/Up-gradation List
28th December 2022
24th January 2023
Fourth Selection/Up-gradation List, if any
31st December 2022
28th January 2023
Fifth Selection /Up-gradation List, if any
1st February 2023
Sixth Selection /Up-gradation List, if any
4th February 2023
Commencement of classes in medical/dental colleges
1st March 2023 (Wednesday)
Federal Medical & Dental College (FM&DC) Islamabad Admissions 2022
Apply Online
Federal Medical & Dental College Islamabad Admissions 2022 now exists and if you are interested then you can apply before the last date is August 2022 after this date no application will entertain by the management. So time is too short and all documentation and other necessary things are mentioned below.
You can Check: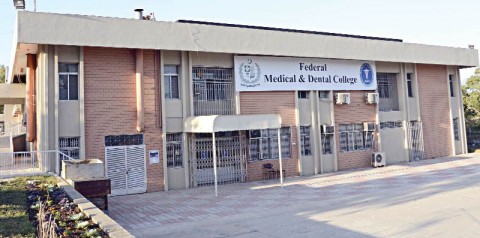 FM&DC Last Date:
Some people think that the admission deadline has crossed but the last date of admission is 12 December 2022 after this date, no application will proceed by the management as well as they will declare the entry test date. But they will announce the official date of entry test after closing the admission.
Fee Structure 2022
If you are searching the Federal Medical and Dental College Fee structure 2022 that is available on the official page of this organization. Further with the passage of time, they changed the criteria of the fee because at the time of admission when they start the new session then they change the admission fee and semester fee.
How to Apply for PMDC:
Some of the students do not know how to apply so all the procedure is going to be mentioned below.
Firstly open the official page"https://www.bop.com.pk/UHS-2022/Login.aspx".
If you are a new user then you will first register while if you have already registered then you will enter the username and password and then log in.
Then you will select programs like MBBS and BDS.
FMDC Eligibility Criteria:
There are only 100 seats available in this medical and dental college and out of 100 seats, 6 seats are on merit, and the rest of the seats are on the provincial quota.
It is compulsory to pass the pre-admission entry test otherwise admission will not provide to students.
PMC Pakistan Medical Commission MDCAT Test Result is necessary.
Final admission will be after the Interview
Both male and female students are encouraged to apply for admission to this college.
Students who have done A levels are also encouraged to apply for admission.
In the case of A-level students, students have to bring an equivalence certificate.
FMDC Required Documents for Admission:
For Open Merit Quota:
Passport Size Photograph of the Candidate
Scan Copy of HSSC Pre-Medical Certificate
Scan Copy of Domicile Certificate
Scan Copy of Proof of Residence
Scan Copy of CNIC/B.Form
Scan Copy of aid Fee Challan
Scan Copy of Hifz-e-Quran Certificate
The Institute serves students from all over Pakistan and the seats were reserved for the provinces, both in the government-approved quota. This is in line with government policy to ensure access to quality education in all professional fields. So visit ilm.com.pk periodically to get more information about Federal Medical & Dental College (FM&DC) Islamabad Admissions 2022.