Lahore College for Women University is offering Intermediate admissions programs. Students who have passed their intermediate exams can apply for Lahore College for Women University LCWU Admission 2018. The college is also offering undergraduate and postgraduate programs to students too. It is specified girls college and only provides admissions to female students. Admission for the Academic Session 2018-2019 is open for various programs including Ph.D. programs in Natural Sciences, Humanities & Social sciences, Designs and Visual Arts, Education, Engineering & Technology, Languages, and Cultures so LCWU invites forms for the admission in these mentioned disciplines from July 2018. All students who want to apply for admission can apply for the admission by purchasing prospectus. The last date to apply for the admission has also announced. LCWU Last year merit list present on this website.
Before going to the further details lets have a short intro of LCWU as a premier institution for women education  Lahore with 90 years' commendable service to its credit is committed in providing the best affordable higher education without compromising on quality. Credibility Or academic excellence. no mission at LCWU is to offer unlimited access to higher education to adverse student-body From around the country. Community service related projects are embedded in the intermediate program to enable the student to become responsible and service-oriented citizens of a global community. Highly dynamic and professional faculty.
Lahore College for Women University LCWU Admission 2018
Lahore College for Women University Admission Form:
Admission Forms can be obtained and submitted in LCWU Campus and can also be downloaded from LCWU Website and from this page too. and the application fee, in this case, may be deposited along with the Admission Form to LCWU and receive a copy of the Prospectus
CLICK HERE TO DOWNLOAD
Scholarship:
Students having excellent academic record may apply tor Looted need-based scholarships on the prescribed forms available from the Scholarship office III the Bushra Mateen Building Si LGWU alter Me display of 1st Merit List.
Lahore College for Women University offers Scholarship to BISE position holders.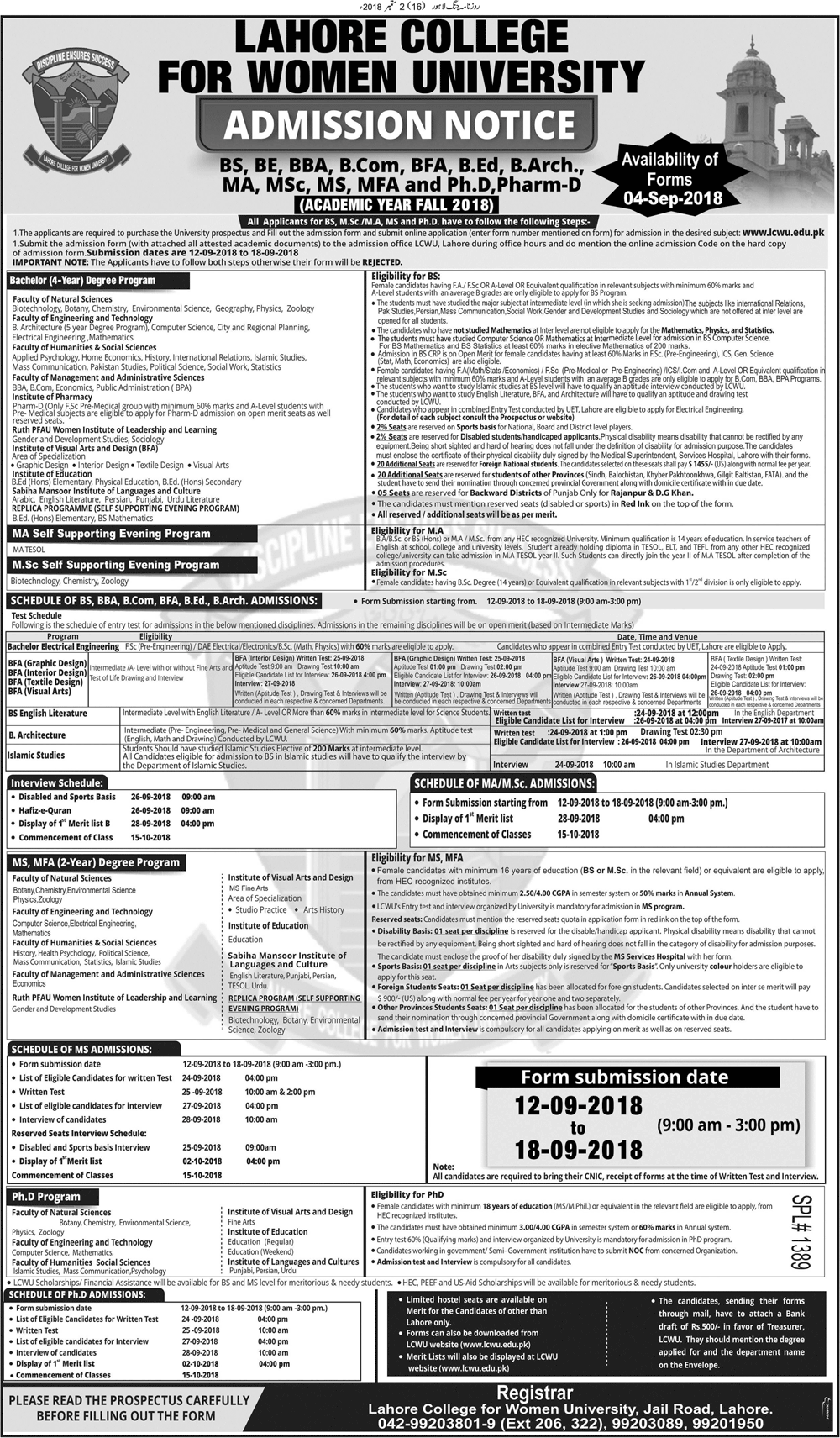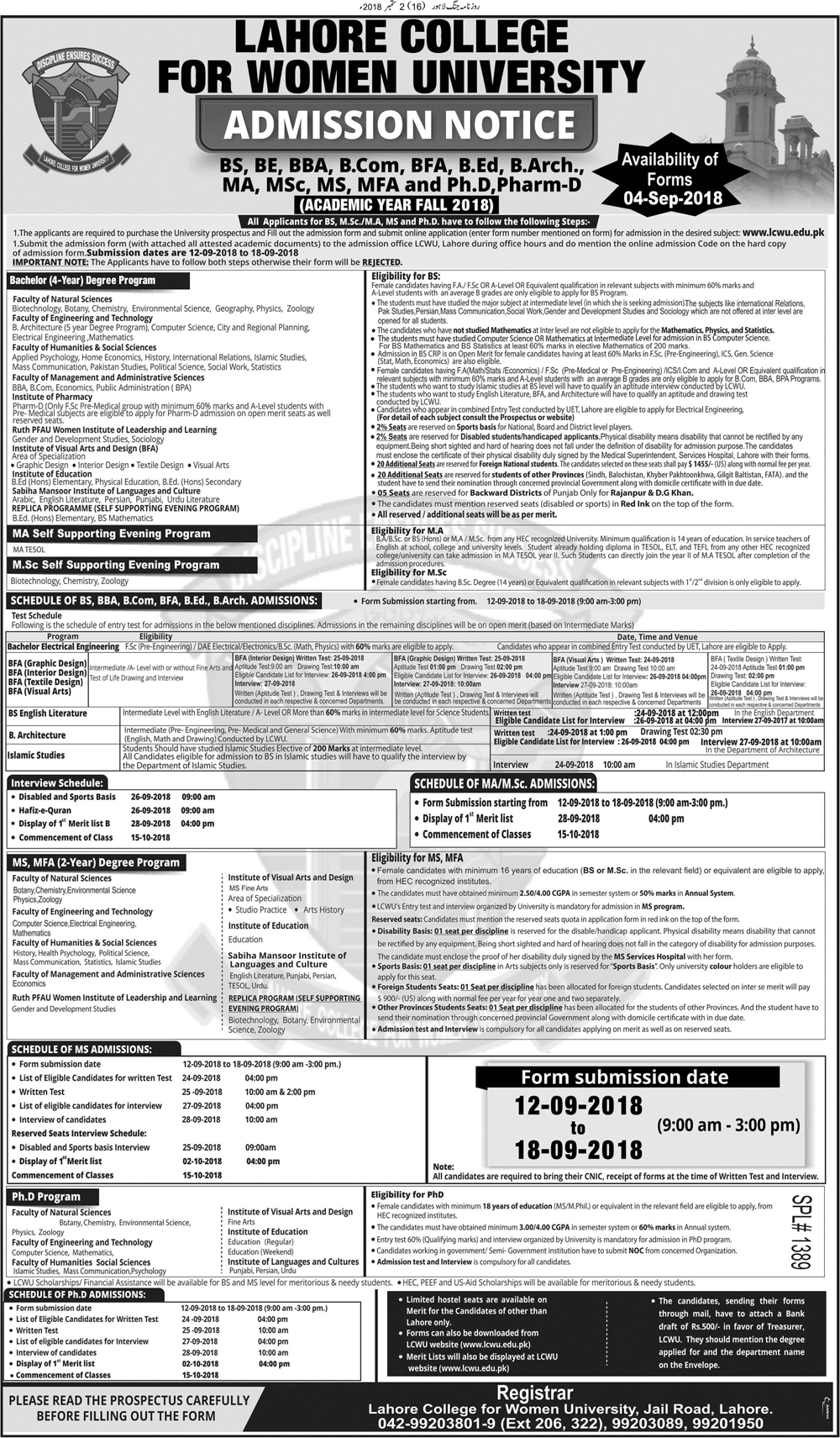 Important Note:
The students Will attach two attested photocopies of B. Form/CNIC Card. Matric Result Card. Character/Provincial Certificate Identity Card of Father/mother/Guardian and Monthly Income certificate of  Father, Mother/Guardian
Forms of Different Faculties are interchangeable, To avoid disappointment  please submit forms Separately in any other faculty if interest, because each hour, has separate, merit, Admission will be on merit
Students who belong to other board except Lahore Board will provide NOC after admission.
LCWU Merit List and Entry Test:
As it is clearly mentioned in the advertisement that the interview schedule goes till the August 2018 so it has no doubt that the merit list will be displayed after that date. So students keep in touch with this page as this page will be updated on the very next minute when the officials declare the Merit Lists. According to the official announcement the Ph.D. program entry Test would be held on August 2018 and after that on August 2018 list of eligible candidates for interview will be visible and after the final interview the 1st Merit List will be available to this page on August 2018 so students stay in touch with this page to keep yourself up to date from all the latest updates. So apply for the Lahore College for Women University LCWU Admission 2018.
For More Information Contact:
Lahore College for Women University, Lahore
Ph: +92-42-99203801-9