You will be announced Muslim Law College Rawalpindi Admission 2022. All students who have done graduation are allowed to apply. This is a private institute that is recognized and affiliated with the University of Punjab. It was established in 1987 in Rawalpindi. This private college is offering a number of scholarships like a 100% fee waiver to students with 80% or above marks. It also provides a 1 Lac cash prize to the first position holder in University Exam. Muslim Law College has announced admission for 3-year regular morning and evening programs. For all candidates, who want to apply for admission, please make sure eligibility criteria, fee structure, and admission procedure from this page. It is standing in the list of best Law colleges in Pakistan. Admissions will be on a merit basis without any discrimination. In this article, you will learn about Muslim Law College Rawalpindi LLB Admissions.
Muslim Law College Rawalpindi Admission 2022
Apply Now
Muslim Law College Rawalpindi Admission 2022 has been announced by the official and if you are interested then you can get the admission before the last date that is 23 April 2022 and after this date, no application will receive by the management. Further documentation, eligibility criteria, and some other information are listed below the article.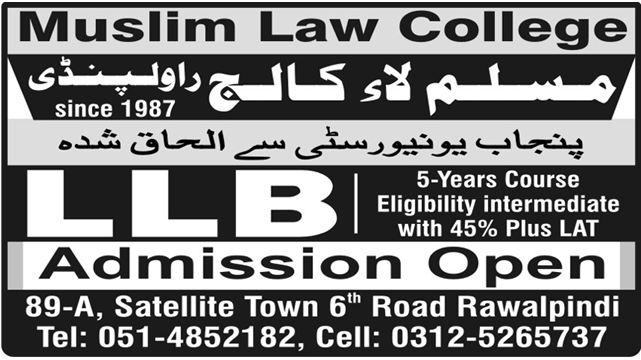 Offered Courses:
Muslim Law College offers 3 years and 5 year LLB programs to students. It has announced admission for 3 year LLB program in 2022. The highly qualified institutions in LLB make the appropriate way out to show the exact way to ensure the admission schedule and progressive approach. The detailed process is
Eligibility Criteria:
Students who have at least 45% marks in graduation are allowed to apply for the admission
Admission is open for both male and female students
All admissions will be provided on open merit basis
There will be no entrance test for admission and admission will be provided to the highest marks taker student in graduation
Students have the option to apply for morning and evening programs however those students who have less than 45% marks will not be allowed to apply for admission
Muslim Law College Admission Last Date
Last date to submit the application form December
Classes will start on December
The 45 percent marks in graduation are required for the LL.B. The 3-year course is open for the peaceful and attractive atmosphere, top positions in Punjab university, spacious building, retired judges, experienced & highly qualified teaching faculty
Muslim Law College Fee Structure:
Muslim Law College fee Structure is now exists on this page and if you going to take the admission then you can check the criteria of the fee before the admission. On the other hand, every year management of this college is changing the criteria of the fee. So must one time review the fee.
Muslim Law College Rawalpindi Admission Procedure:
Admissions for Muslim Law College Rawalpindi are open for the LLB program. Students are allowed to purchase prospectus from the college campus in cash. There will be an application form at the end of the prospectus. Fill out that form completely and attach all required documents. Stay updated about the Muslim Law College Rawalpindi Admission 2022. So submit that form before time to get admission to this college. Admission will be provided to limited students in both morning and evening classes.
All the information is mentioned on this page and those candidates who want to apply so don't waste the time and just click on apply online and then give the all complete documentation and your application will process. After closing the admission then they will the list for those candidates who will make a part of this institute.