The page about the Sialkot Medical College Admission 2019 form. Students having at least 70% marks in intermediate are allowed to apply. It is a private medical college which Affiliated with the University of Health Sciences and Recognized by the Pakistan Medical and Dental Council. It is also approved by the Federal Ministry for National Health Services Regulations and Coordination. This medical college has its attached teaching hospital which is consist of 250 Beds. In this college, for 5 years and 4 years admission, Candidate has to pass UHS MDCAT test or any other provisional entry test. Foreign students are also welcome by the college for admission. This college is standing in Private Medical Colleges in Punjab for MBBS List. In this article, you will learn about Sialkot Medical College admission and important dates.
Sialkot Medical College MBBS Admission 2019 form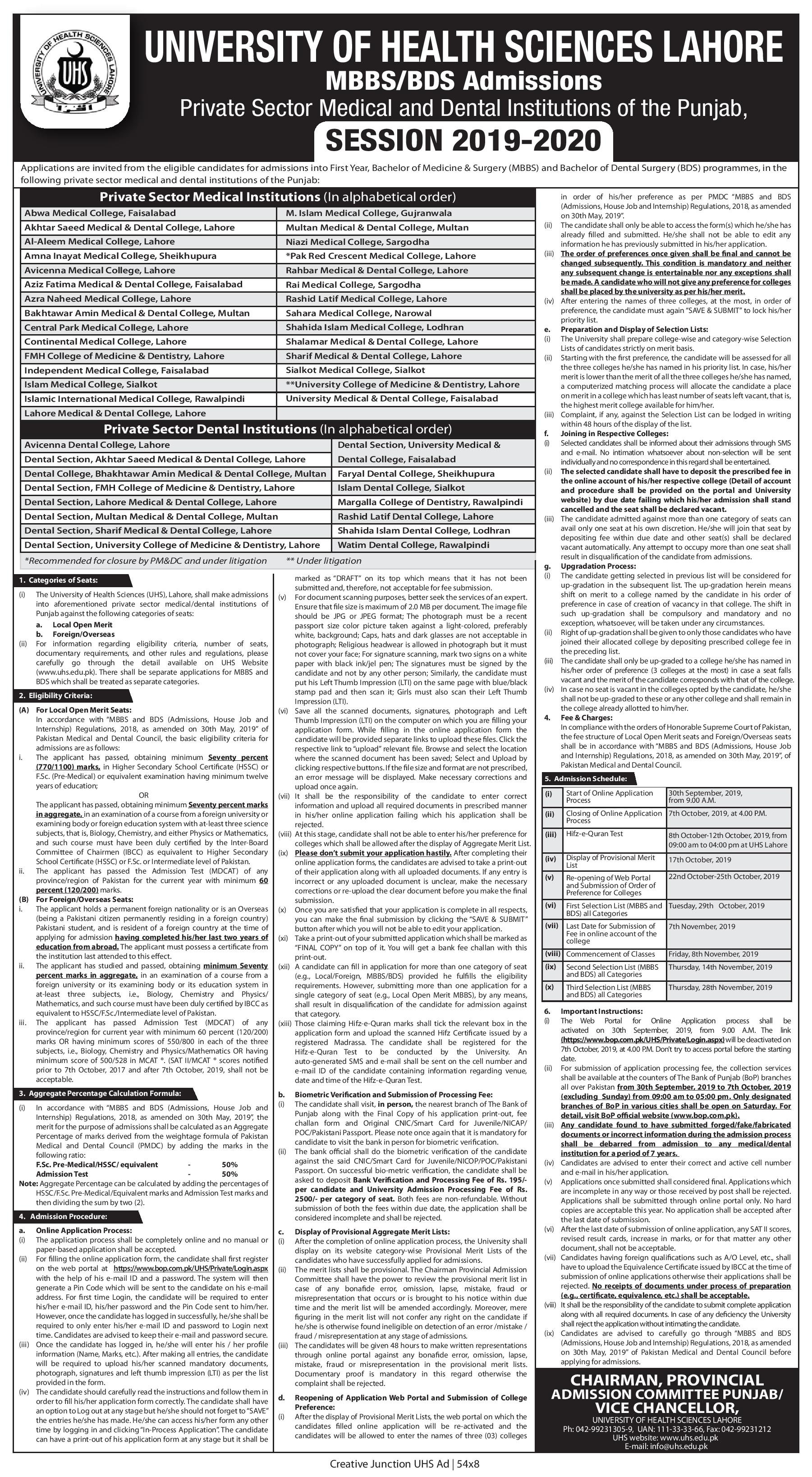 Eligibility Criteria:
For MBBS admission, Candidate must have at least 70% marks in intermediate or equal programs.
A level or other foreign certificate holder equal to intermediate is allowed to take admission if they have 70% marks in A level.
For other certificate holders, it is mandatory to bring an equivalence certificate which is obtainable from the IBCC.
For Students, MDCAT or other medical entrance test is compulsory to pass however for foreign students, SAT-II exam is compulsory
For MBBS Admission, the candidate must have 70% marks in F.Sc or equivalency program.
Students who are appeared in the entry test of 2019 must have 60% marks in the MDCAT.
Sialkot Medical College Admission 2019 Schedule:
        Event
           Dates
Online admission starting date
30th September 2019
at 9:00 AM
Last Date for the application form
07th October 2019
at 4:00 PM
Hifz-e-Quran Test
8th to 12th October 2019
Display of Provisional Merit List
17th October 2019
Admission link will be re-opened for Submit Preference Order for College
22nd to 25th October 2019
1st Merit List for MBBS/BDS
29th October 2019
Fee Submission deadline
7th November 2019
Starting Date for classes
8th November 2019
2nd Merit List for MBBS/BDS Programs
14th November 2019
3rd Merit List for MBBS/BDS Programs
28th November 2019
Sialkot Medical College Admission Procedure:
UHS Private Medical Colleges Admissions 2019 for Sialkot Medical College has set an online admission system.
The candidates who are applying should have to log in to the official page of the Bank of Punjab (BOP) by visiting http://www.bop.com.pk/UHS/Private/Login.aspx. It's generated automatically pin code and password for login.
After that, you will be uploaded or scanned complete mandatory documents with signed applications form at the bank UHS login page. Visit any nearest BOP branch in Pakistan for a Biometric verification and fee processing system of Rs.195/- per student and also an admission processing fee of Rs.2500/- per program which is not refundable.
Private Sector Medical And Dental Institutes have the same procedure to apply for the www.uhs.edu.pk. Aggregate marks are divided as the best feature through the defined schedule means the Matric and equal exam has a weight age of 10 percent FSC and the Equal exam weight age is 40 percent, Admission test weight age of 50 percent.
Sialkot Medical College Admission 2019 
After the admissions, the candidate has to wait for the merit list for some time. The Merit list will assure the admission of a candidate at the University. The date for the Merit List is uploaded on the page. You can check the merit list on this page very easily. So keep connected with us. We will give you all the updates about the Educational system.