It is to inform you that Aligarh Public School and College Manga Lahore Admission 2022 is open to classes 6th, 7th, 8th, 9th, and 1st Years. Students will be allowed to take admission after the admission test. Admission Form Entry Test Result will be available on this page. Aligarh Public School and College were established in 1967. This boarding school and college offer various courses to students on a merit basis. This school opens admission to students from kinder grant to 8th class. It also opens admission to 9th class and 1st ear students too. Currently, admissions are open from 8th to 1st-year class students. All students who want to take admission will have to appear in the entrance test held by NTS. So, the candidates have to pass this test with good marks to take Admission to school and college. It is one of the best schools in Pakistan. The admission details and application procedure is available below.
Aligarh Public School And College Manga Lahore Admission 2022
Aligarh Public School and College Manga Lahore Admission 2022 has been announced and within a few days, they will close the admission. On the other hand, they will conduct the entry test through NTS across Pakistan. All admission will do on a merit base as well as the application form is available on the official page of NTS.
Last Date to Apply
They have announced the last date of admission which is 25 February 2022 and after this date admission form will not accept by the administration. On the other hand, the administration is to extend the last date but we cannot say some of these things. Further, if they extend the last date of registration then we will update this page.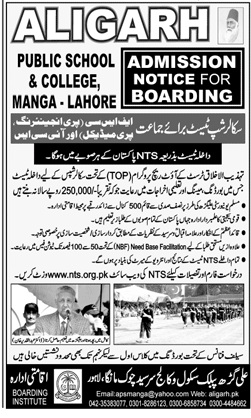 Aligarh Public School Manga Lahore Admission 2022 Form
Students who have cleared their previous classes from a recognized institute are allowed to take Admission.
For admission forms and entry test registration, visit www.nts.org.pk.
Fill out the admission form and submit it by submitting the fee.
The entry test will be conducted in February.
It is compulsory for a candidate to pass this test.
Scholarships will be given to students with 90% or more marks on the NTS test.
The entry test is expected to be held in February and after this, the result will be updated. So, those candidates who appeared in the test will get the result on this page as the page will be updated accordingly. So, stay connected with us for more updates on the education of Pakistan.