Everyone is seeking the PAF Public School Sargodha Admission 2020 Form, Last Date because most of the students are applying for admission. So the information on PAF admission has existed on the page. Besides, the PAF Institute depends on the English medium and executing it in a traditional way. This institute is giving the education from 8th class to 12 class. On the other hand, this organization is providing the books, stationery, and sports material free of cost to the student. Then management conducts the test and then decide about the student because if the student can pass all test then this institute sends for higher education in PAF academy and yield opportunity in Pakistan air force. So, PAF Public School Sargodha Admission 2020 Form, Last Date is given and students can easily apply for admission.
PAF Public School Sargodha Admission 2020 Form, Last Date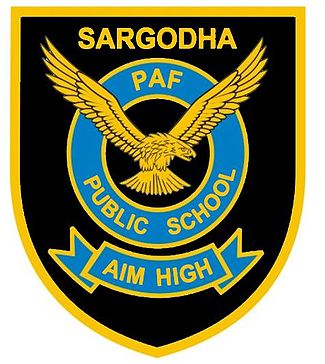 For the latest session, people are finding the PAF Public School Sargodha Admission 2020 Form, the last date. All information is given while most of the expenditure is facing this institute of the student but some expenditure depends on the student. Further, you will see more info on the prospectus.
| | |
| --- | --- |
| Registration starts | 13 July 2020 |
| Last Date to apply | 18th September 2020 |
| Written Test | 11th October 2020 |
|  Classes | From April 2021 |
On 1st January 2020 candidate must not be less than eleven and a half year and must not more than thirteen and a half years.
Candidate must be male and nationality will be of Pakistan or the Azad Jammu Kashmir
All those students who have already get education from Cambridge system are also eligible
At time of admission in April 2020 candidate must be passed from the 7th Class
Students have to face admission Test for a selection procedure
After the written test there will be a Preliminary Medical, Intelligence test, Interview and then Final Medical
Prospectus and PAF Public School Sargodha Admission 2020 Form:
Admission form is already pasted in the prospectus and that is available in AF Public school Sargodha while some other campuses are working in other cities of Pakistan. The price of this prospectus is 1200 rupees. You can visit every branch of PAF public school between 08:00 am to 02: 00 pm.
Application form is also available on the official website of PAF Sargodha
Download online admission form Download
PAF Public School Sargodha Admission 2020 Advertisement: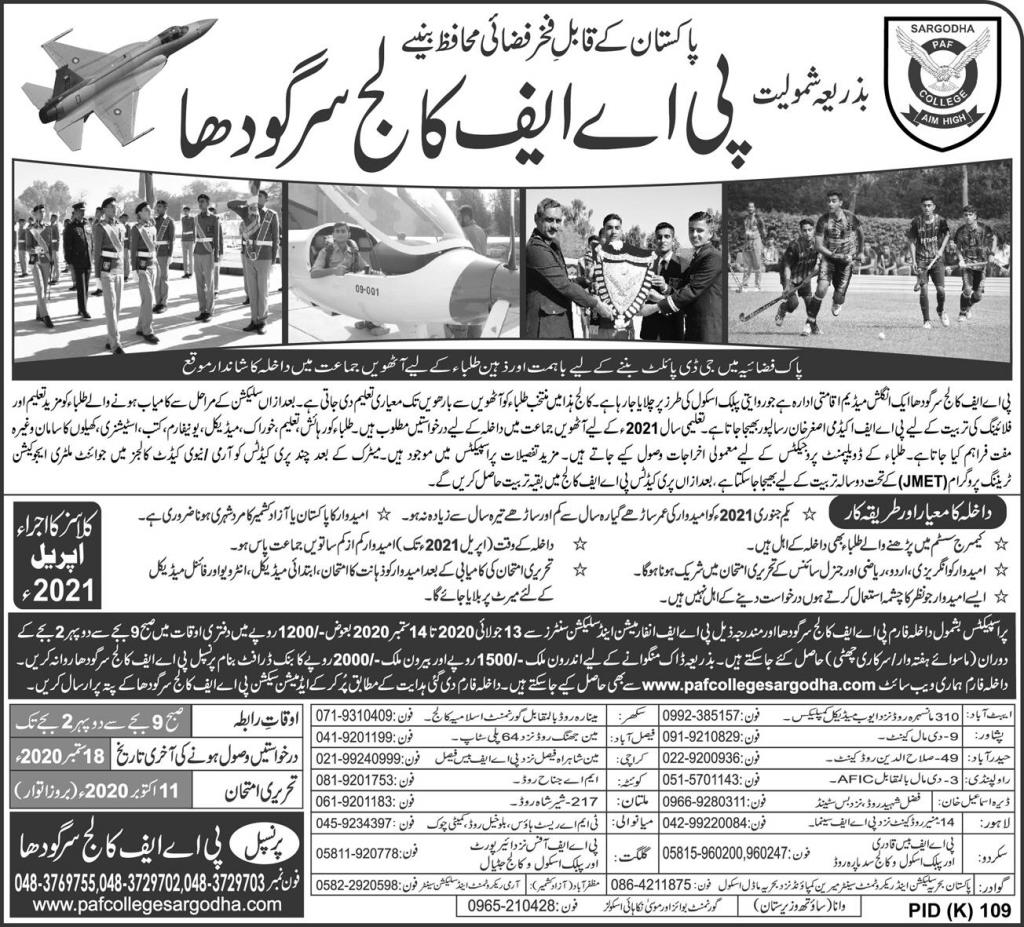 Selection Procedure:
Phase I: Written Test
Written Test will be of 4 hour test and comprises of
English
Urdu
General science
Maths
For the convenience of the Students, Maths and General science will be available in the Urdu and English format so that you can choose according to your easiness.you can get the PAF sargodha entry test result 2020.
Phase II: Preliminary Medical / Intelligence / Interview
Written Test
Preliminary Medical / Interview
Final Medical (CMB)
Peshawar
Peshawar
Islamabad
Rawalpindi
Rawalpindi
Sargodha
Sargodha
Sargodha
Multan
Multan
Lahore
Lahore
Quetta
Quetta
Quetta
Phase III: Final Medical by PAF's Central Medical Board (CMB)
For More Information Contact:
Centers
Address
Tel
ABBOTTABAD
310-Mansehra Road
9310263
BAHAWALPUR
10-A Extension Scheme Satellite Town
9250103
QUETTA
M. A. Jinnah Road
9201753
FAISALABAD
Near 64 Pully stop Main Jhang Road.
2577077
SUKKUR
Minara Road, Opposite Govt Islamia College.
9310409
KARACHI
Main Shahra-e-Faisal near PAF Base Faisal
9240999
LAHORE
14 Munir Road Cantt, Munir Chowk Near PAF Cinema
9220084
PESHAWAR
9-The Mall
9210829
MULTAN
217, Sher Shah Road
9201183
RAWALPINDI
3-The Mall, Opposite AFIC
5701143
HYDERABAD
49-Salahuddin Road Cantt
9200936
SARGODHA
PAF Public School
After matric exam, PAF public school organization sends some special cadet into a Joint Military Academy of specific training for 2 years while other remaining training does in PAF public school. Hopefully, you will be satisfied with all information about PAF Public School Sargodha Admission 2020 Form, Last Date.