Education is a basic need for every people and now COMSATS Sahiwal Fall Admission 2021 Merit List has been started up now and in this post, we will be giving you the details of these COMSATS Lahore admissions 2021. These admissions have been opened up for the undergraduate programs and you can do this programming in the subjects of physics, economics, psychology, you can also apply for the MS programs in the subjects of physics, stats, economics, project management, electrical engineering, you can take admission in the Ph.D. programs in the subjects of chemical engineering, management sciences. You have to fill up the application form right on time, you do not have to get late and all the candidates have to make sure that they enter all the valid details in the application form, if they will be making an entry of the wrong information then their application process will not be entertained. In this post, we have also been sharing up the ad for these admissions so that all of you may get this complete and updated information about these COMSATS University Admissions 2021. If any change will be made by them about the test date, about the result date then we will let you know too.
COMSATS Sahiwal Fall Admission 2021
COMSATS Sahiwal Fall Admission 2021 has opened and those candidates who are living in the area of OKARA and Sahiwal now can apply before the last date that does not exist. After this date, no application will proceed by the organization and will cancel. If you are interested then you will apply before the last date as well as the date of the 1st merit list yet not announce. This year they will announce the just only 1st merit list.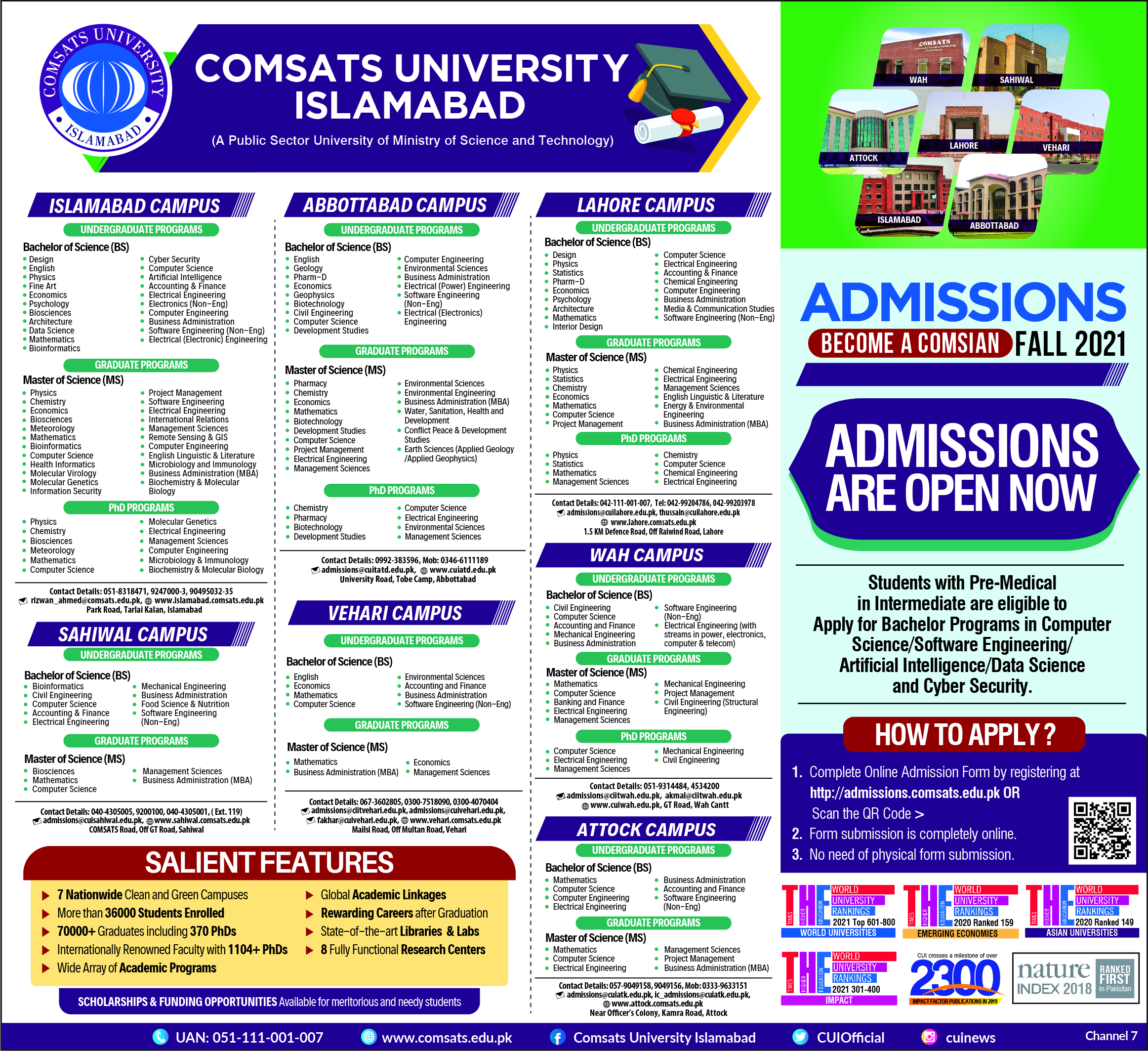 COMSATS Sahiwal Fee Structure
Fee Structure
The information of the student's COMSATS Sahiwal campus fee structure is mention above the link and those candidates who are interested now can check. So those candidates who are applying to Undergraduate and Graduate now both the students check the fee schedule.
COMSATS Sahiwal Programs Offered
COMSATS University is offering multiple courses to the students that have authorized by the HEC ( Higher Education Commission). Further, all programs have mention who provided by this university to the students.
For Undergraduate Programs
Bioinformatics
Business Administration
Computer Science
Food Sciences
Accounting and Finance
Software Engineering ( Non-Eng)
For Graduate Programs
Biosciences
Mathematics
Management Sciences
Business Administration (MBA)
Mechanical Engineering
It is to be mentioned again that the COMSATS Sahiwal Fall Admission 2021 Merit List has been started now, you can also tune into their website. If you think that your career and your future will become more bright by becoming a part of COMSATS Lahore then what you can do is fill out these application forms for these admissions 2019 and pass their test and then become a student of this university. We will let you know more about their COMSATS Sahiwal Fall Admission 2021 Merit List details so stay tuned.
COMSATS Sahiwal Merit List Fall 2021
COMSATS Sahiwal Merit List Fall 2021 will release in next month. So when they will announce the merit list we will share on this page the knowledge of the students who have given the entry test for admission. Without a merit list, no candidates will enroll so just those people will enter who will achieve the merit criteria.
Admission has opened and till now they have not announced the entry test. According to some sources this year, they will not take the entry test due to some national issues like Coronavirus. Further, if they announce the admission entry test then we will share it on this page. On the other hand, time is too short, and apply online as soon because if admission will close then you will wait till the new session.