Admission Session 2017-2018 has started in Islamabad Medical and Dental College (IMDC) for the course of MBBS and BDS so it is requested from the candidates who want to take admission in the college that submit their application form till 31st August, 2017 as this is the last date to take admission in the college and after that the admission form received late should not be entertained. All the medical and dental courses are recognized from the Pakistan medical and dental Council (PM&DC) and the college is situated on the main Muree Road Islamabad. This is a college that hold students as the future of the Pakistan as many graduates has passed out of the college that are now serving humanity with their medical services so students this is your chance to be a part of the world class medical University of Pakistan and fill your dream to become a doctor in future and graduate from the Islamabad Medical and Dental College. Along with the admission form candidates should have to submit their all school and college previous educational record and achievement. Take one thing under consideration that admission form will be completely filled with the correct information as wrong information or the incomplete form will be rejected by the admission office of the University. So if you are eligible then this is the best chance for you to capture and get admission in the medical college of Islamabad.
Islamabad Medical and Dental College Admission Session 2017-2018 Form
Eligibility Criteria:
Candidates must hold minimum 60% marks in the FSc Pre-medical group from any Board of Intermediate and secondary Education Pakistan.
69% score in the British Advance level certification with the courses of Biology, Chemistry, Physics/Mathematics
Number of Seats:
In Islamabad Medical and Dental College Admission session 2017 there are 100 seats for the MBBS and 50 Seats for the BDS programs. These number of Seats included national as well as international students and this will decided through the admission entry test score.
Admission Schedule:
Last Date for Submission of Applications: 15 November, 2017

IM&DC Entry Test (Conducted by ETC HEC) : 23rd September, 2017

Entry Test Centers: Islamabad, Lahore, Peshawar, Quetta and Multan.
Prospectus and Admission Form:
Click here to download the admission form of MBBS and BDS for Islamabad Medical and Dental College
Application form MBBS
Application form BDS
prospectus along with the application form are also available at
IM&DC Main Campus: 17 Mile, Main Muree Road, Bhara Kahu, Islamabad
Islamabad Dental Hospital: Main Muree road, Bhara Kahu, Islamabad
Ahmed Medical Complex: Sadiqabad, Rawalpindi
Social Security Hospital: L-12, Islamabad
Punjab School System: Township Lahore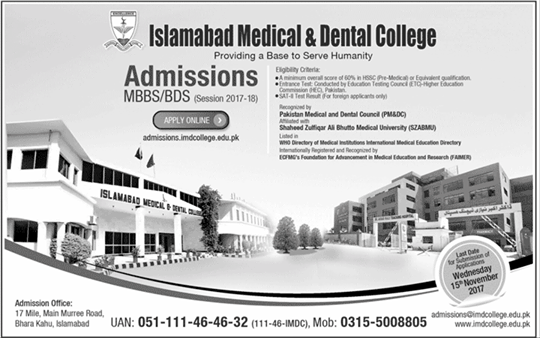 For More Information:
Contact Islamabad Medical and Dental College
17 Miles, Main Murree Road, Bhara Khan, Islamabad
Tel: 051-2807201-03