Through this article you will be going to come to know about LUMS MBA Admission Requirement Procedure, Eligibility And Schedule 2019.  But before discussing about the admission process we would like to talk about the university introduction. LUMS stands for Lahore University of Management Science. This university is known out to be one of the most top famous business schools all over Pakistan. It is established in Lahore at the place of Defence U block. It is counted up in the list of best business schools in South Asia. This university has been all registered under the affiliation of Higher Education Commission. It is all registered in the company of the Pakistan Engineering Council in support of its engineering degrees. It is known out to be the main source of art research as well as development facilities by means of partnerships from other international universities. Most of their faculty belongs to international institutions. Also check LUMS SAT GMAT test Dates 2019.
LUMS MBA Admission Requirement Procedure, Eligibility And Schedule 2019
Some of the main courses that are offered by LUMS are Suleman Dawood School of Business (SDSB), School of Humanities Social Sciences and Law (SHSSL) and the School of Science and Engineering! From the business category their main programs are BSC Accounting Finance, BSC Management Sciences, MBA, EMBA, PhD Management Science, BSC Economics, BSC Political Sciences, BA Humanities, BA History, BA LLB,BS Electrical Engineering, BS CS and MS Electrical Engineering.
LUMS MBA Admission Requirement Procedure
LUMS has all started off with their Executive MBA admission for all the deserving students. Students can apply for the admission till 12th April 2019.
Students have to make sure that they have cleared their LMAT before they apply for the admission.
Students can even apply for the admission through the simple way of online by visiting

www.lums.edu.pk.

Candidates should have scored at least60% marks in SSC intermediate or 2 Bs and a C in the A-Levels.
As the entry test has been motioned then LUMS will just going to accept SAT-I score. They will be carrying out their own entry tests as well known as LCAT and LMAT.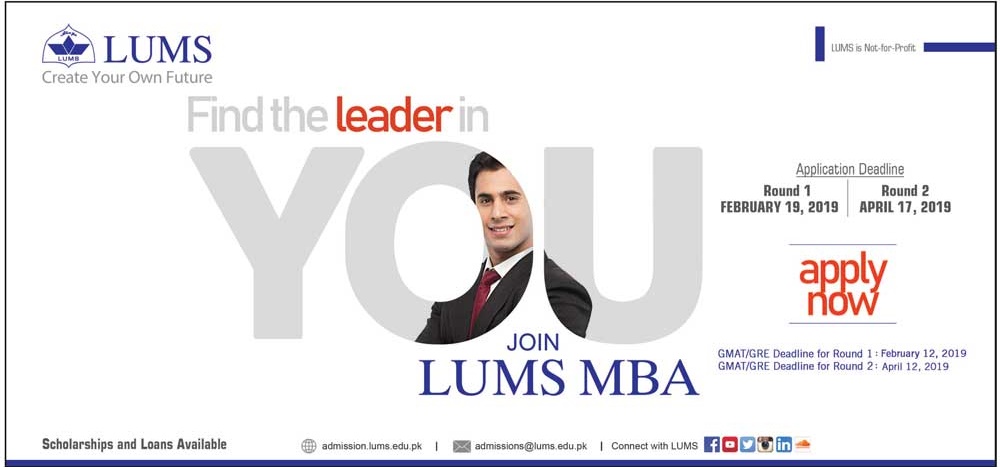 LUMS MBA Admission Eligibility
Some of the main documents that are needed for the LUMS MBA Admission procedure are:
Attested copies of all the educational documents from matriculation till the bachelor level.
GMAT score
Work Experience
Research Statements
Two Letters of Recommendation
Two Letters of Photo Copy Identity Card
Proof of Payment
So this was all about the newly introduced LUMS MBA Admission Requirement Procedure, Eligibility And Schedule 2019! Now if you want to study in top business university of Pakistan then apply for it right now!