Every time students have to provide full details of the information. That information section includes personal information, educational information, Experiences, and publications. Do you have all this information and ready to apply online? then further we can guide you on How To Submit an Online Admission Form for Punjab University 2021. It is not possible for a student who wants to get admission to Punjab University to revise and remind every step for the online submission for the recent admission open 2021. Those students move towards the internet to confirm the online form submission procedure.
How To Submit Online Admission Form Punjab University 2021
General instruction of How to Submit Online Admission Form Punjab University 2021 is mention by competing for detail below the images and students can read all instructions. After reading all the instructions students can easily apply for admission. Further, in the second image, all require academic documentation is mention and at the time of upload on the portal be careful because if you submit the invalid documentation then your admission will cancel by management.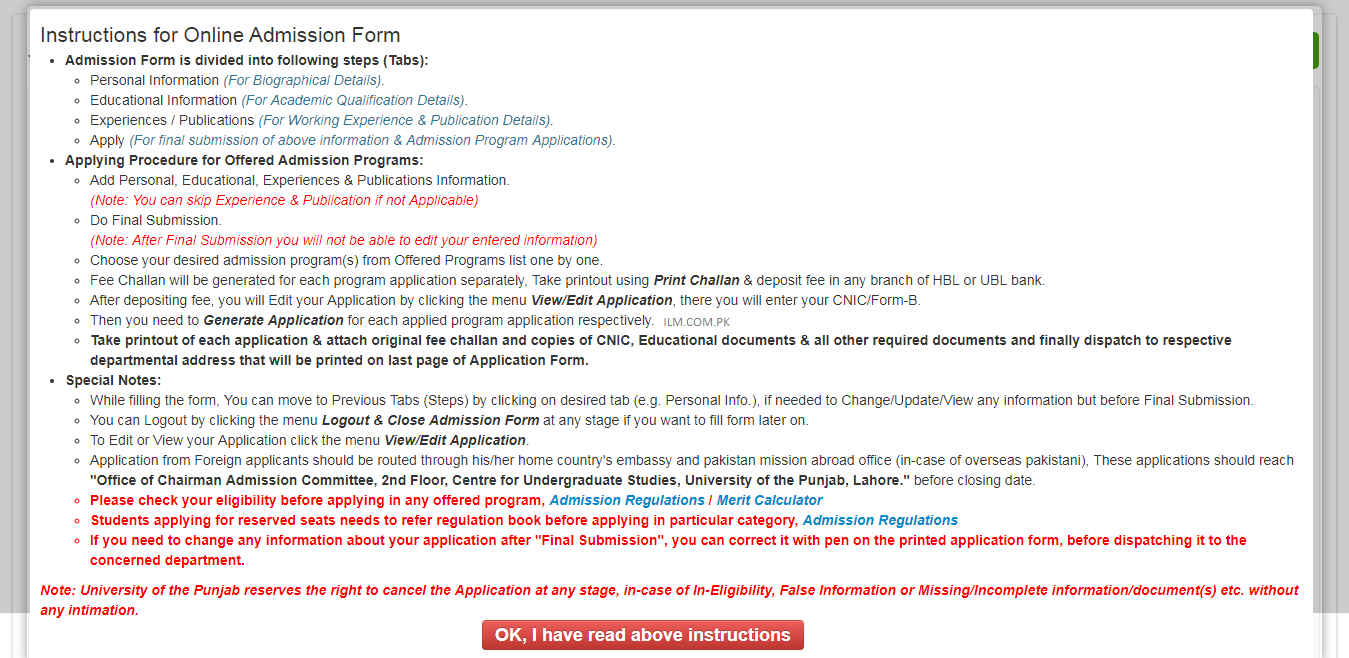 Admission.pu.edu.pk is the must remind platform to comes across things directly link with the admission approach. The admissions.pu.edu.pk accessible for students from September 2021 till the admission lasts. We try to resolve all queries about the online admission form submission in Punjab University Lahore. The simple but technical steps for How To Submit Online Admission Punjab University 2021 are there for the ease of students. Experiences or publication is not applicable in the online submission process. The final submission should be made with respect to the entered online information.
The selection for the desired admission program is mandatory as well and selecting it from the list is pretty important but luckily not technical at all. Those students who want to apply for more than one degree should have to submit their different challan forms separately. You cannot edit your Final submission.
Before generating challan form from Punjab University every student must take a look at the admission regulations and merit calculator. Those students who want to apply for reserved seats only must take a look at the admission regulations already published by the university on the official portal.
The online submission form would be reflective of the narrative already shared. Just focus upon the selection of degree and paying the challan form fee in the right way and submit it before the due date. Now you have enough knowledge about How To Submit Online Admission Form Punjab University 2021.