Looking for NUML Islamabad Summer Courses 2019 then here you will get the complete list of all the special and functional Courses that are being offered in the NUML University during summers. These short courses are of 4 to 6 months and cover all the content which is necessary for students to get the full grip on that subject. National University of Modern Languages NUML Islamabad is one of the best university in the languages that is the reason that the students of language mostly prefer to get admission in this University to get the full complete education from a highly qualified and experienced faculty of modern languages. Well the admissions in the NUML University Summer Courses 2019 is not open yet but it will be soon so as soon as the admissions are open in these programs you will be able to get the complete updates from this page that is why there is no need to go anywhere else if you want to take admission in any of the Summer Short Courses listed below.
NUML Islamabad Summer Courses 2019 Admission Fee
National University of Modern Languages was coming into being in the year 1970 so that people got education to communicate and to understand others as in Pakistan there are different Languages that are spoken by the person at the initial level it was a college then this college was upgraded to the university level on the year 2000 and this is just because of the quality education that is being delivered to the candidates. Well, down here on this page a complete list of all the NUML Islamabad Summer Courses 2019 is listed so that you do not have to go anywhere else to see about any of the course so have a look down on this page.
Summer Language Short Courses in NUML Islamabad 2019:
Arabic
Bangla
Balochi
Chinese
English
French
German
Hindi
Italian
Indonesian (Bhasa)
Japanese
Korean
Persian & Afghan Persian
Pashto
Punjabi
Russian
Spanish
Tajik
Turkish
Uzbek
Urdu
Special Courses:
Diploma and Certificate in Business Administration
Diploma in Tafseer, Usul-i-Fiqh
Governance & Public Policy Department's
Diploma in Disaster Management
Project Management
Human Resource Management
Business Process Re-Engineering
Corporate Governance
Electronic Governance
Public Administration
Eligibility Criteria:
For Language admission, Candidate must have at least Matric or above
Students who have appeared in the Matric exams and looking for the result are also encourage to apply
NUML Islamabad Summer Courses Schedule:
NUML University Summer Short Courses Last Date is 12 June 2019
The interview will be conducted on 25 to 27 June 2019
Classes will start from 2 July 2019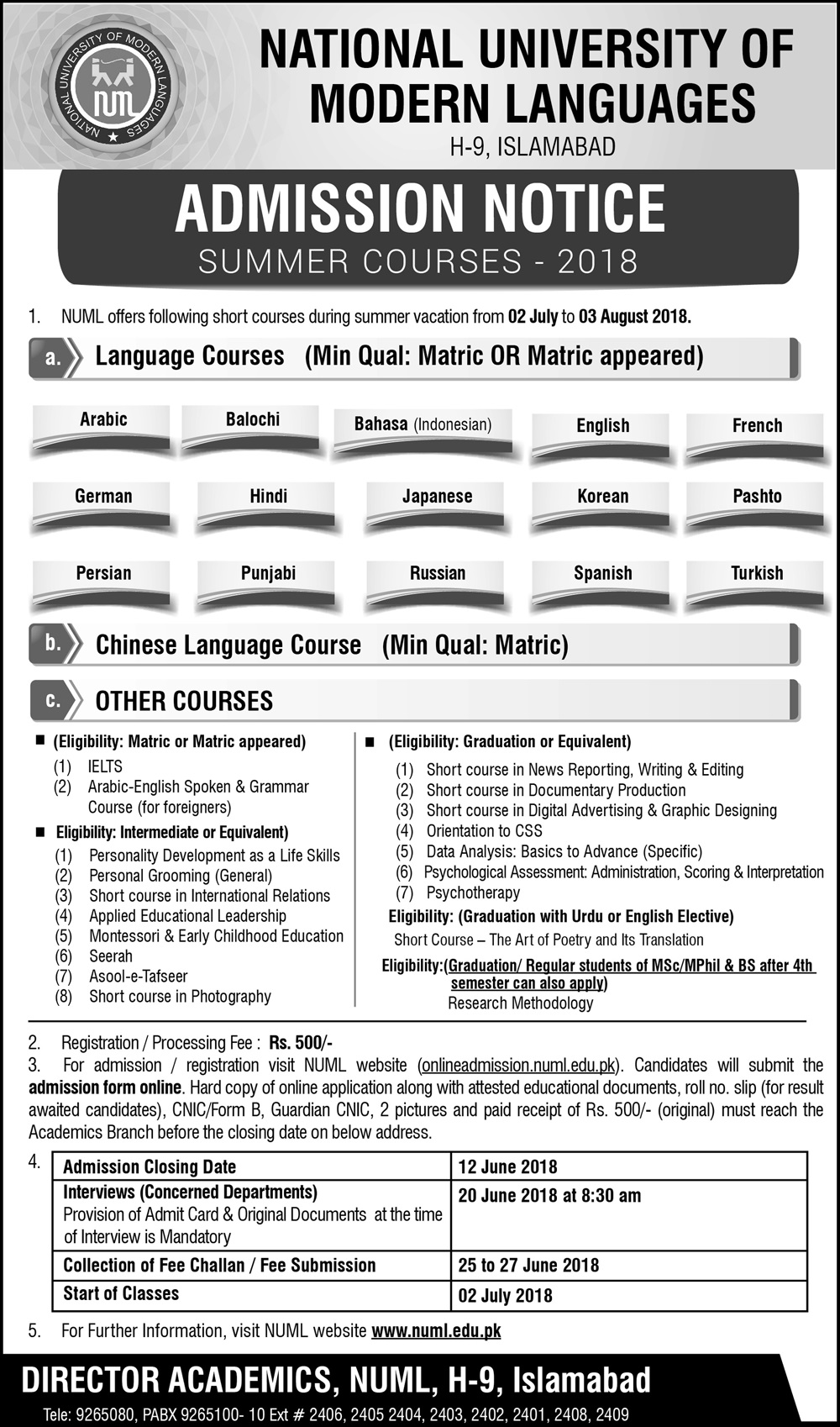 So, students, all these courses are being offered in the National University of Modern Languages NUML during summer and classes will be 5 days in one week. The duration of all these courses are from 2 to 6 months varies according to your course if you know any other NUML Islamabad Summer Courses 2019 that is not listed here then you can write is the name of that course in the comment section given below so that our response team could also add this to the list to facilitate others.