University of Sargodha UOS Lahore Campus Spring Admission 2014 are open in different program of the Undergraduate and Graduate program so all those students who wants to take admission in this University could get their admission form from the Lahore Campus of the University today easily and after filling the admission form has to return to the same office but before 29th January, 2014 as this is  the last date to submit the admission application form for University of Sargodha Lahore Campus Admission. University of Sargodha Lahore Campus always strives to gives Quality Education at affordable Fee Structure in the access of students freely. University of Sargodha now in Lahore. This Campus of university was established in early of 2012 and is getting popularity so fast. The students are getting admission course by course here. It is situated on Canal Bank Road,Izmir Town which is 7 Km from Thokar Niaz Baig Lahore. It is the first Campus of University of Sargodha in Lahore which is actually purely Joint venture under Public Private Partnership. The University of Sargodha, Lahore Campus is imparting quality education at affordable fee structure.
University of Sargodha Lahore Campus Spring Admission 2014
Last Date for submission of application forms is 29th January, 2014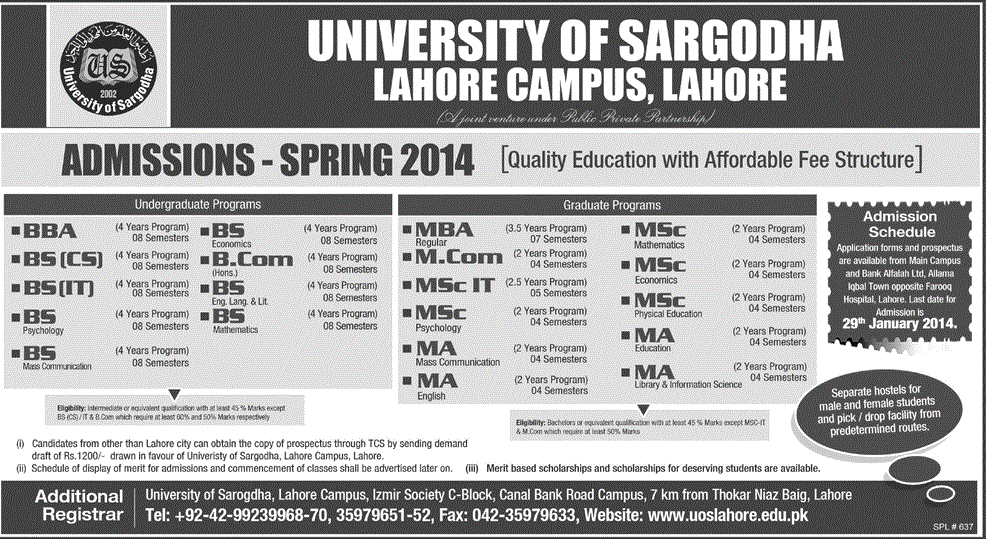 Undergraduate, Graduate and Postgraduate Programs requires simultaneously admissions 2014. BBA, BSCS, BSIT, BS Programs are free to intake admissions. Other Programs named as MBA, MBA executive, M.Com, MSC Information Technology, MSC Psychology, MSC Economics, MA Mass Communication and MA English. MS Management Sciences,MS Computer Sciences,M.Phil Psychology,M.Phil Sociology as well. The University also announces admission against advance Diploma in Clinical Psychology. Above all Programs admissions DPT(Doctor of Physical Therapy) admissions are also open to intake actually.
According to University of Sargodha Lahore Campus Spring Admissions Schedule application forms are available at Lahore Campus. Last Date for submission of application forms is 29th January, 2014 as the admission application form is available to the admission office since 1st January, 2014 so there are just limited seats. if you want to take admission in that university then there is no need to wait any more as just go and collect your form today and after filling it completely with the correct information submit it back to the same office. This is an Higher Education Commission Government Recognized Institute and Prospectus also available at Bank Alfalah Limited Main Boulevard Allama Iqbal Town Branch Lahore. Separate hostels for Male and females students and Pick/Drop facility from per-determined routes are there officially at University.
The complete eligibility Criteria for taking University of Sargodha Lahore Campus Spring Admission 2014 is listed in the advertisement mentioned above so just read the advertisement carefully to know to all. Just right click on the image and then click on the view image as by this action the image above will be shown to you in bigger size so that you could easily get whatever written in this advertisement by the officials.