Master of Arts or MA in Pakistan is 16 years degree program in arts subjects. It is a master's degree which is equivalent to a Master of Science in Pakistan but in this field, students don't learn science-related subjects. The MA Subjects list is different in each university or college but the major MA subjects are the same in all universities and colleges. A person can pursue this degree program after attaining a BA or Bachelor of Arts degree from a recognized university or college.  This degree comprises the study of linguistics, communication studies, history, political science, diplomacy, and public administration, and the major subjects are humanities and social sciences. The Master of Arts Degree course comprises 2 semesters. There are 4 or 5 Papers that one has to pass in order to acquire an M.A. degree. Masters's Degree Programs in Arts involves lectures, examination, and seminars. Master of Arts Course is also available through Correspondence or Distance Education and is being offered by different government universities. In this article, you will learn about the MA Subjects lists.
MA in Pakistan
The importance of a Master in Arts is now available as well people want to know career, eligibility, jobs, salary, and some other details. After completing a BA degree people prefer to MA program because every university is doing this degree right now.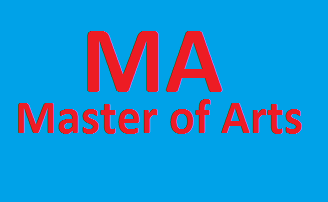 MA Courses in Pakistan:
These are the list of MA courses or you can say the scheme of the different subjects that a student can choose during pursuing an MA program. So Choose MA in any of the following disciplines.
Economics
English
History
Urdu
Islamic Studies
Philosophy
French
Arabic
Persian
Punjabi
Political Science
A. Music
A. Kashmiriyat
A. Archaeology
MA Subjects in Pakistan:
Students who are looking for the MA Subjects list in Pakistan can check the complete list of subjects that they have to study during two years of period. Each above specialization has different subjects. The following are the MA Economics Subject lists in Pakistan.
Micro Economics
Macro Economics
Mathematics
Statistics
Islamiat
Major Issues in Pakistan
International Trade and Finance
Econometrics
Development Economics
Research Methodology
MA Jobs in Pakistan:
People with a Master of Arts can pursue careers in different fields after successful completion of their course. They can assume higher positions in the field of Economy, History, Archaeology, Education, Philosophy, Political science, Public Relation, Psychology, Sociology, Philosophy, Journalism, etc. Following are the MA jobs in Pakistan.
Administrative Officer
Business Consultants
Finance Managers
Human Resource Managers
Lobbyist/Organizer
Politician
Labour Management Relations Specialist
Social Worker
Teachers
Production Managers
Research and Development Managers
MA In Pakistan Eligibility Criteria:
For the MA degree program, students must have to meet the following MA Eligibility in Pakistan.
It is a must-pass BA from a recognized university or college with at least 50% marks to pursue admission in MA two years program.
There may be an entrance exam required for admission to your concerned university or college.
There might be a personal interview which is also compulsory to pass for taking admission to an MA.
MA Scope is broader because if a person wants to become a politician, He/she can pursue an MA degree. After doing MA, students can join any of the other fields which are listed under the MA jobs in Pakistan heading. You can also check MA Career in Pakistan by reading this article which is very wide.