UVAS is going to arrange a Training Workshop 2014 on Business Opportunities in Sheep and Goat Farming for the entrepreneurs of Pakistan as The University of Veterinary and Animal Sciences, Lahore is the oldest and finest Veterinary institute that is providing quality education to a number of students every year since its first day of inception in 1982. This was the year when the University of Veterinary and Animal Sciences were established in Lahore and now to facilitate the students and other professional persons whop wants to start their own business and want to become entrepreneur by starting business of Business Opportunities in Sheep and Goat Farming can get much relevant information from this training workshop 2014. This is a two day workshop that is going to held on 15th and 16th January, 2014 and all the candidates who wants to be a part of this training workshop have to register them self before the 13th January, 2014 and the registration fee of each person is Rs. 4000/- in the venue of Syndicate Room at University of Veterinary and Animal Sciences.
Training Coordination Team (TCT) of University of veterinary and Animal sciences, Lahore is organizing a training workshop on Business opportunities in Sheep and Goat Farming to open doors for national and international market for the entrepreneurs. As these two business are very profitable these days in Pakistan but no one is aware of the business its working and strategies that is why this will be an initiate step of the University to explain you that how you can start your own business of Sheep and Goat Farming in easy ways so that it should be really profitable for you so here down are the more details of the Training workshop 2014.
UVAS Training Workshop on Business Opportunities in Sheep, Goat Farming
What will be in the Traning workshop:
In the Training Workshop of the Business opportunities in Sheep & Goat Farming there are few contents that are being covered by the trainers and that would be are as follow
Breeding and Reproduction
Husbandary practices
Health Care management
Nutrition and Fattening for mutton production
Business Management
Making Feasibility Reports
There are only limited seats that are available for the training workshop that is why the first come first serve strategy will be focused that is why candidates if you want to attend this workshop then don't be so late if you want then do register yourself today by the filling application form that is available on the official website of the The University of Veterinary and Animal Sciences, Lahore.
Who can Attend Workshop:
Entrepreneurs
Faculty Members
veterunarians and Livestock Assistants
Professionals From SMEDA
Government officials in liverstock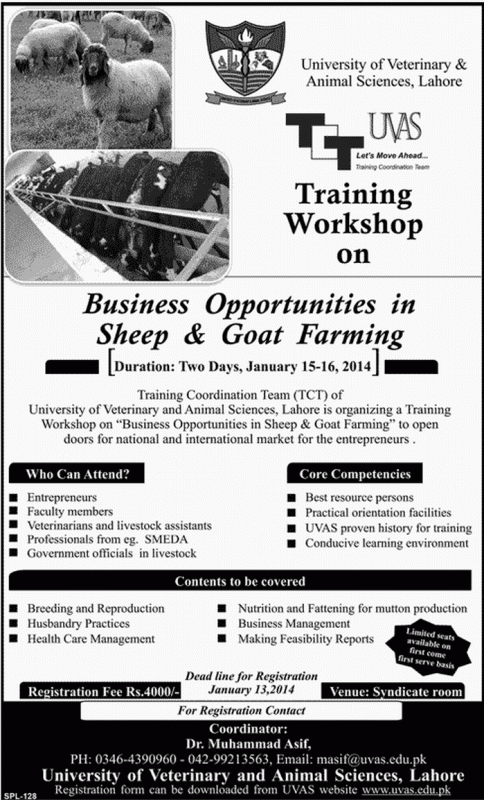 Now you must be thinking of that why this training workshop will be useful for you then the things that is assure about this workshop is that the best resource persons will provide you the trainings and with the educational facilities there will also be practical orientation facilities that will be provided to the candidates.

For More Information:
Coordinators :  Dr. Muhammad Asif
University of Veterinary And Animal Sciences, Lahore
Ph: 0346-4390960, 042-99213563