Higher Education Commission of Pakistan has started registrations for LAW GAT test. All students who are looking for the legal profession for practicing law than it is compulsory to appear in this test. Complete detail about HEC Law GAT Test Registration 2018 Online Schedule Test Date is given here. Law Graduate Assessment Test is conducted by the Higher education commission under the supervision of Pakistan Bar Council. The purpose of this test is to evaluate and complete scrutiny of law graduates. Without passing this test, Law graduate student will not join law practice in Pakistan. The law student can enroll as the advocate in Bar Council through passing this test. Minimum requirements for appearing in LAW GAT test is to have LLB degree from any recognized university of Pakistan. In this article, you will learn about the HEC Law Gat Test Online Schedule and Test Date.
HEC Law GAT Test Registration 2018 Online Schedule Test Date
HEC Law Gat Test Eligibility Criteria:
Student, who has passed LLB Examination from any Pakistan Bar Council recognized university is eligible for this test
It is compulsory to submit the photocopy of LLB degree, howeve,r students can also submitthe transcript in case the result card has not issued
Student has maximum three chances to pass this test and HEC conduct this test three times a year
Pakistan Bar Council will define rules and criteria and students have to meet with the criteria to appear in this test
It is compulsory to get at least 50% marks in this Law Gat test otherwise student will consider fail
HEC Law Gat Test Schedule 2018:
Last Date to apply for this test is 3 September 2018 Monday
Test will conduct on 16 September 2018 on Sunday
Test time and venue will be send through SMS
Roll Number slip will be sent to students on provided postal address who register through HEC online Registration Process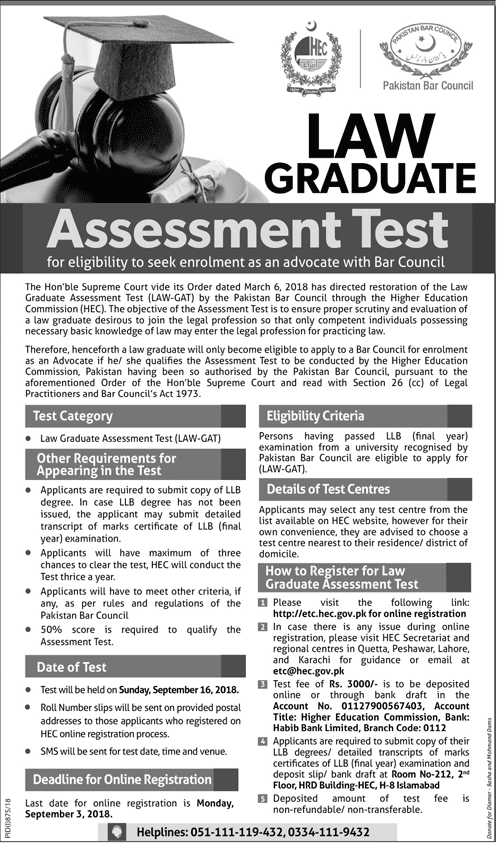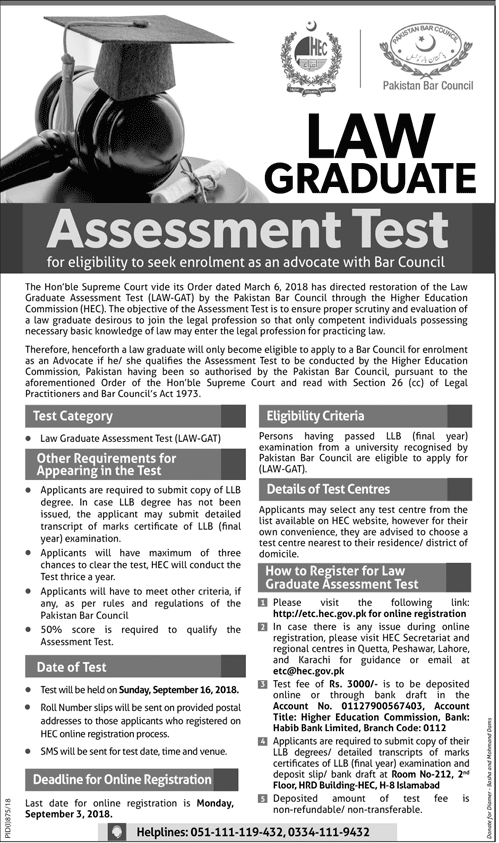 HEC Law GAT Test Registration 2018 Online Procedure:
Students can do online registration for the LAW Gat Test. In order to do online registration, student can visit http://etc.hec.gov.pk. At that website fill the online application form and submit test fee. Law GAT test fee is RS 3000 which can be deposit online or through Bank draft in Habib Bank Limited Branch code: 0112. It is compulsory to submit the result photocopy or transcript and deposit slip otherwise application will not entertain.