Khyber Medical University KMU Entry Test 2018 is going to be held in 15th July, 2018 so KMU Entry Test 2018 Online Registration Form For Admission is here along with all the other details that how you can get registered into the official website and what are the things you keep in mind while filling you application form. As the KMU officials will just accepted online submitted application form so you have to submit you application via completing the steps listed here down in detail. Last date for the Khyber Medical University KMU Entry Test 2018 Online registration is 02nd July, 2018 so hurry up as the late or applications received after the last date will not be entertained. After receiving the complete applications the review session will complete within a week and then all the eligible students will call for an entry test which will held on 15th July, 2018
KMU Entry Test 2018 Online Registration Form For Admission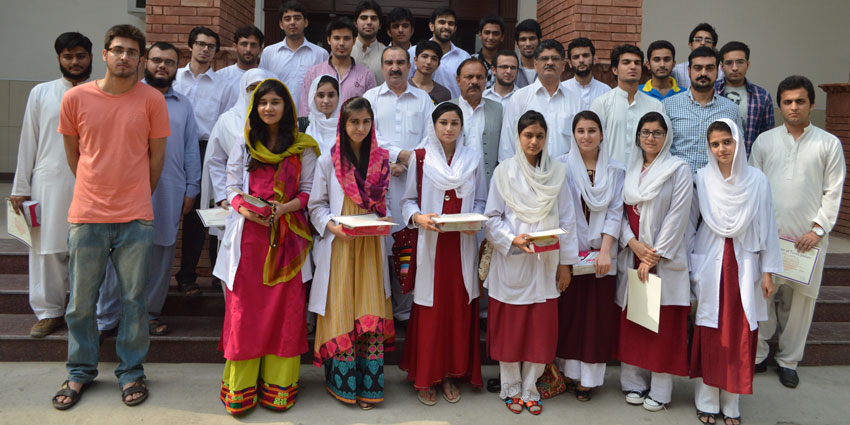 Registration Process:
Step-1: First of all what you need is that an E-mail address that should be valid and in your personal use as after the next step all of your conversation will be through this E-mail address so it should be valid. If some student do not have it then hurry up make it fast as this just require 5 minute to create a E-mail address. Address should be of these three websites Gmail, Yahoo or Hotmail.
Step-2: Ones you have an E-mail id then click on the link below to get registered into the Khyber Medical University website and there you have to put your E-mail id and then a pin code (Scratch Card) number which is discussed here down to complete second step
CLICK HERE TO REGISTER
scratch cards(pin codes):
Entrance test scratch cards will be available for Rs. 1,500/- at the following branches of Allied Bank.Note Please !!! Purchase scratch cards from these designated branches of Allied Bank Limited Only.KMU will not be responsible for any mishaps if you have purchased cards from somewhere else.
Branches from Where you get Scratch cards:
1.  B.I.S.E Branch, Peshawar.
2.  G.T Road Branch Hashtnagri, Peshawar.
3.  A.B.L PDA Branch Hayatabad, Peshawar.
4.  A.B.L Tower Hayatabad, Peshawar.
5.  A.B.L Circular Road Branch,  D.I. Khan
6.  A.B.L Preedy Gate Branch, Bannu.
7.  A.B.L Bank Square Branch, Mingora.
8.  A.B.L Mall Road Branch, Mardan.
9.  A.B.L Pine View Road, Abbottabad
10. A.B.L Mirpur Branch, Abbottabad
11. Bannu Road Branch, Kohat.
12.A.B.L Timergara Branch,Lower Dir
Step-3: after putting the E-mail id and the scratch card pin number you will be registered to the Khyber Medical University and will forwarded towards the third step which is complete the application form.
At that step a fully KMU Entry Test 2018 Online Registration Form For Admission will be in front of your screen and you have to complete the application with full correct information as it requires information like your previous academic record, Address, CNIC number, Contact number etc so do put correct information in this application form.
Also Check :
After the completion of the application click on the submit at the end of the KMU Entry Test 2018 Online Registration Form For Admission and then a roll number slip will be forwarded to you after review of your application and that will be mailed to your E-mail id so print this roll number slip and do bring this along with you on the day of the entry test as the examiner will not allow you to sit in the examination without it.
Contact person:
Director Academics & Admissions
Khyber Medical University
PDA Building, Block IV, phase 5, Hayatabad, peshawar
Ph: 091-9217703, 9217022, 03459144125