Sunday Session of Punjab College Entry Test Preparation For MCAT, ECAT, NTS Start so get yourself register if you want to clear your entry test with good marks. Punjab group of colleges is consider to be best educational institutes on Lahore, Pakistan as this can be seen by the announcement of annual result of every class. This institutes provides the education of Intermediate level but from previous three to four year they are starting some extra classes on Sunday on which they prepare the students that how to clear your MCAT, ECAT, and NTS examinations to get admission in University after completing their college level education. The session of entry yesy preparatory classes starts from February, 2017 in many cities of Punjab like Lahore, Gujrat, Jhelum, Sargodha, Burewala, Gujranwala, Multan, Sialkot, Bahawalpur, Gujjar Khan, Okara, Sahiwal, Dera Ghazi Khan, Gujajr Khan, Okara, SAhiwal, Dera Ghazi Khanm Hafizabad, Rahim Yar Khan, Shahdara, Faisalabad, Islamabad, Rawalpindi and Shahkot. one of the biggest benefit of these classes are that it is on Sunday that is a holiday so if you are currently studying in any institution of Punjab there is no problem for you to come and attend the class in Punjab group of Colleges.
Punjab College Entry Test Preparation For MCAT, ECAT, NTS Start
Medical College Admission Test (MCAT), Engineering College Admission Test (ECAT) and National Testing Services (NTS) these are the three biggest barriers or can say hurdles that students have to face when they clear their Intermediate examination and wants to get admission in the university for the sake of higher education. There are a thousands of students who get passed from the Punjab Group of colleges and move towards the other universities that is the reason that why Punjab colleges starts this Sunday Session of Entry test preparatory classes.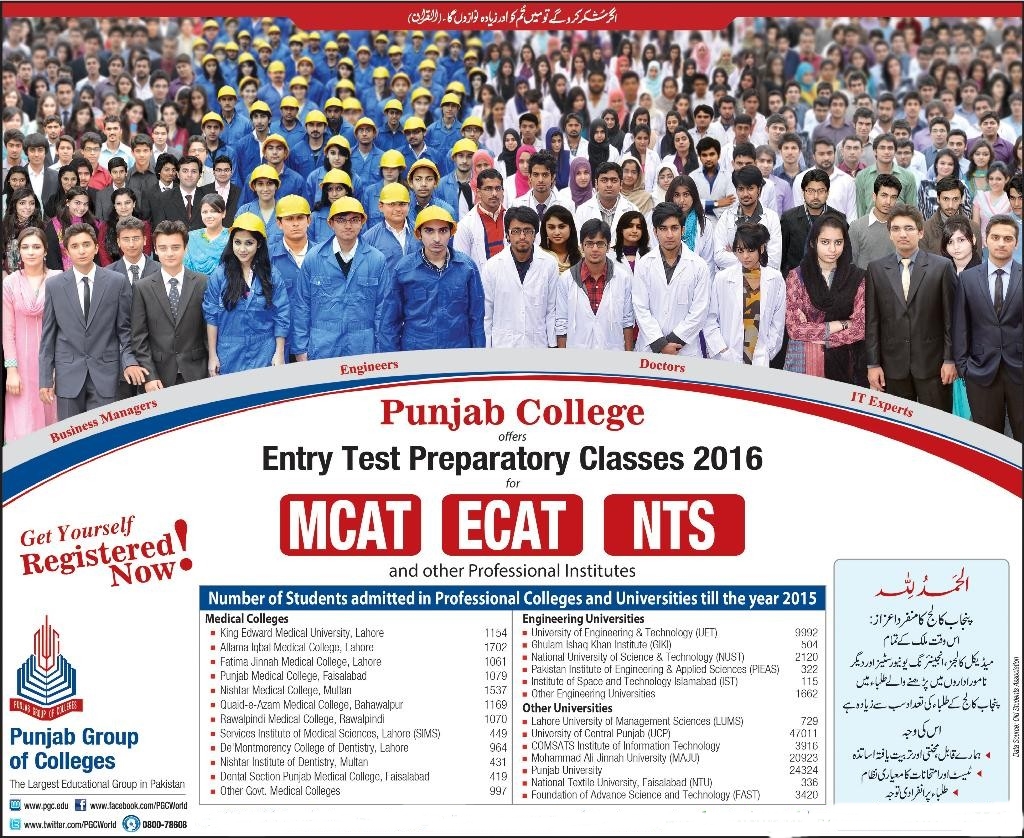 So to support their students so that they get admission in the universities for the sake of higher education Punjab University management analyze a gap that why not start a preparatory classes for the students. hence the classes starts and response from the students were so good that these classes permanently starts after one session complete another session starts.