Government of Pakistan has opened registrations for PM Youth training scheme national internship program 2018 for fresh graduate students of all province in Pakistan. The Government of Pakistan is providing 21,000 opportunities of internship in public, private and semi-public organizations for unemployed graduate students of all provinces including FATA, ICT and GB. The basic purpose of this scheme is to provide experience and enhance the abilities of fresh graduate degree holder so they can get a better job. This scheme is not only providing a chance to enhance the skills but also paying 12,000 per month for 12 months to these students. This is the best opportunity for all those students who are looking for a job after graduation but haven't any experience. All the graduate degree holder students can apply for this program except those students who have availed that opportunity before. After reading this article you will come to know about the Prime Minister PM Youth training scheme national internship program 2018, about its eligibility criteria, how to apply and many others details which are written below. For more information please scroll down.
PM Youth Training Scheme National Internship Program 2018 Online Registration
PM Youth Training Scheme Eligibility Criteria:
Only those students are eligible who have completed their 16 years of education with minimum 2.5 CGPA from a well HEC recognized institute
Applicant should not more than 25 years on 30-09-2018 (Except Baluchistan)
Candidate must be Pakistani Nationality holder
Graduated females are also welcomed for this internship program
All the wrong and false applications will not proceed by the management
Full time students are not allowed to apply for this training scheme
Those students who have worked in any public sector are also not eligible to apply
Madrassah graduate students having equivalent certificate to masters can also apply
PM Youth Training Scheme Last Date:
Last date to apply for PM youth training scheme national internship program 2018 is ——
PM Youth Training Scheme Online Registration Form:
All those students who want to register themselves online can apply by visiting
CLICK HERE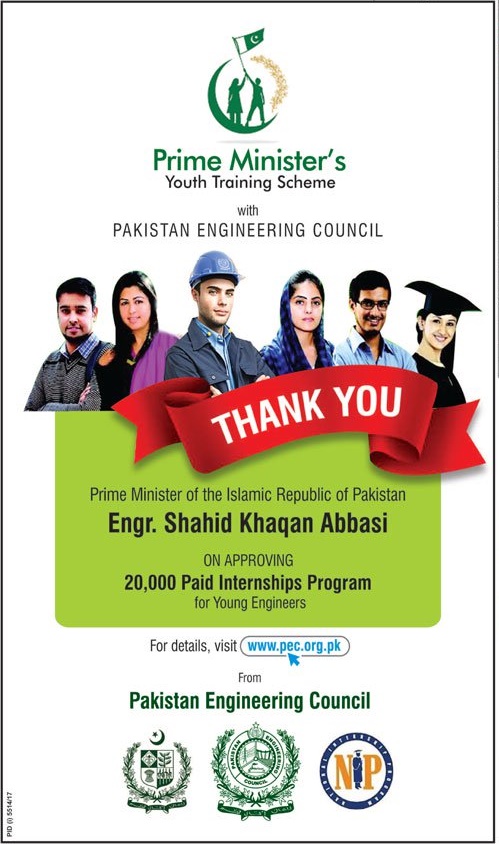 Prime Minister Youth Program is providing an opportunity to twelve month job internship to the graduate students in different discipline. This job is not providing a permanent job as well as nor promising to provide you a job after completion of internship. Seats are limited and will be provided on merit bases. For more information you can visit official site of PMYTS.