For your kind info the Sindh Bank Tractor Scheme Form 2018 Download Online information is available on this webpage. Sindh Bank was established in the memory of Mohtarma Shaheed Benazir Bhutto working all over the Pakistan. Sindh Bank opens their 225 official branches in 111 cities of the Pakistan. Sindh introduce many schemes for the beneficial of their customers. Now the Sindh Bank introduces a Tractor Scheme for the formers. Tractors are local made which gives to the 1600 landlords. The persons who have their own land are eligible for this scheme. The scheme it truly on first come first serve basis. So the persons who want to apply for this scheme may get the application forms from the Sindh Bank and submit it as soon as possible. After collecting the 1600 forms the scheme will be closed. Also check Al Buraka Tractor Scheme 2018.
Sindh Bank Tractor Scheme Form 2018 Download Online
How to Apply:
These things are compulsory for this scheme which are submit to any Sindh Bank branch
The CNIC of applicant ii) copy of land VII form or land document copy iii) Payment of pay order at the name of D.G Agriculture Engineering Sindh of Rs. 25000/- (Refundable)
The Tractor which is gain for this Scheme is not use for any other purpose
The landlords who get the tractors from the old scheme are not eligible for this new scheme.
The successful applicants who submit Rs. 25000/- for this scheme was refund to him after the registration of the tractor.
The eligible applicants get the subsidy of Rs. 2 lakh for the purchasing of Rs. 8 lakh tractor and get the subsidy of Rs. 3 lakh for the purchasing above the 8 lakh price tractor
The process for this scheme will be closed after getting the 1600 hundred applications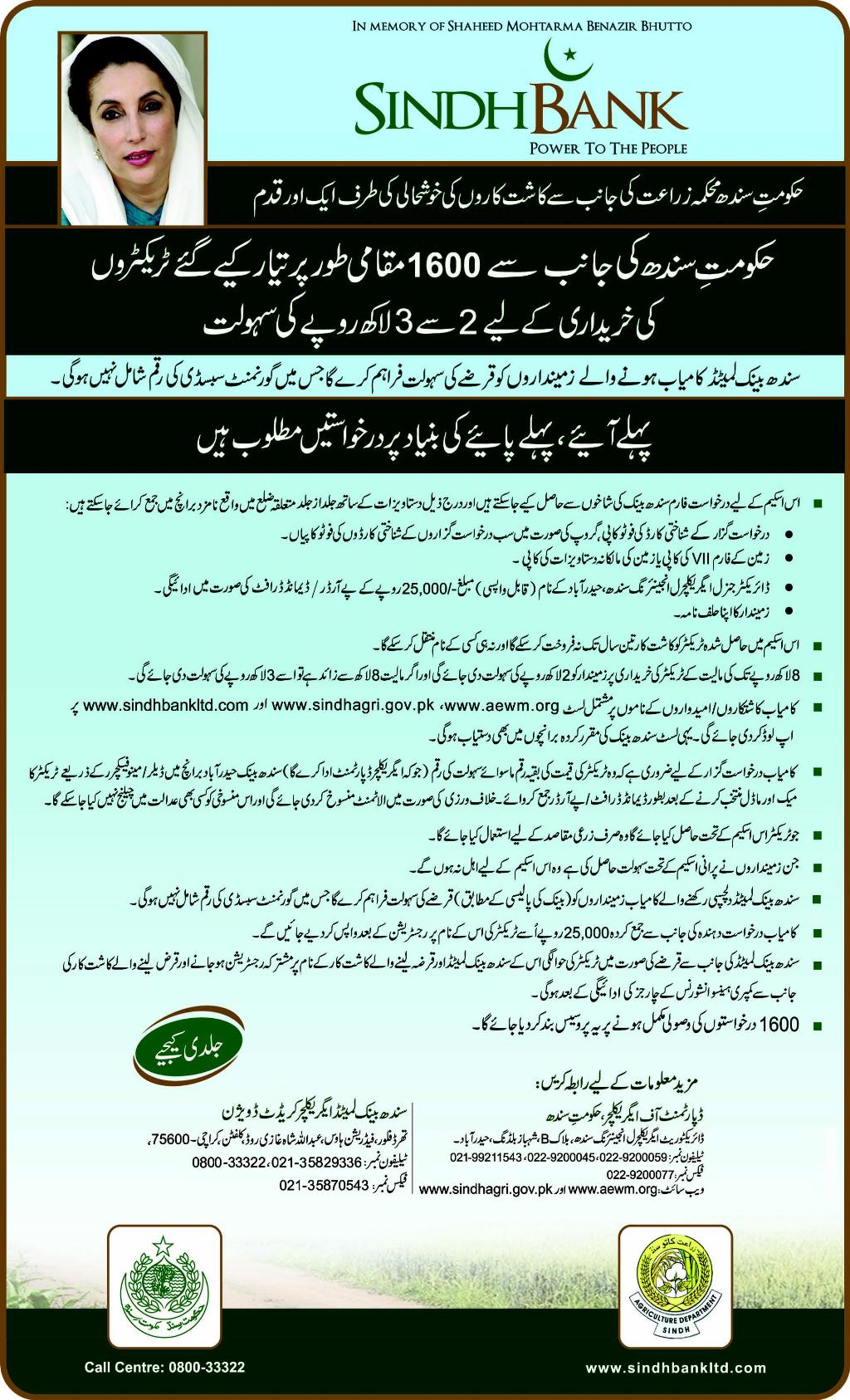 This scheme is for basically for made growth in agriculture department. So if you want to become a part of this scheme submit your Sindh Bank Tractor Scheme Form 2018 Download Online as soon as possible. Scheme is base on first come first serve. For further information you have to touch with this page. The former who is eligible for this scheme could not sale or transfer the Tractor before 3 years.