University of Health Sciences UHS Admission Form will be available from August 2018 for admission in MBBS and BDS program. UHS Admission Form Requirements and Procedure for MBBS and BDS are discussed in detail here. University of Health Sciences is the only responsible authority to conduct and maintain the MDCAT Entry Test that will allow admission to the students in all the medical and dental colleges of Punjab Pakistan. Officials of the University of Health and Sciences has issued an advertisement in the Sunday newspaper which defines all the rules and regulation for the entrance test held for the session of 2018.
A candidate wishing to take admission in the program of MBBS and BDS have to pass the UHS entrance test held by the University of Health and Sciences Lahore and to sit in the entrance test have some procedure which you do have to follow in the correct manners otherwise no roll number will be issued to you and without issuing roll number a candidate will not allow to sit in the examination hall.
UHS Admission Form Requirements and Procedure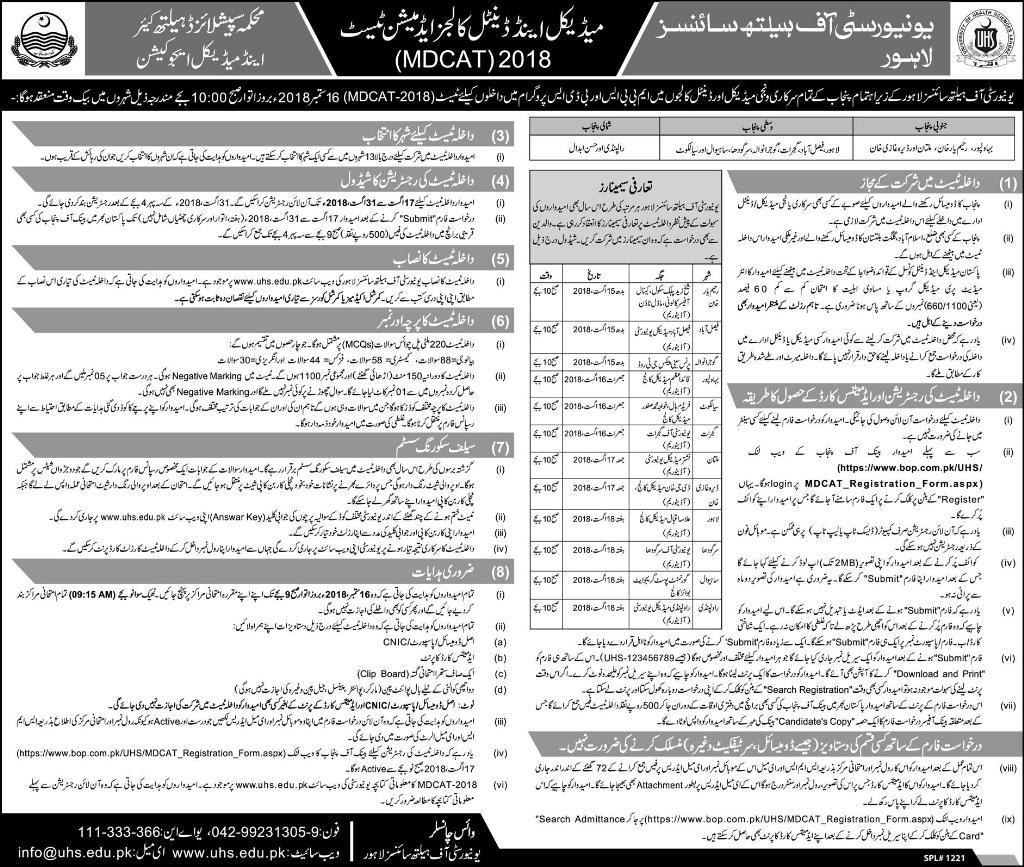 Documents Require for Admission Form:
Domicile Certificate of the candidate (No other certificate or document shall be acceptable in lieu of domicile of the candidate).
Certificates or Result Cards of SSC and HSSC (Pre-Medical Group).
Eight (08) recent colored photographs (size 3.5cm x 4.5cm), Two (02) colored photographs (size 2.5cm x 2.5cm).
Applicant having equivalent foreign qualifications (O and A-Level, 12th Grade, etc.) shall have to provide Equivalence Certificate issued by the Inter-Board Committee of Chairmen (IBCC).
Admission Form Procedure:
For submission of application form and fee for MDCAT-2018, the collection services shall be available at Bank of Punjab Ltd branches all over Pakistan from 13 August to 31st August 2018 (excluding Saturdays and Sundays), 09:00 am to 04:00 pm.
After filling the form with complete documents that are required with the registration form submit the form to the same place in between the same dates.
Candidates will give their preference for medical and dental colleges in one single admission form which once given shall be final and cannot be changed subsequently.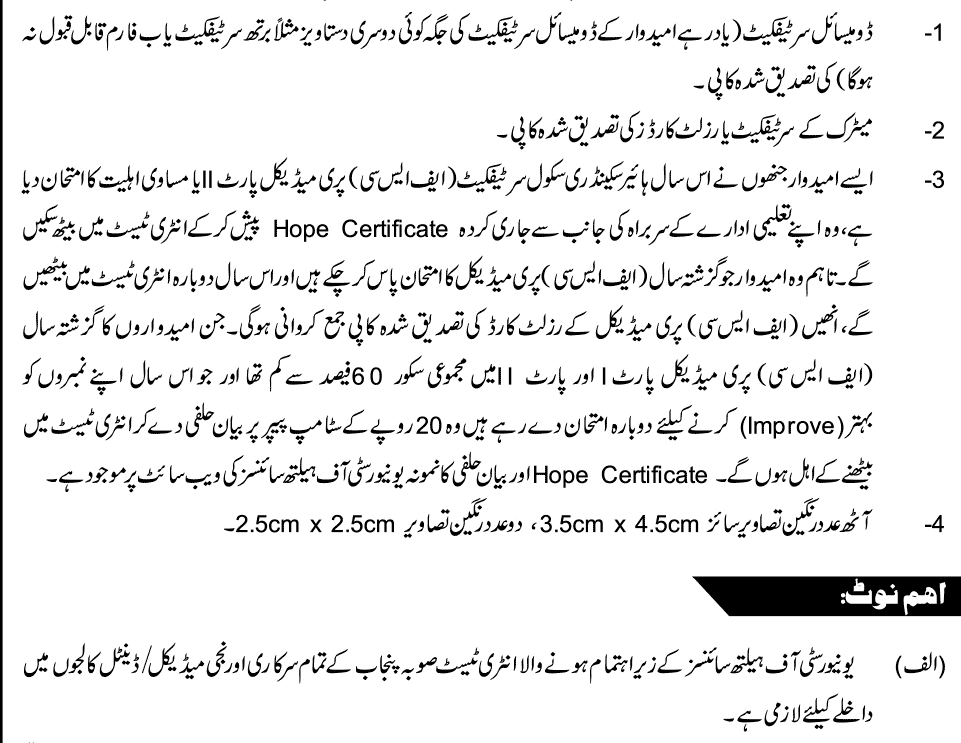 Admission Process:
The announcement of the Entry test result will be on August 2018 so after tha,t all those candidates who hold the domicile of Islamabad or Punjab are able to get admission kit for admission in Medical and Dental Colleges of the Punjab if their aggregated marks are 80%.
Merit will be totally made on Agrregated percentage and according to the Pakistan medical and Dental Council (PMDC) the formula for the Aggregated marks are Matric marks 10%, Intermediate Marks 40% and Entrance test marks 50%. UHS Admission Form Requirements and Procedure detail is given above.
For More information Contact:
Chairmen Admission Board
of Medical and Dental institutions of the Punjab
Ph:042-99231304-9
UAN: 111-333-366