National Highway And Motorway Police Jobs 2016 as Junior patrol officers (BS-05) are now open for through BTS for both male and female  candidates. This page is providing you all the information about the process of applies for job which are necessary and restricted by the Ministry Department (Communication/National Highways and Motorways Police). This department has the authority to make new rules and regulations for roads and traffic; this is the department which also makes changes in already given rules if necessary according to the road and traffic strategies. This department will grant jobs on your applications either you are eligible for this job or not. If you want to be a part of National Highways and Motorway police you have to apply till Thursday 16th June, 2016, as this is the last date of apply after that no applicant will be allowed to apply. Officials have assigned the Balochistan Testing Service (BTS) to conduct written, physical and medical test from all eligible candidates. There are total 400 vacancies are laying vacant from Punjab, Sindh, KPK, Balochistan and  FATA, GB. So to get further details about this job let's have a look down.
National Highway And Motorway Police Jobs 2016 Patrol Officer BTS Form
Eligibility Criteria
Both the male and female candidates are eligible to apply for this job.
Age limitations are from minimum 18 and maximum 25 (5 years general relaxation from 25 age limit is allowed)
Minimum Intermediate degree for Grade "C" or second class with minimum standard physical fitness.
Minimum Height is 5'-8" (male candidates are relax able by 2 "and female candidates are relax able by 1" from Baluchistan.
Minimum Chest Measurement is from 33" to 35" (Relax able by 1").
The applicant should know the Motor bike and Car Driving proficiency.
Job Duties
Employees will have to do the following duties as they have to…
Brief to the Commuters on toll plazas and designated points.
Provide help to road users during accidents and others in distress.
Road Safety Educations to the road users.
Enforcement of Laws, Rules and Regulations under National Highway Safety Ordinance (NHSO)-2000.
Application form
So if you are eligible for this job according to above written eligibility criterion then you have to click on the link below to download BTS application form for National Highway and Motorway Police jobs 2016 as Junior Petrol Officer (BS 05).
Download Advertisement:
Download Application Form:
Alternative Form Link
Last Date For Application Submission:
 Thursday 16th June, 2016
Test Date: (Announced Soon)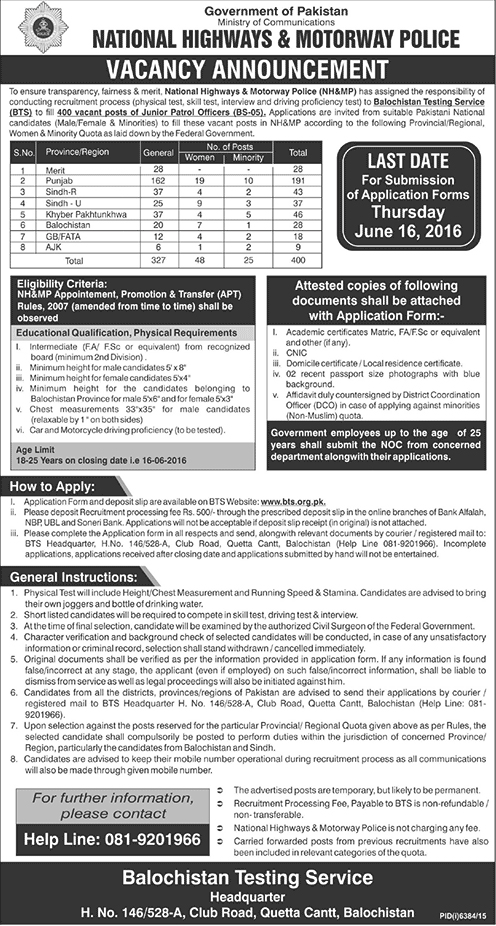 National Highway And Motorway Police Jobs 2016 Patrol Officer BTS Form are available by this page online. Hence the eligibility of pre- selected candidates will be settling on medical examination and driving test base which will conduct by the Balochistan Testing Service (BTS) and when date is announced. So you are on the right page to apply as the above given the link by which you can apply online while sitting your home easily and accordingly to the officials.