This is great news for the population of Punjab that is waiting for government jobs because the Punjab Public Service Commission PPSC Lecturer Jobs 2022 Syllabus Paper Pattern and written test instructions are available here. PPSC is going to hire qualified lecturers in the Punjab Higher Education Department to teach all the subjects in government-type colleges and Universities all over the Punjab province. Officials of PPSC have restricted some eligibility about qualifications, experience and there is a written test which is mandatory for each and every applicant. PPSC written test for lecturer jobs is very mandatory for each and every graduate because any eligible applicant if fails in this test, will be strictly rejected to hire by the PPSC. Those who meet the eligibility criteria and also successfully qualify for the PPSC written test will be assigned to Universities and colleges in Punjab to teach the relevant subject for which they have applied. As I hope that you all are well aware of the importance of the PPSC written test so that is why here we are holding your hands in order to prepare your entry test.
PPSC Lecturer Jobs 2022 Syllabus Paper Pattern
We have prepared the PPSC Lecturer jobs 2022 syllabus and paper pattern. You all are advised that you must read the following subject-wise syllabus for your relevant subject because most of the people are confused about paper but after see the paper pattern they can easily prepare the test for the job. PPSC written test is based on 100 marks multiple-choice MCQ questions according to the relevant subjects from all masters-level applicants. This test is 02 hours of duration and conducted by all the shortlisted candidates. A candidate can apply for more than one subject but for each subject, he has to submit a separate fee.
PPSC Lecturer Jobs 2022 Paper Pattern:
One Paper of MCQs type written test of 100 marks of 90 minnutes duration comprising questions relating to qualification of the post and general knowledge including Pakistan studies, Current Affairs, Islamic Studies, Geography, Basic Mathematics, English, Urdu, Everyday Science and Basic Computer Studies.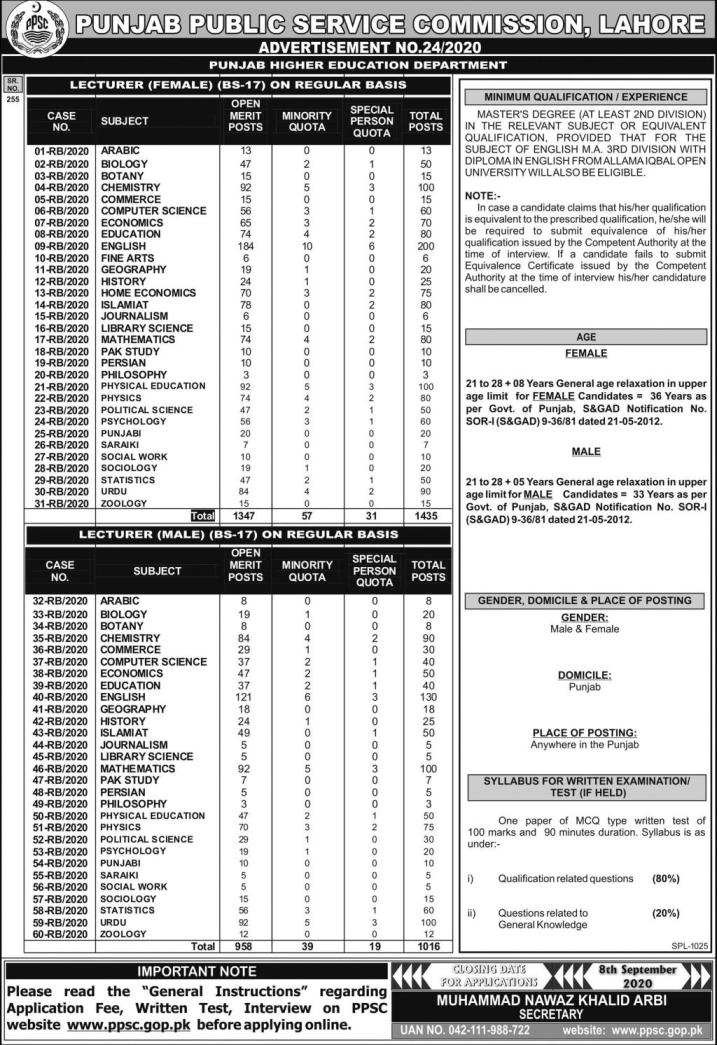 PPSC Lecturer Jobs Test Sample Paper
You can click on any subject to get downloaded your syllabus for PPSC written test Lecturer Jobs 2022.
PPSC Lecturer Jobs 2022 Syllabus
PPSC paper pattern is mentioned in the link and after a click on the link, you can easily get the syllabus about the subject. Hence all about "PPSC Lecturer Jobs 2022 Syllabus Paper Pattern" is here. If you prepare the test according to the paper pattern and syllabus then hopefully you will succeed in her mission and get the job. Furthermore, if you want more clarification then you can visit the official site of PPSC.