Have you applied for a banking job in Pakistan and you receive a call for Interview then you should have full knowledge abut the Bank Jobs Interview Questions And Answers In Pakistan as we have described it briefly here on this page. Not only in banking sector of Pakistan but all other sector Interview is compulsory part of hiring. As in Interview the interviewer judge the candidates according to the job announced and other facts. So that is why it is really compulsory then whenever you are going for an Interview then you must be prepared for that Interview. In the preparation of the Interview the first thing is your appearance as the first impression is the last impression. You should be well dress for an interview and then the second thing is about your knowledge and experience. As here we are going to explain about the Banking Sector Jobs Interview so that is why other that the Bank Jobs Interview Questions And Answers In Pakistan you must have read an overview of the bank before going to an Interview in that bank.
Bank Jobs Interview Questions And Answers In Pakistan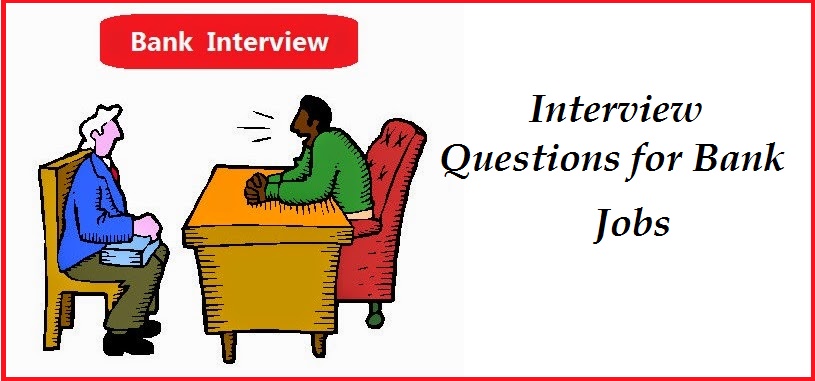 Tell us Something about yourself?
if you are going for an Interview then this will be the first and basic question that is asked from each candidates coming for Interview. To answer this question you have to tell the interviewer about your name, place you are from and the organization you are currently working with. You can also add your educational degree in you answer too. Your answer should be precis because the second question could be form the first question answer e.g if your father is from some other occupation other than Banking then they could ask you that why you not choosing your father profession why banker. Be prepared for these kinds of questions too.
With Every Answer there should be a smile on your face.
Where have you come from and what is famous in your city?
To answer this question you have to tell that actually where are you from like city or state and then tell interviewer about the famous thing in your city it could be some historical Place, Some Crop, Fruit, Culture or business etc. Like one could say that i am from Lahore which is the heart of Pakistan with many historical and cultural things and places in it.
You should also have knowledge about the MNA or MPA of your area because it could be asked from you. You have a little history too about your place from where are you. Basically this questions were asked to check that either you have knowledge about your surrounding our not.
Why you want to be a part of the Banking Industry?
I want to join banking Industry because i could provide the industry my stable career with good growth prospects. Banking sector is one of the fastest growing sector of the Pakistan which always provide the great career opportunity for candidates. You can also add some positive words with your answer that could be like this is one of the honest organization that provide good working environment to its employee and give chance to directly interact with the Public.
What are your Strength and Weaknesses?
The answer of this question could be vary from one person to other and the strength or weakness you are going to explain should be matched with your personality as well as the organizations.
In explaining your strength you should explain the strength that are useful for banking sectors it could be Good Communication Skills, Good Listener, Could work in intense situation, Team work etc.
In this question you can add if you have won any award in your educational career or professional career. While telling about the weaknesses you should not be very negative like short temper, Irregular etc because it will leave a bad impression on your personality.
Why you wanted to choose banking Sector as you have done BSc, B. Tech, MBA, MA rather going with the field of your education?
The answer should be straight and honest because the interviewers are also aware of the market so if you have done MBA then your answer should be. This is really hard to find a good job in the MBA i wanted to join Banking sector because it is the safe sector that provide great career opportunity to the employees.
What are the basic documents require for a person to open an account in bank?
According to the State Bank of Pakistan a person must have a CNIC Card, Proof of address, if he or she is salaried person that proof of recruitment and if he or she is a business man then proof of thier business is compulsory for every one to open an account.
This type of question is asked to check that either you have basic knowledge about the banking sector or not. He could also ask then either you have an account in bank or not if yes that what type of account it is etc.
Who is governor of State Bank of Pakistan SBP?
The current governor of State Bank of Pakistan is Ashraf Mahmood Wathra and he join is duties on 29th April, 2014 from Yaseen Anwar. You should have this kind of Information before facing a banking Job Interview Questions.
What do you mean by GDP of Country?
Full form of GDP is gross domestic product. This GDP is the complete measurement of the all the goods and services a country produce in one financial year.
Do you know the difference between the Nationalized and Private Banks in Pakistan?
Nationalized bans are those which are owned by the government of that country which is mainly known as the public sector Banks while on the other side Private banks is owned by an Individual Person or a company.
Do banks have various risks?
Yes banks have mainly three kinds of risk that are
Credit Risk that is about Loans
Market Risk that is about Money Investment in Market
Operational Risk that is day to day working risk.
Difference Between demand Draft and Cheque?
Cheque could be define as a negotiable instrument which is paid to the bearer and on the other side a demand draft can be define as a negotiable instrument always payable on order base.
If we divide Banks Capital Into Parts and what are they?
Paid Up Capital + Reserves
Borrowed Funds + General Loss Reserves + Subordinated Term Debts + Undisclosed Reserves
You must have heard that banking turning thier branches into CBS? So what is CBS?
Full form of CBS is Core Banking Solution. Through this system all the branches of bank is interconnected with each other with a central database server as we know that Online branch. Through this facility if we have account in one branch then we can operate it from other branch too as after this system customers do not have to visit the same branch from far away where they have open an account.
What do you know about Para Banking?
In Para Banking there are such services which bank offer to its customers other than their day by day banking service like debit card, Credit Card, Car Loan, Life Insurance etc.
What is the main difference between Micro Finance and Micro Credit?
Micro Credit is a small term in which customer can get small amount of loan from the bank and on other side Micro Finance is a wide tern which includes Small Loans as well as the complete training on this Financial Matters.
If we want to promote Financial Inclusion of our bank then what are the Steps?
Advertisement of the bank so that more and more customers could be attract
Facilities for poor people so that they can also open their account
Those person who are involved in the agriculture profession should be provided with the Kisan credit card.
What do you know about Cash Reserve Ratio (CRR)?
Cash Reserve Ration is the cash of the Bank deposit in the State Bank of Pakistan.
What is Inflation and Deflation?
Inflation could be define as increase in demand of a product due to decrease in Supply or more demand in the market and in deflation the money in the market is low due to which the purchasing power of people decreases.