You can gather complete information about the Azad Kashmir AJK Election Result 2021 Candidates List. General Election is going to held in Azad Kashmir while three major parties were a contribution that was PTI, PMLN, and PPP. Now people are seeking the result of all 45 districts where the election was organized by the election commission of Azad Kashmir. The election commission has declared the result and of all the districts. Further, the candidate's list of PTI, PMLN, and PPP is listed below. This election important for the territory of Azad Kashmir because one party will make the government who will win the highest seats. Have a look down and take the Azad Kashmir AJK Election Result 2021 Candidates List.
Azad Kashmir AJK Election Result 2021 Candidates List
A list of all the parties is mention on this page as well as those people who have won this election we have circles with green color below the table.
AJK Election Candidates List
District
PTI
PMLN
PPP
LA-1 Mirpur
Azhar Sadiq
Chaudhry Masood Khalid
Muhammad Afsar Shahid
LA-2 Mirpur
Zafar Anwar
Muhammad Nazeer Inqalabi
Chaudhry Abdul Majeed
LA-3 Mirpur
Sultan Mehmood Choudhary
Choudhry Muhammad Saeed
Chaudhry Muhammad Ashraf
LA-4 Mirpur
Ch. Arshad Hussain
Ch. Rukhsar Ahmad
LA-5 Bhimber
Anwar Ul Haq Noor
Col (R) Waqar Ahmad Noor
Chaudhry Pervaiz Ashraf
LA-6 Bhimber
Ali Shah Soni
Raja Maqsood Ahmad Khan
LA-7 Bhimber
Chaudhry Anwar-ul-Haq
Chaudhary Tariq Farooq
Anees Ahmed Kashmiri
LA-8 Kotli
Zafar Iqbal Malik
Zulfiqar Ali
Muhammad Aftab Anjum
LA-9 Kotli
Asif Hanif
Javed Iqbal Budhanvi
LA-10 Kotli
Malik Yousif
LA-11 Kotli
Choudhary Muhammad Akhlaq
Raja Naseer Ahmad Khan
Sardar Muhammad Bashir Pehalwan
LA-12 Kotli
Shoukat Farid
Raja Muhammad Riasat
LA-13 Kotli
Nisar Ansar Abdali
Raja Ayaza Ahmad Khan
Muhammad Waleed Inqalabi
LA-14 Bagh
Major (R) Muhammad Latif Khalique
Raja Iftikhar Ayub
Raja Khawar Qayyum Advocate
LA-15 Bagh
Sardar Tanveer Illyas Khan
Mushtaq Ahmad Minhas
Sardar Zia Ul Qamar
LA-16 Bagh
Sardar Mir Akbar Khan
Sardar Qamar Zaman
LA-17 Bagh
Aamir Nazeer
Choudhary Muhammad Aziz
Faisal Mumtaz Rathore
LA-18 Poonch & Sudhnuti
Sardar Abdul Qayyum Niazi
Ch. Muhammad Yasin Gulshan
Sardar Amjad Yousif Khan
LA-19 Poonch & Sudhnuti
Sardar Arzish Sudhozai
Sardar Aamir Altaf Khan
Sardar Saud Bin Sadiq
LA-20 Poonch & Sudhnuti
Abdul Rasheed Khan
LA-21 Poonch & Sudhnuti
LA-22 Poonch & Sudhnuti
Sardar Muhammad Sagheer Chugtai
LA-23 Poonch & Sudhnuti
Sardar Muhammad Hussain Advocate
Dr. Najeeb Naqi Khan
Sardar Muhammad Raees Khan
LA-24 Poonch & Sudhnuti
Faheem Akhtar
Sardar Farooq Ahmad Tahir
Sardar Inayat Ullah Arif
LA-25 Neelum Valley
Sardar Gul e Khandan
Shah Ghulam Qadir
LA-26 Neelum Valley
Mian Shafiq
Shah Ghulam Qadir
LA-27 Muzaffarabad
Mir Attique
Noreen Arif
Sardar Muhammad Javed Ayub
LA-28 Muzaffarabad
Chaudhary Shahzad
Syed Bazil Ali Naqvi
LA-29 Muzaffarabad
Khawja Farooq Ahmad
Syed Iftikhar Ali Gillani
Sardar Mubarak Haider
LA-30 Muzaffarabad
Muhammad Rashid
Doctor Mustafa Bashir Abbasi
Mubashir Munir Awan
LA-31 Muzaffarabad
Raja Muhammad Mansoor Khan
Raja Muhammad Abdul Qayyum Khan
Chaudhry Latif Akbar
LA-32 Muzaffarabad
Zeeshan Haidar
Raja Muhammad Farooq Haidar Khan
Sahibzada Muhammad Ishfaq Zaffar
LA-33 Muzaffarabad
Dewan Ali Khan Chughtai
Raja Muhammad Farooq Hyder Khan
Sahibzada Muhammad Imtiaz Zaffar
LA-34 Jammu
Riaz Ahmad
LA-35 Jammu
Maqbool Ahmad
Choudhary Muhammad Ismail Gujjar
Muhammad Iqbal Mujaddadi
LA-36 Jammu
Hafiz Hamid Raza
Muhammad Ishaq
Chaudhry Shoukat Wazir Ali
LA-37 Jammu
Muhammad Akmal Sargala
Muhammad Siddique Chaudhry
LA-38 Jammu
Muhammad Akbar Choudhry
Ch. Zeeshan Ali
LA-39 Jammu
Nazia Niaz
Raja Muhammad Siddique
Chaudhry Fakhar Zaman Gulpera
LA-40 Kashmir Valley
Muhammad Saleem Butt
Amir Abdul Ghaffar Lone
LA-41 Kashmir Valley
Ghulam Mohi Uddin Deewan
LA-42 Kashmir Valley
Syed Shaukat Ali Shah
Hafeez Ahmed Butt
LA-43 Kashmir Valley
Javed Butt
Naseema Khatoon Wani
Azhar Gillani
LA-44 Kashmir Valley
Bashir Ahmad Khan
Muhammad Ahmad Raza Qadri
Rashid Salam Butt
LA-45 Kashmir Valley
Abdul Majid Khan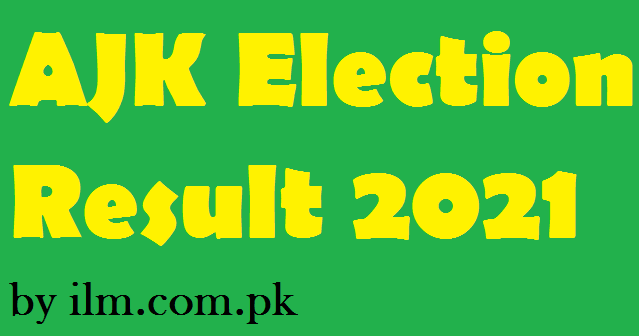 After a five-year election commission organizes the election and all the parties take part and then start the campaign. But just only one party won the highest seats as compared to other parties. So, that party who won the highest seats this part party makes the government. Same as it the government of PMLN has completed the five years and then election commission organize the general election on 25 July 2021. People are finding which candidates have taken how many votes. So all the information existing on this page for the guidance of the people. Further, when we receive new info about the Azad Kashmir AJK Election Result 2021 Candidates List then we will share it on this page.