There are many benefits of CPEC to Pakistan and China and here we will discuss the Benefits of Pak China Economic Corridor In Urdu. According to one of the economical surveys of Pakistan, the trade between Pakistan and China has increased by more than 16 Billion Dollars. Between five years from 2009 to 2014, China's exports to Pakistan increased by 10%. This resulted in the increase of China shares in exports to Pakistan and both countries have signed new projects which as China Pakistan Economic Corridor. CPEC (China Pakistan Economic Corridor) is a 3218-kilo meters long root that will complete in the next few years and this consists of many highways, railways, and pipelines. The total cost of this plan is approximately 75 Billion Dollars and 45 Billion Dollars assure that this corridor will be complete by 2020 and the rest of the investment will be spent on energy and other basic models of progress. As already mentioned, the China-Pakistan Economic Corridor will start from Gwadar Port Pakistan, and reach Xinjiang province of China by passing through the beautiful province of Gilgit and Baltistan. This long plan will lead Pakistan and China to the heights of their relationships. This is the beginning of a journey and it is expected that through this plan Pakistan's economy will increase and load shedding will eliminate. The whole corridor has divided into two parts, first is Gwadar International airport and the completeness Gwadar port. This part will be complete by 2017. In this project, the Karakorum highway is also included. This road will be reconvention because it unites Pakistan and China. Fiber optic lines will be spread so the communication of both countries should increase.
Benefits of Pak China Economic Corridor In Urdu
Benefits of Economic Corridor: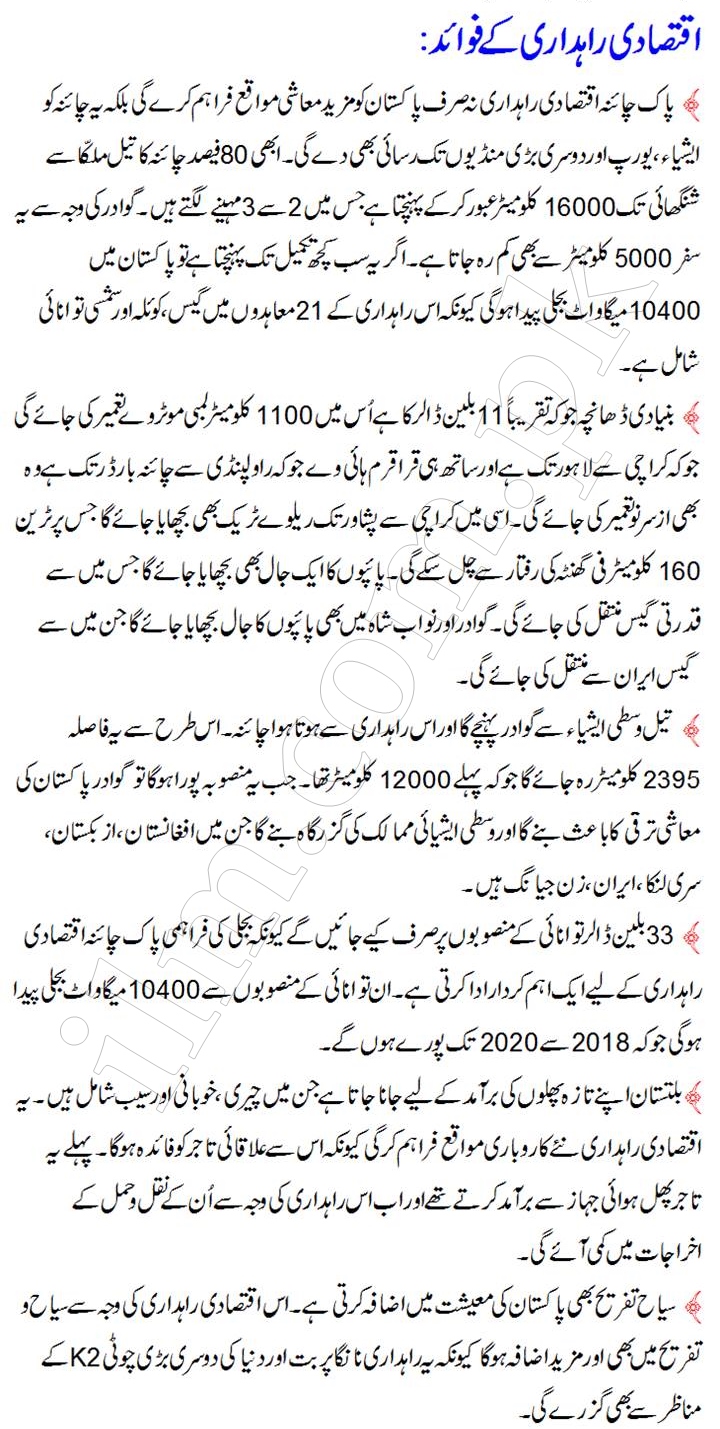 Pak-China economic corridor will not only provide economical chances to Pakistan but also will allow china to access the markets of Asia, Europe, and other big markets. Currently, 80% of China's oil reaches Malacca to Shanghai by traveling 16000 Kilometers in two to three months. Due to the Gwadar port, it only remains 5000-kilo meters distance. If this project will complete then 10400 Megawatt electricity will be produced in Pakistan because, in this corridor of 21 agreements Gas, cool and solar energy are also included.
The Basic model which is approximately 11 Billion Dollars, in this 1100-kilometer-long highway will construct which is from Karachi to Lahore, and the Karakorum highway which is from Rawalpindi to China Border will be built from basic. This railway track from Karachi to Peshawar will also spread and on which train will run at the speed of 160km/h. Pipe traps will also spread for natural gas. In Gwadar and Nawab Shah, gas pipelines will also spread so the natural gas will be transferred through Iran.
Oil will reach from central Asia to Gwadar and through this corridor to China. Through this, the distance will decrease from 12000km to 2395km. When this project will complete so Gwadar Pakistan becomes the reason for Economical progress and become the path of central Asia in which Afghanistan, Uzbekistan, Sri Lanka, and Iran are included.
33 Billion Dollars will spend on the plans of energy because the supply of electricity is very important in the Pak-China Economic corridor. Through these energy plans, 10400 Megawatt electricity will produce which will complete from 2018 to 2020.
Baltistan is known for its fresh fruit exports in which Cherry, apricot, and apples are included. This economic corridor will provide new chances of trade which will prove beneficial to the businessmen of that area. Before this, they trade through airplanes, and through this corridor, the expenses will decrease.
Travel and recreation also increase the economy of Pakistan. Through this economic corridor travel and recreation will also increase because this corridor will also pass through the sceneries of Nanga Parbat and the world's 2nd largest peak K2.