Looking for Nadra Birth Certificate Application Form Free Download along with a sample and requirement procedure then you are at the right place as this page will clearly explain you everything easily so that if you want to get a birth certificate of your child then you do not have to ask from other. By reading this article till end you will be much aware from the NADRA birth Certificate procedure. First of all let me tell you about the Birth Certificate and what are the benefits of this certificate as this is the basic record to the government of any child who get birth in Pakistan. The certificate is like a official copy of a documents that this child is registered in the records so that when he or she get elder then a computerized National Identity Card that this person is a citizen of Pakistan will be given to that child.
The Birth Certificate is like an identity that this child is a citizen of Pakistan as NADRA is abbreviated as National Database and Registration Authority and the official authority of the government to contain and manage all the records of the each nationals. So it is very important that when your child comes to the world than you have to register him or her in the NADRA Pakistan if you want to give them an identification of the Pakistani otherwise it will be a problem for you in the future.
Nadra Birth Certificate Sample
here down is the sample of the NADRA Birth Certificate as it is original that is why you cannot see any kind of data so it may use for wrong purposes. But the Birth Certificate is same look like this it contain two languages that are Urdu and English and contain all the information of a person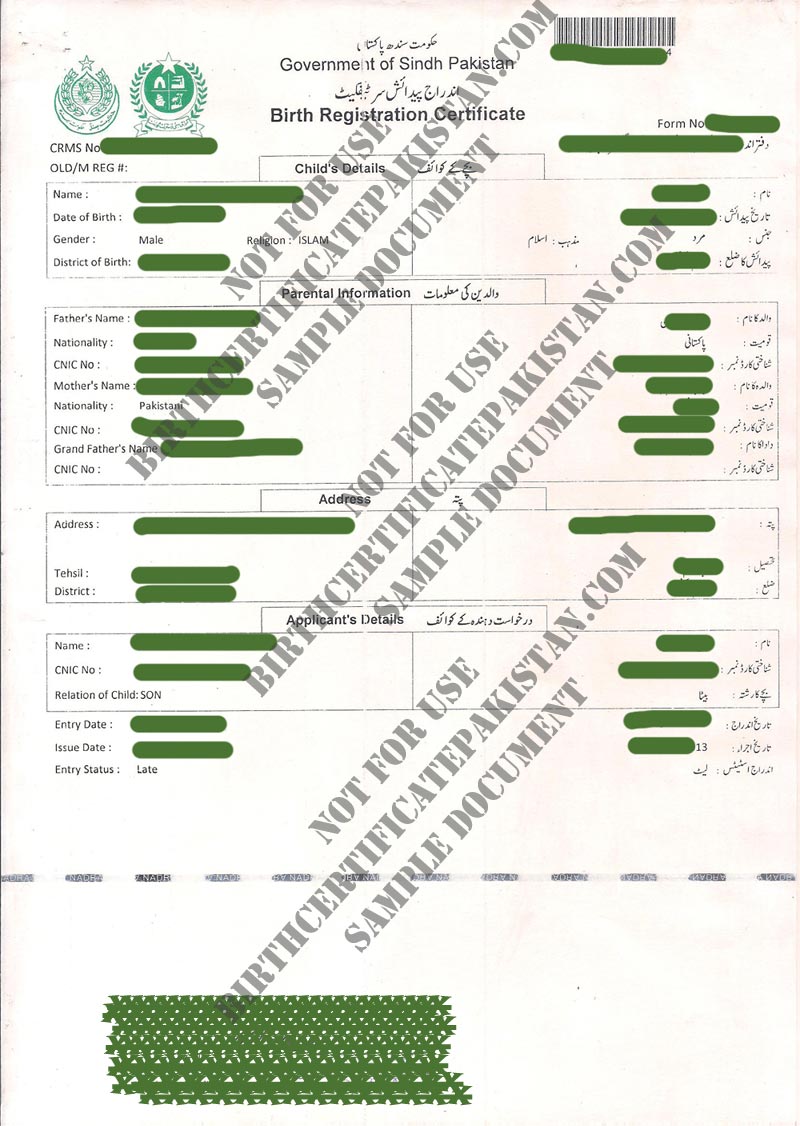 Nadra Birth Certificate Application Form Free
You can get the Birth Certificate application form free from the NADRA office of your city but if you do not want to go to their then the second way to get the form is this page as what you just have to do is click on the link below and the application form will be saved to your computer within no time.
CLICK HERE TO DOWNLOAD FORM
Nadra Birth Certificate Requirements:
Copy of parent's both Mother and Father CNIC that is Valid & Attested
Copy of Hospital birth certificate which is attested
If candidate is applying again for his own birth certificate due to loss of certificate somewhere then he or she has to attach his own Copy of CNIC (Valid & Attested)
Download the application form from this page and then after filling the form with the correct information attach all the documents given above and submit it to the NADRA office. After the processing of the 5 to 7 days you can get the birth certificate from the same NADRA office.