"A Scene At Railway Station Essay For 10 Class in English" Traveling by train is more comfortable as compared to other means of transportation like buses, cars, airplanes.  A railway station is a place of the human fair. The people of different colors, rich or poor, belonging to different cultures, different areas of the country present there. There are great hustle and bustle of people around. Everyone is busy buying the tickets, waiting for the arrival of the train, thinking about seats.  In fact, it is an interesting and busy place. On large city railway station, many trains are arriving or departing in the whole day.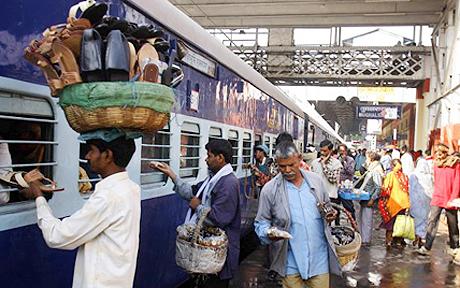 A Scene At Railway Station Essay For 10 Class
Yesterday, I went to the railway station to see off my friend. He was going to Karachi. There was a great experience at the railway station.  There was a crowd. We reached there before an hour of the arrival of the train. There were small numbers of people in the queue in front of the booking office. My friend was waiting in queue for his turn. After fifteen minutes he bought the ticket. We went to the platform. Here was great hustle and bustle. People were waiting for the train. Coolie was carrying the luggage of passengers. We did not have enough luggage. So, we did not require coolie. All the waiting rooms were filled with people. Children were buying edibles from the canteen. People were taking tea, coffee, cold drinks, and snacks.  There were few railway policemen roaming on the platform. Ticket checkers in their uniforms were moving here and there. They were busy with their duties.
After waiting for an hour, a loud whistle of a train was heard. The guard wave the green flag. People tried to run with the creeping train. The train arrived at the railway station. Everybody was trying to grasp the seats. People were jostling upon each other. They were pushing others in a very bad manner.  Some people try to get on the train and occupy the seats. Some were dragging their luggage. There was a great rush on the platform. Luckily my friend entered the train and got a comfortable berth in the second compartment of the train. Soon the people settled on their seats on the train. The train moved on. My friend was waving from the window. His face is sad and depressed. The uproar of the train was turned into silence. When the train disappeared people begin to leave the railway station. Hawkers went to another platform. Coolies were busy carrying the luggage of other passengers. The platform seems like a desert.
This is all about the "A Scene At Railway Station Essay For 10 Class in English".