The national anthem of any country demonstrates the patriotism and the prayers for their homeland. All the independent countries have their own national anthems which are the sign of national dignity and solidarity. Pakistan is a nation which also has its respective national anthem which is known as Qaumi Tarana in the national language Urdu. The national anthems are being sung on all the national occasions and with the same time whenever the patriotism or the unity is to be shown.
The national anthem of Pakistan was being formed by the committee which was named as the National Anthem Committee (NAC), which was nominated to make the national anthem for the beloved homeland. The committee was being formed under the government of Pakistan in December 1948. The committee was being headed by Sheikh Mohammad Ikram as the first information secretary. The committee was also consisting of several politics, Musicians and poets which included Abdur Rab Nishter, Ahmad G. Chaghla and Hafeez Jullundhri. The federal government involved many musicians to present the tunes for the respective national anthem; the jury listened and selected one of the tunes which were suit the best which was presented by Chaghla. The tune which Chaghla presented was being made in collaboration with in another committee member and the assistance was being provided by the Pakistan Navy Band.
Pakistan National Anthem Qaumi Tarana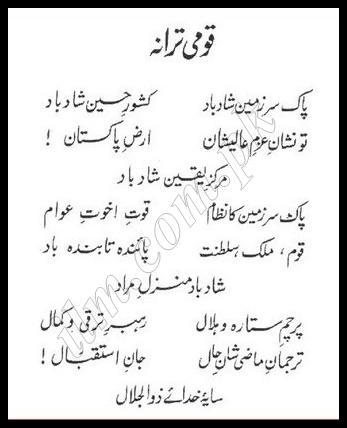 The lyrics of the national anthem were being written by the poet Hafeez Jullundhri. Before the lyrics were being finalized the plain tune of the national anthem was being played on the various occasions which included the occasion when Liaquat Ali Khan was made the Prime Minister. The national anthem lyrics are comprised of three stanzas in which no of the word is being repeated that is one unique thing of the national anthem. The lyric of national anthem praises the beloved home land and even the national flag which comprises of the crescent and the star.
Officially the anthem was being adopted and approved in 1954, and the new natioanl anthem was being inaugural played on the Radio Pakistan on the 13th of August, 1954. The natioanl anthem is being pride of Honor in all the occasions of Pakistan and is being played on all the national occasions which include the Pakistan Day that is on23rd March and the Independence Day which is on the 14th August. The listeners are prescribed to pay respect to the natioanl anthem and when it is being played everyone should stand in its respect and homage.