Right through the way of this post we will going to explain all about Parveen Shakir poetry books name. Parveen Shakir is no doubt one of those writers inside the Pakistan who will always be remembered in the golden words. Parveen Shakir has earned the heights of fame and success by the way of her sad and emotional poetry skills. Some of her poetries have surely brought the tears in the eyes of some people. In just the beginning of her career she has grabbed huge fame and fan following.
Personal Life of Parveen Shakir:
She was born on 24th November 1952. She got died on 26th December 1994. She started off with the career of writing from a very early age. She moved into the writing categories of both prose and poetry. She even wrote many columns in Urdu newspapers in addition to a small number of articles in English dailies as well. She used to write up under the pen-name named as "Beena". She has done double masters as one in English Literature and one in Linguistics. She is even honored with the degree of PhD and another masters degree in Bank Administration. She has done teaching for almost 9 years and then later she joined the Civil Service and started working inside the Customs Department. In the year 1986 she started acting as being the second secretary as in the CBR in Islamabad. In simple she was an Urdu poet, teacher as well as a civil servant of the Government of Pakistan.
Professional Career of Parveen Shakir:
She published up with her first volume of poetry called Khushbu in the year 1976. Then she appeared with countless other volumes of poetry named as Sad-barg [Marsh Marigold] in the year 1980, Khud Kalami [Soliloquy] and Inkar [Denial] in 1990 and Kaf e Aina [The Mirror's Edge]. She was awarded as being one of Pakistan's highest honours as the Pride of Performance in support of her outstanding contribution to literature.
Parveen Shakir Poetry Books Name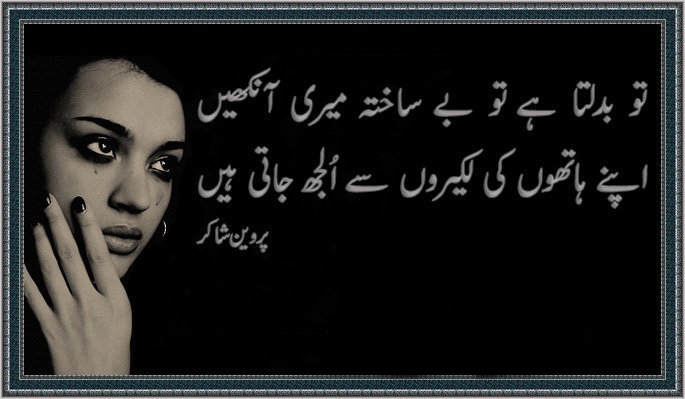 Famous Books of Poetry by Parveen Shakira:
Khushbu (1976) – Fragrance
Sad-barg (1980) – Marsh Marigold
Khud-kalaami (1990) – Talking to the Self
Maah-e-Tamaam (1994) – Full Moon
Kaf-e-Aa'ina – The Edge of the Mirror
Gosha-e-Chashm – The Sight Corner
If Parveen Shakir is one of your favorite poet writers then we are sure that through this post you must have learnt a lot about her so far career voyage. Grab her famous poetry books right now!