If you are looking for the LUMS NOP Program 2020 Form, Test Dates, and Results, then here you can find it. As we all know about Lahore University of Management and Sciences. It is on the list of Best Universities in Pakistan. From the first day of its foundation, it promises to provide good educational facilities to the students. Now it has started the National Outreach Program from the year 2011 and the motive behind this is just to provide education to the students from all over Pakistan. More than 500 students entered into the LUMS through this program. LUMS is a non-for profit University of Pakistan. Through this program, a number of students are enrolled in it and become great graduates in the future. Down on this page, we have given all the information related to this program. Scroll down to have a look.
LUMS NOP Program 2020 Form
LUMS is offering NOP for this year and all those students who have passed their Matric and now studying in the 1st Year of Intermediate or A-Level are allowed to apply for it. LUMS provides 100% of scholarships to the students for Undergraduate programs. So, if you are also eligible, then check out all the processes here.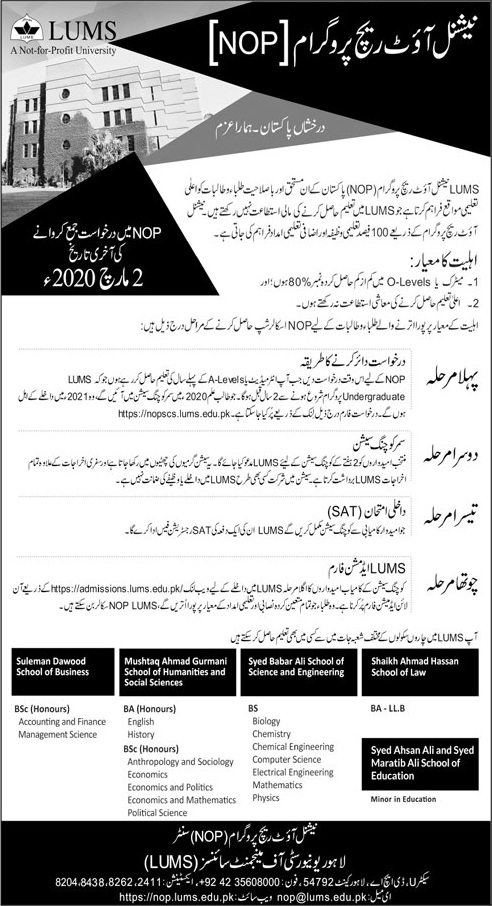 LUMS NOP Program Requirements
All the students with at least 80% marks in Matric or O-Level are eligible.
The students do not have the financial ability to pursue higher education.
Those meeting the eligibility have to go through the following processes:
LUMS NOP Program 2020 Processes
A) Procedure to submit Application:
All the candidates have to give their applications at the time when they are studying in the 1st year of Intermediate or A-Levels that will be 2 years before the starting of the UG program of LUMS. The candidates appearing in 2020 Summer coaching are eligible to apply in 2021. The admission forms are available at www.nopscs.lums.edu.pk.
B) Coaching Session in Summer:
This session is for 02 weeks that are held in summer vacations and the selected candidates will visit LUMS for this session. All the expenses will be paid by LUMS.
C) SAT Admission:
Those candidates, who will pass this coaching session successfully, then their one time SAT registration fee will be paid by LUMS.
D) Admission form for LUMS:
The successful candidates from the coaching session than have to fill the online admission form online at www.admissions.lums.edu.pk. The aspirants meeting all the requirements would become LUMS NOP scholars.
LUMS NOP Program Offered
You can study in any program in the following list.
BSC (Hons)
BA (Hons)
BS
Others

Accounting and Finance
Management Science
Economics
Political Science and Economics
Anthropology / Sociology
Political Science
Economics and Mathematics

Biology
Chemistry
Computer Science
Electrical Engineering
Mathematics
Physics
Chemical Engineering

BA-LLB
Minor in Education
LUMS NOP Program 2020 Test Dates
| Event | Date |
| --- | --- |
| Last date for Application | 02 March 2020 till 5.00 pm |
| Last date for Document Submission | 03 March 2020 till 5:00 pm (PST) |
| Selection of Candidates for Summer Coaching Session | May – June |
| Summer Coaching Session for NOP | July – August |
| Candidate selection for LUMS UG Applications | September – October |
| Last date to apply for admission | 30 January 2020 till 5:00 pm (PST) |
| Deadline to submit supporting documents | 31 January 2020 till 5:00 pm (PST) |
| Final Date to take SAT | 14 March 2020 |
| Admission decisions | 01 April to 30th June 2020 |
| Commencement of Classes | September 2020 |
LUMS NOP Results 2020
The same page should consider the latest page for the result after the Test day. We will share the result here on this page. After the selection students are called from the coaching classes which is totally funded by the LUMS and in these coaching classes finally students are qualified for the full scholarship from the LUMS for different programs.
LUMS NOP 2020 Features
National Outreach program is now much familiar among the students so that is why LUMS management hires a marketing team in the year 2020 so that the program benefits and procedure can be delivered to the students who are willing to be a part of this program. These programs identify the brilliant students of matriculation and FA/FSC and call them to learn under the LUMS Undergraduate programs on 100% scholarships.
LUMS NOP Program 2020
LUMS Undergraduate admission 2020 is also open. So students, if you are eligible for this program, then this is a chance to apply for it. The motive for NOP is to provide the best facilities to the most talented students who are not able to study further in any institute due to financial problems. So, apply for LUMS NOP Program 2020 before the last date. If you have any questions related to this program, then you can ask in the comment section.