Standard Chartered Bank Pakistan Founded in 2006 and this is a Private Bank. This is the Bank who spends about 150 years in Pakistan and gets enough cultural teachings So that they can creates values for emerging as an National brand for Pakistani residential Persons actually. Standard Chartered in Pakistan comes in to being at 1863 and first bank was gets action in Karachi. In 2006 Standard Chartered Bank acquired Pakistan' Union Bank on 30 December 2006.
Since than Standard Chartered Bank Pakistan is offering many services as many of them listed here in  further writing. Personal Banking, Islamic Banking,Priority Banking, wholesale Banking and SME Banking. Many Features and Services offered competitively from other Banks in Pakistan. Easy Banking,Spend'n Save,Secure the Future,Business saver,Saadiq Asaan,Saadiq Bachat,Saadiq Karobar,saadiq Manzil,Employee Banking and Employee Banking Premium.
As every Banks of Pakistan providing the Bills Payments and Funds Transfers now Standard Chartered is also providing this facility in these Electric,Gas Companies like KESC,LESCO,SSGC,SNGPL. Mobile Phone Top up services providing by Ufone,Telenor and Warid. Online Banking service comes to you completely FREE. No fees charged for Registration or processing of your bills indeed.
Standard Chartered Bank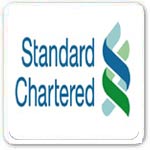 Now easy Bill payment can makes an extra advantages to Standard Chartered Customers. Variety of Credit cards are also available named as VISA Platinum Credit Card,VISA PIA CoBrand Platinum,MasterCard Titanium Credit Card,Saadiq VISA Credit Card, MasterCard cash back Credit Card,PIA CoBrand Credit card,Saadiq VISA Credit Card,MasterCard Easy Credit Card,American Express Credit Card.
Standard Chartered Bank Pakistan listed Company and now working in General Partnership with about more than 10000 employees overall. There are many accounts now offered by Standard Chartered Bank of Pakistan. Lockers of Standard Chartered Bank is most famous indeed which is providing the facilities since many years.
Career for U:
This Section provides you way how you can get attach with Standard Chartered Bank Pakistan easily by just apply against the opening Vacancies over there.
Branch Locator is available here at this page in below given Link:
Contact Standard Chartered
Call us
| | |
| --- | --- |
| Standard Chartered Customer Service Hotline: | 111-002-002 / 0800-44-444 |
Write to us
Mail:
Complaint Management Unit, Standard Chartered Bank (Pakistan) Limited,
1st Floor, New Jubilee Insurance Building,
I.I.Chundrigarh Road, P.O.Box 5556, Karachi.
Fax:
0092-21-2410051
Email:
ask.us@sc.com