The Bank Of Punjab(BOP) born with the vision of Passion Reborn and provided all communities way to explore new opportunities so far. Almost every facility or services provided by this Bank of Punjab. Now a days People are more focused upon after sale services in Pakistan. Best Complaints registration and Resolution of Complaints and any such services are available here through complete guidance what is optimal way to utilize their services of Banks in Pakistan. Many kinds of queries for which can be solvable through visits of Punjab Bank could be solved through Online Registration services in Pakistan. They are exists to provides best Quality feedback for retaining images among customer's eye.

There are many Basics Banking services provided named as Retail Finance,Retail Banking,Agriculture,Corporate Banking as well as facilitating Commercial services so far. E-Banking is also there to facilitate the customer to take eye on their deposits over there in their Bank. Bank of Punjab is already Customer Focused Bank and always providing quality Services in Punjab Bank.All other Banks provides Agricultural Facilities own their own but only Bank of Punjab considered as facilitates more in this Bank as well.
Agricultural Facilities are named as Agri Finance Branches,Kissan,Dost Running Finance Facility,Kissan Dost Lease Finance Facility,Kissan Dost Cold Storage Finance Facility,Kissan Dost Green House Finance Scheme,Kissan Dost Livestock Development Scheme and many other Agriculture Schemes Markup are there to gives their best in facilitating this sector own their own. Bank of Punjab Current Account an Many other Accounts as given here at this page offered by Bank of Punjab.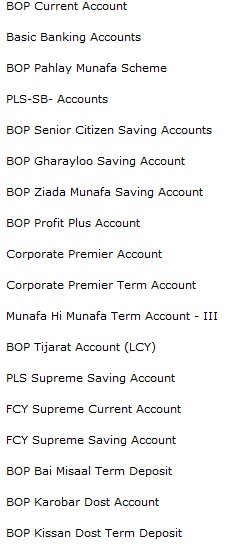 BOP Branches
Karachi Region
Islamabad Region
Lahore North Region
Lahore South Region
Lahore Central Region
Faisalabad Region
Gujranwala Region
Gujrat Region
Multan Region
Bahawalpur Region
D.G. Khan Region
Rawalpindi Region
BOP Services
Commercial Banking
Corporate & Investment
Cash Management Services
Financial Institute
Correspondent Banking
Utility Bills
Lockers
Treasury
Trade Finance
Trade Processing Centers
Functions of Trade Processing Centers
Functions of Trade Processing Centers
BOP E-Banking
After Details verification of original consumer The Bank of Punjab below top gives you the services of E-Banking o BOP in below given link easily
There are 4 easy steps to join the BOP e-banking service.
Fill out the e-banking Application Form.
Submit the form to your BOP Branch
Get the registration code from your Branch.
After having registration code, click below given link to access BOP e-banking service.
BOP Career
For decrease unemployment BOP having career cell to hire potential degree holders in below given link
Contact Bank Of Punjab(BOP)
Head Office (BOP)
10-B,Block E-II, Main Boulevard Gulberg III Lahore
UAN : 111-200-100
Tel : (042) 35783700-10
Fax : (042) 35783713
Main Branch ,Lahore
BOP Chief Manager
Tel : (042) 99200419-99200187
Fax : (042) 99200351
Officer Training Institute
296- Upper Mall, Lahore (Pakistan)
Tel : (042) 35714180-35755625
BOP ATM Call Center
Toll Free : 0800 26700
BOP Consumer Banking
Toll Free : 0800 24267