If you are interested in joining Pakistan Army by Short Service Commission as Captain Entry 2015 than here is the golden chance for all the eligible candidates till 30th June, 2015. Its becomes in blood of every Pakistani to be called a martyr for the country and the forces are the best way to show your patriotism and protect country. Along with all this concept this is a wonderful career chance too to be at captain in Pak army. As Pakistan army is the only organization who have still got much respect in the nation.
There are two ways to registration for the direct short service commission as by going through internet and by visiting selection and recruitment centers. Candidate can go to the official website and apply for the test than at the same time you will got  exact date and time for the next procedure that is entry test and interview.
Schedule for Registration and preliminary test:
| | |
| --- | --- |
| Registration | 8th to 30th June, 2015 |
| Preliminary Tests | ———- |
Join Pakistan Army as Captain Entry 2015 by Short Service Commission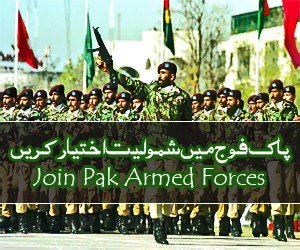 Eligibility Criteria:
Category of Selection
Qualification
Age
1
Army Education Corps (AEC)
MA/ MSc in Following Disciplines

Islamic Studies
Computer Science
Pakistan Studies
Urdu

28 years as on 1 May 2015
2
Corps of Ordnance (ORD)
BSc / BE in following disciplines:

Textile/Leather technology
Plastic/wood technology
Metallurgy Engineering
Chemical Engineering

28 years on 1st May 2015
3
Corps of Remount Veterinary and Farms Officer (RV&FC)
DVM or equivalent degree from Pakistan, UK or USA Registered with PVMC
Civilian: 28 yearsServing VASs or RV&FC: 21-35 years
4
Psychologist
M.A /M.Sc Psychology (Minimum 2nd Division)
28 years on 1st May 2015
Gender: Male
Marital Status: Married / Unmarried
Nationality: Citizen of Pakistan
Physical Standard:
Height: 5′ – 4″
weight: as per body mass
INELIGIBILITY CONDITIONS
Twice rejected by GHQ Selection Board for SSRC. (However, candidates attaining higher qualification shall be granted additional third chance).
Declared medically unfit by concerned CMH / Appeal Medical Board.
Individual withdrawn / resigned / discharged from Armed Forces (Army, Navy and Air Force) training academies / institutions on the grounds of discipline, character, medical inefficiency, weak profile or declared unsuitable.
Individuals dismissed / removed from any other government service.
Convicted by a Court of Law for an offence involving moral turpitude.
Withdrawn from any bonded Armed Forces college / institution on disciplinary grounds.
Withdrawn from any Academy / Training Institution of Armed Forces on any ground.
DOCUMENTS REQUIRED AT AS&RCs on the day of Test:
Original certificates / detailed marks sheets alongwith two attested photocopies of each educational certificate/degree / diploma.
Candidates serving in government Institutions / Departments will render No Objection Certificate of the concerned Establishment.
Attested photo copy of domicile.
Photocopies of computerized National Identity Card.
6x coloured photos duly attested (front & back).
Crossed postal order of Rs, 100.00 in favour of Director General Personnel Administration (DGPA), GHQ Rawalpindi.
For Further Information regarding Join Pak Army as Captain CLICK HERE
For register yourself online CLICK HERE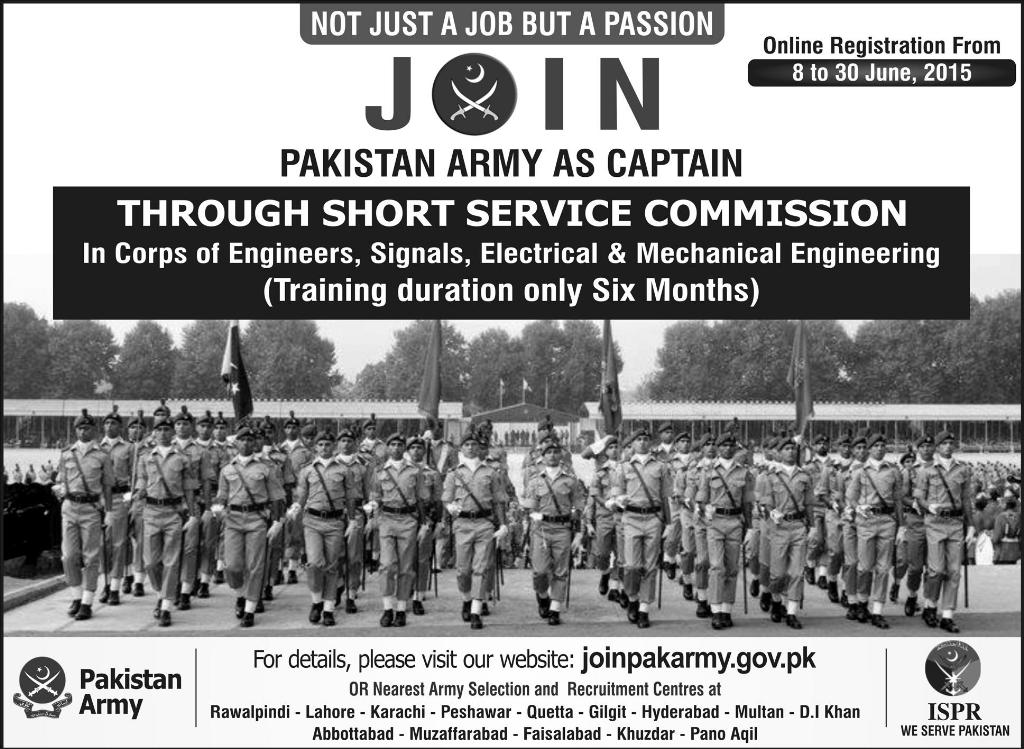 Contact US:
For Any inquiry visit nearest Army Selection & Recruitment Centers at Rawalpindi,Lahore, Karachi, Peshawar, Quetta,Gilgit, Hyderabad and Multan.
Join Pakistan Army as Captain Entry 2015 by Short Service Commission

,