It is to inform you that Allama Iqbal Medical College DPT Admissions 2020 Merit List is going to announce soon after the closing of admissions. Allama Iqbal College of Physiotherapy AICP is one of the top private medical colleges in Pakistan, which is prominent due to its quality education in the field of physiotherapy. AICP was established in 2008 with the vision to promote excellent education in the field of physiotherapy. This medical college is recognized by the Higher Education Commission of Pakistan. AICP has been registering students for 5 years DPT programs since 4th December 2018. DPT is one of the rising degree programs in the field of medicine. If you want to take admission to the DPT program then AICP college is best for you. It is standing in the list of colleges offering DPT in Pakistan. This well-reputed institute has been providing international level studies since 2008 to the local students of Pakistan. In this article, you will come to know about merit lists 2020 for selected candidates and fee structure. For more information please scroll down.
Allama Iqbal Medical College DPT Admissions 2020
Allama Iqbal Medical College DPT Admission 2020 has opened and now interested people can easily apply before the last date. As well as the last date of admission will release as soon while on the other hand, After close the admission they will release the merit list and candidates will select on the merit base.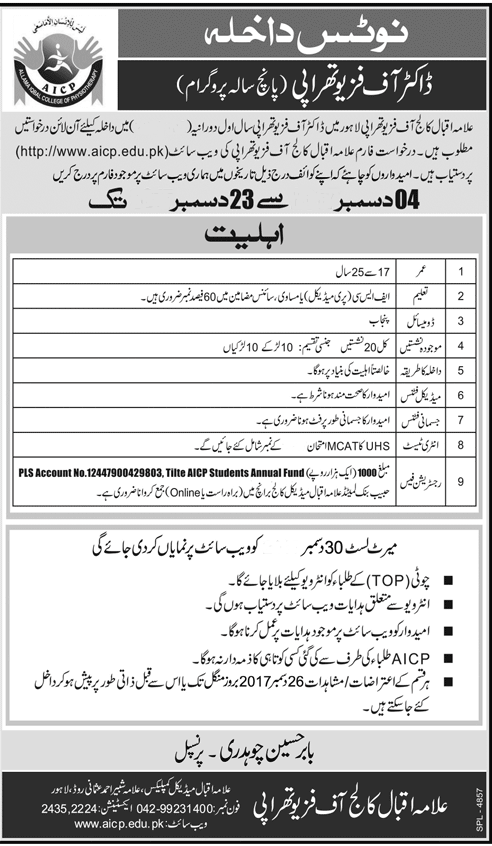 Eligibility Criteria for DPT
Applicants, who have passed F.Sc with a minimum of 60% marks are eligible to apply for DPT in this institute.
Applicants should be between 17 to 25 years of age.
The candidate should be Punjab Domicile Holder.
Admission will be according to open merit bases.
The applicant should be physically and mentally fit.
It is mandatory to appear in the entry test (MCAT) of UHS.
Only top students will be called for the interview.
It is mandatory to submit an Rs.1000/- registration fee through a bank draft for admission.
Allama Iqbal Medical College Admission 2020 Last Date
Till now, no any update about Allama Iqbal Medical Colleges Admission 2020 Last Date is available while when any info receive then we will mention on this page. So a few days are left.
Allama Iqbal Medical College DPT Fee Structure
For the knowledge of the students Allama Iqbal medical college DPT fee structure is available on the official page of Allama Iqbal Medical College. So before apply people can visit the official page or college campus and get the fee structure.
Allama Iqbal Medical College DPT Merit List 2020

After the AIMC Dpt admissions 2020, the officials will announce the merit list 2020. This merit list will be the base of the admission. Those students who will find their names on the merit list will get admission to AIMC. So, it is quite important to have your name on this list. Further, you have to stay connected with us for the merit lists.
All the information regarding Allama Iqbal Medical College DPT Admissions 2020 Merit List is mention and people can easily get admission meanwhile they will declare the merit list after closing the admission and just only those people will enroll who meet the criteria of the merit list.